Chateau Peby Faugeres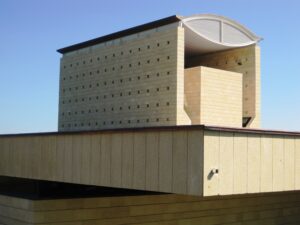 Chateau Peby Faugeres St. Emilion, Bordeaux wine producer profile, with wine tasting notes, wine ratings, a history of the property, information on wine making and terroir, along with wine tasting reviews. If you want to read about other important, Bordeaux Chateaux: Links to all Bordeaux Wine Producer Profiles
In 2009, Chateau Faugeres underwent a complete renovation. Following the completion of the renovations, the owner, Silvio Denz renamed his top wine Peby Faugeres. Denz Changed the name of the wine to Cuvee Speciale Peby Faugeres. The architecturally stunning, state of the art facility, designed by Mario Botta, is one the most modern wineries, inside and out that is located in the Right Bank.
Silvio Denz made his fortune in the perfume business.  Since that time, he also purchased the famous Lalique company. Aside from his Bordeaux wine properties, Denz also owns vineyards in Spain and Italy.  With the help of his friend Stephan von Neipperg, Denz purchased the St. Emilion estate, Chateau Faugeres.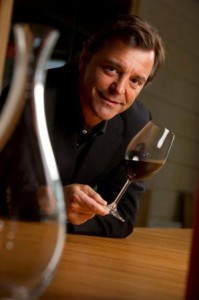 The 100%, old vine Merlot used to produce Peby Faugeres comes from Right Bank vineyards with southeast facing slopes in brown, limestone and clay soils. Peby Faugeres is produced from the oldest Merlot vines of Faugeres. Many of the vines on the 9 hectare portion of the Faugeres vineyard are close to 50 years old. Yields are always low. As an example, look at the 2009 vintage which was produced from only 18 hectoliters per hectare. Sustainable farming techniques are a serious part of the program for the vineyards used to produce Chateau Peby Faugeres.
The vines are planted to a density of 6,600 vines per hectare on the St. Emilion Castillon plateau. It's neighbors, which are all in walking distance are Valandraud, Fleur Cardinale and Rol Valentin. Peby Faugeres made its debut in 1998. The wine took its name from the owner who had just passed away, Pierre Bernard Guisez. Pierre Bernard Guisez was known as Peby to his friends and family. Guisez died in 1998, so the wine, and its name, Peby Faugeres was created as an hommage to him.
To produce the wine of Chateau Peby Faugeres, the whole, berry grapes undergoe a 5 day cold soak at 8° Celsius. 50% of the wine is fermented in two, 50 hectoliter oak vats, while the remaining wine is fermented in 100% new, French oak barrels. In the new facilities, everything moves by gravity. Malolactic fermentation is performed in 100% new oak barrels. The wine is aged in 100%, new, French oak barrels with aging on the post malo lees for the first four months. The wine remains in barrel for up to 18 months. Not much Peby Faugeres is produced. On average, only 800 cases or less are made each vintage.  
The style of wine from Chateau Peby Faugeres is modern. The wines are rich, opulent and full bodied. Layers of lush ripe dark fruit, decadent textures with licorice covered dark berries and chocolate are what you'll find in the wine of Peby Faugeres. Forward in style, the wine drinks well young.
Wine Tasting Notes
Displaying 13 vintages | 32844 Views Sorted by vintage
2012 Château Faugères Cuvée Spéciale Péby

Fleshy, rich, chocolate-covered black and blue fruits with espresso, jam and licorice notes lead to a sensuous, plush, fat wine with a sweet, opulent, ripe, fruit-driven finish. Produced from 100% old vine Merlot. 93-95 Pts

94

points - Tasted

Apr 26, 2013

378 Views

2011 Château Faugères

From 85% Merlot, 10% Cabernet Franc and 5% Cabernet Franc, the wine is aged in 50% new oak. This medium-bodied wine displays floral, red plum , licorice and earthy aromas and ends with a light red berry finish. 89-90 Pts

89

points - Tasted

Apr 24, 2012

838 Views

2010 Château Faugères

Faugeres From a blend of 85% merlot, 10% cabernet franc and 5% cabernet sauvignon, the wine will be aged in 50% new oak for about 14 months. Licorice, bitter chocolate, boysenberry aromatics, plush, soft, round textures and a ripe, chocolate and black cherry finish are found in this wine. 90-91 Pts

91

points - Tasted

Apr 22, 2011

1723 Views

2010 Château Faugères Cuvée Spéciale Péby

2010 Peby Faugeres is produced from 100% Merlot and aged in 100% new oak for 18 months. Production hovers close to 1,000 cases. Deep purple in color, jammy black fruit, espresso, licorice and spice, this thick, powerful, dense, dark wine is stuffed to the brim with decadent ripe fruit, licorice and chocolate that defines voluptuous in a wine. Unctuous and long, the wine ends with licorice, chocolate, spicy plum and jammy berry liqueur. 95-97 Pts

96

points - Tasted

Apr 22, 2011

1882 Views

2009 Château Faugères Cuvée Spéciale Péby

From 100% old vine Merlot, this is a serious contender for the sexiest wine of the vintage. In other words, this decadent wine is made for hedonists! Lush, opulent, sensuous textures, boatloads of chocolate covered boysenberries, truffle, licorice and espresso and a lusty, velvet finish are found in this wine. This is already drinking great. Age it, or pop a bottle tonight. Either way, it's a treat.

96

points - Tasted

May 19, 2013

216 Views

2009 Château Faugères

Lush textures, licorice, espresso, black cherries, plum, cocoa and truffle scents and an opulent, forward, sensuous finish are already on full display.

92

points - Tasted

May 19, 2013

323 Views

2008 Château Faugères

08 Château Faugeres starts off with a truffle nose intermingled with oak and black fruits. This medium/full bodied, elegantly styled wine will offer pleasure at a young age. The wine finishes with silky, jammy black berry flavors. Owner Silvio Denz unveiled his new, show stopping wine making facilities in September 2009. 89-91 Pts

90

points - Tasted

Jul 1, 2009

1347 Views

2008 Château Faugères Cuvée Spéciale Péby

08 Château Peby Faugeres is the 100% luxury merlot from the top plots at Faugeres, produced in 100% new oak from mostly 40 year old vines from clay and limestone soils. This licorice accented wine offers a plush mouth that ends with notes of chocolate covered, jammy black fruits. 92-94 Pts

93

points - Tasted

Jul 1, 2009

1187 Views

2005 Château Faugères

The power trio of Michel Rolland, Stephan von Neipperg and Silvio Denz produced a solid wine in 2005. Still deep in color, with licorice, coffee, blackberry, blueberry, stone and chocolate covered cherries, this is a sensuous, deep, rich, opulent, lush, modern style of St. Emilion wine that has offered pleasure from the moment it was bottled. There is a lot to like here and it's still fairly priced.

92

points - Tasted

Nov 1, 2011

3280 Views

2003 Château Péby Faugères

Blackberries, plums and cassis and a hint of raisinette, (the candy) Very deep, ripe, dense and concentrated in a full bodied, opulent style. This is a sexy wine. A bit more structure would be nice. But if you're looking for hedonistic pleasure, you'll find it here. However this will drink best during its first decade of life.

92

points - Tasted

Jun 1, 2007

2354 Views

2000 Château Péby Faugères

Somewhere along the way, this wine lost its fruit. The earthy, licorice, chocolate covered, red cherry wine is tart, short and not as sweet as it was, in its youth.

89

points - Tasted

Dec 12, 2012

1211 Views

Blackberry liqueur, blueberry and spice notes were easy to find. Rich, concentrated, plush with a medium length finish. A touch of heat was detected in the end.

92

points - Tasted

Jan 15, 2009

2702 Views

2000 Château Faugères

Drinking perfectly today, the wine offers all its soft, round textured charms with layers of licorice, coffee bean, black cherries, earth, anise and spice. There is no need to age this wine any longer.

90

points - Tasted

May 19, 2013

220 Views

1998 Château Péby Faugères

Chocolate covered cherries, truffle, toast, smoke, incense and minerals create the inviting perfume. Full bodied and rich, this mature wine ends with an opulent textured, fleshy, spicy, black cherry jam filled finish. Bottle #11 out of the case. One more to go and every bottle of this 100% old vine Merlot based wine has been delicious. This was popped and poured.

93

points - Tasted

May 18, 2012

1923 Views

Licorice, chocolate, plum, blackberry, espresso bean and smoke aromas open to a suave, opulent, richly textured wine supple, smooth and sexy textures. This fully mature wine is the best vintage made by this property between 1998 and 2009. I am happy to report the 2010 is a better wine as they are now back to form.

94

points - Tasted

May 19, 2011

2618 Views

This is a sex bomb of a wine! Very rich, fat, opulent and polished. The decadent, exotic mouth feel is a treat for the senses. The wine reminds me of chocolate covered blackberry and plum liqueur. This is drinking great today and should maintain the same level of pleasure for at least another decade.

93

points - Tasted

Oct 13, 2008

2976 Views

This wine is for hedonists. It's incredibly sexy, plush, rich, opulent and exotic. Each sniff, swirl and swallow was a treat. I'd want to drink this over the next decade to fully experience its alluring and sensual qualities.

93

points - Tasted

May 29, 2008

2980 Views

Rich, fat, ripe and concentrated with gobs of lusty red and black fruits, licorice and vanilla, make this a wine for pleasure seekers.

93

points - Tasted

Aug 31, 2007

2758 Views

This is incredibly sexy, plush, rich, opulent and exotic. Each sniff, swirl and swallow was a treat. This won't make old bones, nor is it very complex. But if wines were rated solely for pleasure, this sexy, sultry bottle would score close to the high end of the range.

94

points - Tasted

Feb 23, 2007

1928 Views