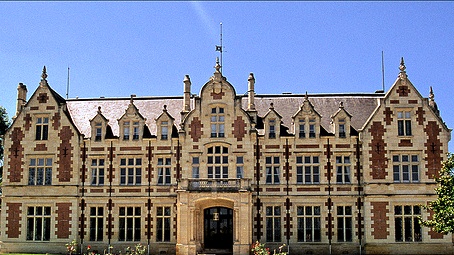 Chateau Cantenac Brown Margaux Third Growth, Bordeaux wine producer profile, with wine tasting notes, wine ratings, a history of the property, information on wine making and terroir, along with wine tasting reviews. If you want to read about other important, Bordeaux Chateaux: Links to all Bordeaux Wine Producer Profiles
The Chateau for Cantenac Brown is unique in the Bordeaux wine appellation. It is perhaps the only Bordeaux chateau designed as a traditional Tudor estate. How did that happen?
At the start of the 19th century, the well known Scottish animal painter, John Lewis Brown purchased the estate and Bordeaux wine vineyards. As was the tradition in the Medoc at the time, he renamed the estate Cantenac Brown. Brown drew up the plans and designed the chateau in the Tudor style. The property changed hands in 1843, when it was traded to a banker named Gromard. More recently, it was owned by the famous Cognac producer, Remy Martin who sold it to AXA, the massive insurance company with several Bordeaux estates in their portfolio including Pichon Baron in Pauillac, along estates in Pomerol and Sauternes. AXA ended up selling the property. Today, the Simon Halabi family are the owners of this Bordeaux chateau located in the Margaux appellation. One of the first moves made by the new owners was to place Jose Sanfins in charge of the wine making at Cantenac Brown. Under the direction of Jose Sanfins, the level of quality has continued to improve.
The 54 hectare Bordeaux wine vineyard of Cantenac Brown sits on gravel and sandy soils. 48 hectares are under vine. The vineyard is planted to 65% Cabernet Sauvignon, 25% Merlot and 10% Cabernet Franc, the average age of the vines are 35 years of age. The current blend in the vineyards shows an increase in Cabernet Franc. The terroir is gravel and sand. The vines are planted to a density of 8,500 vines per hectare. Yields have been reduced to an average of 45 hectoliters per hectare. The estate takes a sustainable approach to their Left Bank vineyard farming techniques. This approach means only plant based fertilizers are used. The grapes are picked parcel by parcel, which is how they are vinified as well.
At Cantenac Brown, the wine is vinified in temperature controlled, stainless steel vats. Malolactic fermentation takes place in a combination of oak barrels and vat. The wine of Chateau Cantenac Brown is aged in 50% new, French oak barrels for 12 to 15 months, depending on the vintage.
On average, Chateau Cantenac Brown produces 12,000 cases of Bordeaux wine per year. There is a second wine, Brio de Cantenac Brown. Cantenac Brown also produces a small amount of white wine called BriO. The estate produces a third Margaux wine, Sijac de Cantenac Brown. The owners of Chateau Cantenac Brown also own vines in the Bordeaux Superieur region where they produce Chateau Brown Lamartine.
Chateau Cantenac Brown has truly increased their quality starting with the 2009 vintage.
Wine Tasting Notes
Displaying 9 vintages | 38982 Views Sorted by vintage
2012 Château Cantenac Brown

Soft textured, with sweet cherries, floral notes, plum and earth, the wine ends with a mélange of red and black fruits. 90-93 Pts

92

points - Tasted

Apr 25, 2013

1197 Views

2011 Château Cantenac Brown Blanc BriO

For the 2011 vintage, Cantenac Brown introduced a 750 case wine from 90% Sauvignon Blanc and 10% Semillon aged in 1 year-old barrels. With grapefruit, lemon and honeysuckle, the wine ends with a short, lemon wax finish. 87 Pts

87

points - Tasted

Apr 19, 2012

1101 Views

2011 Château Cantenac Brown

From a blend of 67% Cabernet Sauvignon and 33% Merlot, the medium bodied, tannic wine is more interesting in the nose, with its blackberry, earth, coffee bean and smoke filled prefume, than on the palate, which ends with herbs, cherries and a bit of dryness in the finish.

89

points - Tasted

Feb 17, 2014

279 Views

Blending 67% Cabernet Sauvignon with the remainder taken up by Merlot, the wine reached 12.9% alcohol. The wine will be aged in 50% new oak. With some coaxing, earth, coffee and black cherry can be found. Soft in texture, this medium-bodied, soft wine ends with a short, clean, black cherry finish. 88-90 Pts

89

points - Tasted

Apr 19, 2012

1852 Views

2010 Château Cantenac Brown

Coffee bean, oak, olives, blackberries and bitter chocolate, the wine is soft, ripe and round, but there is a dusty quality to the tannins in the finish of this blend of 66% Cabernet Sauvignon and 34% Merlot.

92

points - Tasted

Feb 13, 2013

3030 Views

Licorice, black cherry, mint and coffee bean scents open to a supple, polished, fresh, medium bodied, round, chocolate covered cherry wine.

92

points - Tasted

May 1, 2012

2471 Views

2009 Château Cantenac Brown

Truffle, mint, coffee, tobacco, jammy blackberry and subtle vanilla scents lead to a polished, fleshy, fresh, sweet, cocoa and boysenberry filled wine.

93

points - Tasted

May 1, 2012

4824 Views

It's always nice to be surprised when you discover a wine has turned out much better than you originally anticipated. This delicious Margaux offers licorice, earth, cassis, spice and truffles, With rich supple textures, concentrated layers of juicy, ripe, dark berries and freshness, this Bordeaux wine is a winner!

93

points - Tasted

Feb 2, 2012

4829 Views

2008 Château Cantenac Brown

Coffee, tobacco, stewed fruit and cassis in the nose. With some dryness in the tannins, the wine ends with black cherry, herbs and coffee.

88

points - Tasted

May 1, 2012

3368 Views

Espresso bean, licorice, flowers and black cherry aromas, medium body and soft textures are found in this wine, which ends with a vanilla, red and black plum finish. This will drink well young.

89

points - Tasted

Oct 18, 2011

3747 Views

2006 Château Cantenac Brown

Blackberries, coffee bean, cassis, earth, blueberry and tobacco aromas lead to a medium/full bodied charming, supple style of Margaux wine that finishes with a round, ripe, chocolate, plum finish. Give it a few more years to develop additional layers of complexity.

90

points - Tasted

Nov 16, 2011

3221 Views

2005 Château Cantenac Brown

Lean, simple, medium bodied and a bit oaky. This was the last vintage made by the previous owners. Starting with the 2006, there is a marked improvement in the wine, along with a commitment to ratchet up the quality for future vintages.

88

points - Tasted

Dec 20, 2011

3946 Views

2000 Château Cantenac Brown

Cassis, blackberries, spice, mocha, tobacco and earthy aromas lead to a medium bodied, soft textured Margaux wine that ends with a plum, cherry and cassis filled finish.

90

points - Tasted

Aug 22, 2011

5117 Views