Bordeaux Wine 2009 Barrel Tasting Notes
,
Feature Articles
— By
Jeff Leve
on July 6, 2010 at 5:58 am
Monday was spent in Pomerol. I'll be back a few times during the week to taste from all the other top chateaux. I hope this will hold everyone until later in the week until I can post more Pomerol notes. You can take this to the bank. Pomerol is the appellation of the vintage in 2009! That's right. Buy all the 2009 Pomerol you can afford. These stunning wines will get huge scores from Robert Parker in bottle and move up in price. This is a look at the wines: 2009 Pomerol Wine Tasting Notes Part 1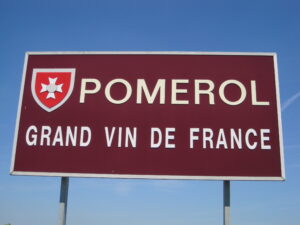 2009 La Grave offers chocolate, earthy and berry aromas. Elegantly styled with dark plum and coco flavors are found in this lighter style of Pomerol. 88-90 Pts
2009 Latour a' Pomerol offers a dark, ruby hue. The perfume is filled with chocolate, fresh dark berries and floral scents. With ripe tannins and opulent textures, the wine finishes with fresh, ripe dark raspberries, sweet chocolate and black cherry. 92-94 Pts
2009 La Fleur Petrus pops from the glass with fresh ripe black and red berries, licorice, spice, mocha and chocolate. Full bodied, rich and silky with velvety tannins, this sensuous wine ends with a long, fresh finish filled with layers of fresh, black berry, dark cherry and spice flavors. While more powerful and concentrated than the 05, everything is in balance and harmony with the Bordeuax wine. 94-97
2009 Providence starts with ripe, jammy berries, chocolate and spicy scents. Full bodied and richly textured, this vintage lacks the excitement, complexity and length of the 05. The wine finishes with finishes with elegant, dark cherry and black raspberry flavors. 93-95 Pts
2009 Hosanna opens with an inky purple hue. Smoke, black and blue fruit, earth, fudge and kirsch. Powerful, full bodied and concentrated with layers of silky fruit, this decadently styled Pomerol fills mouth, coats your teeth and palate with fresh, dense, ripe berries, chocolate and spice. This Bordeaux wine offers a long, finish lasting close to :60 seconds. 97-98 Pts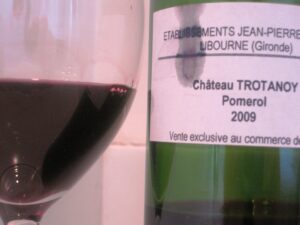 2009 Trotanoy sports a dark ruby color. Spice, jammy dark berries, black raspberry, truffle, plum liqueur, Valhrona chocolate, fresh flowers and licorice. This wine is packed and stacked with endless layers of silky, velvet drenched fruit. The textures offer incredible sensations of opulence, richness and cashmere. This very concentrated wine coats your palate with endless layers of perfectly ripe, intense, decadent layers of fruit, freshness, chocolate and spice. The seamless finish lasts more than sixty seconds! This Bordeaux wine should be forced to carry a warning label stating. "Open when in need of extreme hedonistic pleasure"!
This is a remarkable Trotanoy. The wine offers a more complete tasting experience than the two finest modern vintages; the off charts 2008 as well as the sublime 1998. As good as those vintages are, stating this wine is makes a strong statement! 98-100 Pts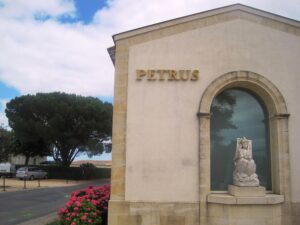 2009 Petrus is deep ruby with purple tints at the rim of the glass. Spice, ripe plums, blackberry and blueberries with cinnamon, clay, mint, mocha and kirsch make up the complex perfume. The wine is rich, concentrated, intense and packed with surreal levels of glycerine. This viscous, thrilling treat ends with a seamless finish of spicy,pure, jammy cherries and chocolate. 98-100 Pts
2008 Montviel, marks the first vintage for the property using micro vinification for a portion of the crop. 50% of the production was hand-picked, sorted berry by berry. Whole berries are placed in new barrels for fermentation. This 80% Merlot, 20% Cabernet Franc wine offers dark cherries, coco, spice and fresh herbs. Medium to full-bodied with round textures and dark cherry flavors in the finish. 89 Pts 1,500 cases
2008 Le Gay is produced from 80% Merlot and 20% Cabernet Franc. The wine opens with black raspberry, floral, licorice, coffee and blue fruit aromas. Rich, round, opulent, sexy and filled with plush, ripe fruit with hints of licorice. The long finish of fresh, ripe dark berries and chocolate shows persistence. Jean-Christophe Meyrou prefers the 08 to the 2005. I'm not sure I agree, but it will be fun comparing the two vintages of this Bordeaux wine when they mature. 1,200 cases 95 Pts
2008 La Violette, produced from 100% Merlot offers chocolate, licorice, ripe plums, flowers, caramel, vanilla and spice. This very concentrated wine has so much viscosity, it feels like oil passing over your palate. Incredible pure, ripe, flavors of plums and berries remain fixed in your senses for over one minute! The only problem with this amazing Bordeaux wine is finding any. A whopping 4,100 bottles were produced for the world. On the bright side. I know where 12 bottles are.And they have my name on it! 98 Pts
2009 Montviel kicks off with jammy berries, licorice and espresso. Round textures, but with some dryness in the finish. 87/89 Pts
2009 Le Gay is deep ruby in color. Tobacco, truffles, forest floor, blackberry, boysenberry and oak in the nose. Full bodied and concentrated, silky and round, this ripe dark berry flavored wine is outstanding, but for me the reference point of the modern era remains the 2005. 93-95
2009 La Violette starts off with chocolate, floral, boysenberry, plums, coffee and spice. This concentrated wine displays ample layers of decadent fruit, ripe, silky tannins. This Bordeaux wine finishes with spicy, rich, plush, sweet dark berries, licorice, fudge and spice. 94-96 Pts
Tags: Bordeaux 2010