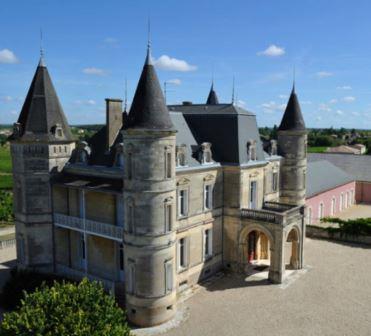 Learn everything about Chateau Perenne Cotes de Blaye with wine tasting notes, wine, and food pairing tips, best vintages, a history of the property, and information on the vineyards and winemaking. If you want to read about other important, Bordeaux Chateaux: Links to all Bordeaux Wine Producer Profiles
Chateau Perenne History, Overview
Chateau Perenne has a long history in Bordeaux dating back to the 1700s. when it was known as Chateau St. Genes. Prior to the French Revolution, the property was inhabited by the order of Monks from Saint-Romain de Blaye Abbey. The actual chateau was constructed in 1870 by the Arnaud family, the owners at the time.
Bernard Magrez, who is best known for owning Chateau Pape Clement in Pessac Leognan, as well as numerous other estates all over the world, bought the vineyard in 1997.
Under his direction Bernard Magrez, in 2002, he debuted a luxury Cuvee from the property, La Croix de Perenne.
La Croix de Perenne, the high-end wine of the estate is culled from the vineyards best parcels and oldest vines from the much larger Chateau Perenne vineyards The vineyard of Chateau Perenne is also used as the grape source for Chateau Confiance, which is produced in a partnership with the well-known, French actor, Gerard Depardieu.
One of the first things Bernard Magrez did after purchasing Chateau Perenne was to bring in Michel Rolland to consult on winemaking and vineyard management. In May 2016, the famous Chinese billionaire, Jack Ma, the founder of Alibaba purchased the property for 16 million Euros from Bernard Magrez.
This was the second estate purchased by Jack Ma who bought Chateau de Sours in the Entre Deux Mers appellation earlier in 2016. Jack Ma is also in the process of creating a negociant company, Cellar Privilege with other Chinese investors. Cellar Privilege is located at Chateau Senailhac. Just a short time later, in 2016, Jack Ma purchased Chateau Moulinet in Pomerol.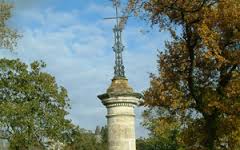 Chateau Perenne Vineyards, Terroir, Grapes, Winemaking
The 57-hectare vineyard of Chateau Perenne is planted to 85% Merlot, 13% Cabernet Sauvignon, 1% Malbec, and 1% Cabernet Franc for the red wine. For the white wine grapes, 2 hectares of vines are planted to 40% Semillon, 30% Sauvignon Blanc and 30% Sauvignon Gris.
The terroir is clay and limestone soils. The fairly large vineyard is almost 1 large block of vines. On average, the vines are 35 years of age. The vineyard is planted to a vine density of 4,500 vines per hectare.
To produce the wine of La Croix de Perenne, vinification takes place in large, French oak tanks. Malolactic fermentation takes place in barrels.
The estate produces a high end cuvee, La Croix de Perenne Cuvee d'Exception. Vintages prior to 2003 were sold as La Croix du Prieure. The wine is made from 100% old vine Merlot from their best parcels and aged in a higher percentage of new, French oak barrels. The production is limited as less than 350 cases are produced each year.
Chateau Perenne, the main wine from the estate comes from a 55-hectare portion of the vineyard. The wine is usually made from a blend that mirrors the vineyard plantings. The average annual production is close to 20,000 cases of wine per year.
There is a second wine, Cuvee Girouette. The estate produces a third wine, Chateau Perenne Bernard Magrez La Girouette du Chateau Perenne from a blend that varies, but is on average, 86% Merlot, 12% Cabernet Sauvignon and 2% Malbec.
The best vintages of Chateau Perenne are: 2022, 2021, 2020, 2019, 2018, 2017, 2016, 2015, 2014, 2012, 2010 and 2009.
Chateau Perenne also produces a small amount of dry, white Bordeaux wine from a 2.5-hectare parcel of vines that is planted to 40% Semillon, 30% Sauvignon Blanc and 30% Sauvignon Gris. The white Bordeaux wine, Chateau Perenne Blanc is barrel fermented and aged for an average of 10 months before bottling.
The Right Bank look-alike wine of La Croix de Perenne is best consumed on the young side for its forward, lush, fruits.
When to Drink Chateau Perenne, Anticipated Maturity, Decanting Time
Chateau Perenne is better with at least 1-2 years of aging in good vintages. Young vintages can be decanted for up to 1 hour, helping the wine soften to help develop the aromatic character.
Older vintages might need very little decanting, just enough to remove the sediment. Chateau Perenne offers its best drinking and should reach peak maturity between 3-8 years of age after the vintage.
Serving Chateau Perenne with Wine, Food, Pairing Tips
Chateau Perenne is best served at 15.5 degrees Celsius, 60 degrees Fahrenheit. The cool, almost cellar temperature gives the wine more freshness and lift.
Chateau Perenne is best paired with all types of classic meat dishes, veal, pork, beef, lamb, duck, game, roast chicken, roasted, braised, and grilled dishes. Chateau Perenne is also good when matched with Asian dishes, hearty fish courses like tuna, mushrooms, and pasta.
Château La Croix de Perenne Wine Tasting Notes
8 Vintages 13,253 Views Sort by Vintage-Rating
2020
Château La Croix de Perenne (Blaye Côtes de Bordeaux)

Merlot-based, simple, easy-drinking, forward, medium-bodied charmer with a bright, red berry finish. 85-87 Pts

2,153 Views

Tasted

May 20, 2021

2020
Château Perenne (Blaye Côtes de Bordeaux)

Soft-textured, medium-bodied, crowd-pleasing charmer that is made for early drinking pleasure. 84-86 Pts

766 Views

Tasted

May 20, 2021

2017
Château La Croix de Perenne (Blaye Côtes de Bordeaux)

A simple, easy drinking, forward, medium bodied, Merlot-based wine. The texture is soft and the finish is fruity, showing sweet ripe cherries, cocoa and licorice on the back end.

1,908 Views

Tasted

Apr 26, 2018

2016
Château La Croix de Perenne (Blaye Côtes de Bordeaux)

Medium bodied, easy drinking, forward, fresh, clean and fruity, the finish focuses you on its sweet cherries and licorice.

1,396 Views

Tasted

Sep 21, 2019

Medium bodied, forward, easy to drink and like, this is a great example of a crowd pleaser, with its open, fruity, soft textured style.

1,672 Views

Tasted

Apr 29, 2017

2014
Château La Croix de Perenne Cuvée d'Exception (Blaye Côtes de Bordeaux)

Medium-bodied, soft, round, open, cherry and cocoa filled wine with an earthy finish that is ready for current consumption.

740 Views

Tasted

Feb 22, 2021

2013
Château Perenne Blanc (Blaye Côtes de Bordeaux)

Light, refreshing, easy drinking summer quaffer with a grapefruit and honeysuckle character that should be consumed in its youth.

1,760 Views

Tasted

Feb 4, 2018

2010
Château La Croix de Perenne (Blaye Côtes de Bordeaux)

La Croix de Perenne Cuvee d'Exception is a 100% Merlot based wine made in a forward, open, ripe, early drinking, luscious style that offers a lot of pleasure in its licorice, espresso bean, cocoa and black cherry youth.

1,422 Views

Tasted

Jan 2, 2015

2009
Château La Croix de Perenne (Blaye Côtes de Bordeaux)

La Croix de Perenne Cuvee d'Exception is a lush, ripe, round, supple, forward wine that will deliver its licorice and black cherry sensations best on the young side of life.

1,436 Views

Tasted

Oct 28, 2014