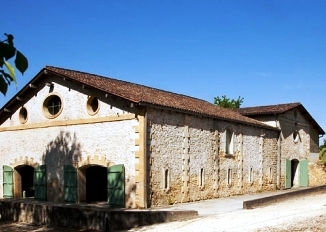 Learn everything about Domaine de Courteillac Bordeaux Superieur with wine tasting notes, wine, and food pairing tips, best vintages, a history of the property, information on the vineyards, and winemaking. If you want to read about other important, Bordeaux Chateaux: Links to all Bordeaux Wine Producer Profiles
Domaine de Courteillac History, Overview
Domaine de Courteillac is a fairly young estate. The estate was originally founded by Henri de Foussat de Bogeron. Domaine de Courteillac was purchased in 1998 by the well-known Bordeaux wine merchant, Dominique Meneret who is a partner in the negociant company, Bernard and Meneret.
Dominique Meneret was also the director of Chateau Larmande in St. Emilion for a bit.
Things really began to turn around for the property when Dominique Menert bought the property from Stephane Asseo, who had owned the vineyard since 1982. The sale took place after Stephane Asseo left Bordeaux to create the popular California winery, L'Aventure in the central coast appellation of Paso Robles.
Stephane Asseo and Dominique Meneret are business partners in the California winery. Since Stephane Derenoncourt began consulting on the wine-making and vineyard management of Domaine de Courteillac, there has been a marked improvement in the wines being produced at the estate.
In late, 2016, it was announced that the large, Chinese wine and spirits retailer, Daohe Wine and Spirits, purchased Domaine de Courteillac from Dominique Menert for an undisclosed sum of money. The entire technical team will remain in place with the property.
Domaine de Courteillac Vineyards, Terroir, Grapes, Winemaking
Domaine de Courteillac owns 27 hectares of vineyard planted to 63% Merlot, 23% Cabernet Sauvignon and 14% Cabernet Franc. Over the past few years, the amount of Cabernet Franc in the vines has slowly been increasing. 2 hectares of vines are reserved for the cultivation of white Bordeaux wine grapes.
On average, the vines are maintained at about 15 years of age. The terroir of Domaine de Courteillac is clay and limestone soils. Domaine de Courteillac is situated southeast of St. Emilion, close to the Dordogne river. The vineyard enjoys one of the highest elevations in the Entre Deux Mers appellation.
The wines are aged in 33% new, French oak barrels for between 14 and 16 months. Close to 12,000 cases per year are produced of Domaine de Courteillac. There is a second wine, C de Courteillac. Previously, the second wine was sold under the name of Domaine Fleur de Courteillac.
Domaine de Courteillac is a strong example of a Bordeaux value wine with the designation of Bordeaux Superieur.
The best vintages of Domaine de Courteillac are: 2022, 2021, 2020, 2019, 2018, 2017, 2016, 2015, 2014, 2012, 2010, 2009 and 2005.
When to Drink Domaine de Courteillac, Anticipated Maturity, Decanting Time
Domaine de Courteillac is better with at least 1-2 years of aging in good vintages. Young vintages can be decanted for up to 1 hour, helping the wine soften to help develop the aromatic character.
Older vintages might need very little decanting, just enough to remove the sediment. Domaine de Courteillac offers its best drinking and should reach peak maturity between 2-6 years of age after the vintage.
Serving Domaine de Courteillac with Wine, Food, Pairing Tips
Domaine de Courteillac is best served at 15.5 degrees Celsius, 60 degrees Fahrenheit. The cool, almost cellar temperature gives the wine more freshness and lift. Domaine de Courteillac is best paired with all types of classic meat dishes, veal, pork, beef, lamb, duck, game, roast chicken, roasted, braised, and grilled dishes.
Domaine de Courteillac is also good when matched with Asian dishes, hearty fish courses like tuna, salmon, mushrooms, and pasta.
http://domainedecourteillac.com
Domaine de Courteillac Wine Tasting Notes
10 Vintages 37,967 Views Sort by Vintage-Rating
2020
Domaine de Courteillac Merlot Cabernet (Bordeaux Supérieur)

Medium-bodied, earthy, savory, with red fruits, herbs and olives on the nose and palate. The finish shows a lot of oak at the moment, so it is going to take at least a few years to come together. Drink it over the next 5-7 years. 87-89 Pts

2,286 Views

Tasted

May 20, 2021

2018
Domaine de Courteillac Merlot Cabernet (Bordeaux Supérieur)

Medium-bodied, fresh, sweet, fruity, forward and focused on its soft red cherry character. This will easy drinking on release.

1,270 Views

Tasted

Mar 9, 2021

Bright, juicy, fresh, crisp red fruits in a medium-bodied format that will offer easy drinking on release. 86-88 Pts

1,806 Views

Tasted

Apr 19, 2019

2016
Domaine de Courteillac Merlot Cabernet (Bordeaux Supérieur)

Fresh cherries, espresso, earth and licorice fill the perfume. The wine is fresh, medium bodied, soft, forward and open. This ready to drink charmer leaves you with sweet earthy plums in the finish. You can drink this on release and over the next 5-7 years.

1,811 Views

Tasted

Sep 21, 2019

The wine has gained a bit of concentration over the past year so that now, the black cherries and licorice come through loud and clear. Forward, early drinking and charming, this is a fine Bordeaux value wine.

2,297 Views

Tasted

May 12, 2018

Medium bodied, easy drinking charmer, with fresh, black raspberry, licorice and red cherries. Soft textured and forward, this will drink well early.

2,820 Views

Tasted

May 1, 2017

2015
Domaine de Courteillac Merlot Cabernet (Bordeaux Supérieur)

Well priced charmer with loads of sweet, black raspberries, cocoa and thyme. Medium bodied, and forward, there is nice value to be found here.

1,750 Views

Tasted

Apr 29, 2016

2014
Domaine de Courteillac Merlot Cabernet (Bordeaux Supérieur)

Medium bodied, fruity, soft textured, ripe, black cherry, espresso and licorice accents and a round, fruit filled finish. The wine was made from a blend of 80% Merlot, 10% Cabernet Franc and 10% Cabernet Sauvignon. This is perfect for current, near term drinking.

2,056 Views

Tasted

Jan 6, 2018

2013
Domaine de Courteillac Merlot Cabernet (Bordeaux Supérieur)

Simple, light, correct, red berries and an easy going finish that requires early drinking. 84-86 Pts

1,888 Views

Tasted

May 1, 2014

2012
Domaine de Courteillac Merlot Cabernet (Bordeaux Supérieur)

The wine is medium-bodied, ripe, soft, oaky and slightly drying in the finish, from a blend of 80% Merlot, 10% Cabernet Sauvignon and 10% Cabernet Franc. 84-86 Pts

3,464 Views

Tasted

Apr 26, 2013

2010
Domaine de Courteillac Merlot Cabernet (Bordeaux Supérieur)

A nice, easy drinking, Merlot domianted, quaffable wine that is ready go, with soft dark cherries and hints of licorice in the finish. This is not a wine to age.

1,967 Views

Tasted

Mar 8, 2014

2009
Domaine de Courteillac Merlot Cabernet (Bordeaux Supérieur)

From a blend of 70% Merlot, 15% Cabernet Franc and 15% Cabernet Sauvignon, this already delicious wine is filled with licorice, jam and soft textured red and black fruits. This should deliver pleasure on release.

5,734 Views

Tasted

Jul 18, 2011

2009 Domaine de Courteillac. This domain was purchased in 1998 by Dominique Meneret from Stéphane Asseo, when Asseo left to create L'Aventure in Paso Robles, in which Dominique remains a partner. The vineyard is planted in clay and limestone. From a blend 70% merlot, 20% cabernet sauvignon, and 10% cabernet franc, this soft textured wine offers dark, anise coated berries. It finishes with black raspberries. 86-88 Pts

4,281 Views

Tasted

Aug 26, 2010

2008
Domaine de Courteillac Merlot Cabernet (Bordeaux Supérieur)

08 Domaine Courteillac, with its deep color and generous dose of ripe black fruit, plus a low price, is an enjoyable wine everyone can afford. 84-87

2,774 Views

Tasted

Aug 1, 2009