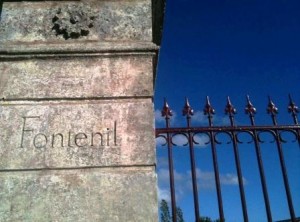 Learn everything about Chateau Fontenil Fronsac with wine tasting notes and wine-with-food pairing tips. Learn the best vintages, a history of the property, information on the vineyards, and winemaking. If you want to read about other important, Bordeaux Chateaux: Links to all Bordeaux Wine Producer Profiles
Chateau Fontenil History, Overview
Chateau Fontenil, located in the Fronsac appellation was purchased by Michel Rolland and Danny Rolland in 1986. Their original intention was just to buy a home in the Right Bank.
They were not looking for a vineyard at the time. But they loved the house and as well as the vines that came with it, so they took on the added responsibilities of creating a new estate as well.
Michel Rolland and Dany Rolland spent the next 13 years completely modernizing and rebuilding the entire Fronsac estate of Chateau Fontenil. Everything needed work from top to bottom.
This included renovating the chateau, the winery, cellars, and all its wine-making facilities. Their work at Chateau Fontenil also required them to replant a massive part of their vineyards.
In 2019, Chateau Fontenil became the first estate in the appellation to produce white wine when they released Le Blanc de Fontenil.
Chateau Fontenil Vineyards, Terroir, Grapes, Winemaking
The 11-hectare Chateau Fontenil vineyard is planted with red and white wine grape varieties. 10 hectares are planted to 90% Merlot and 10% Cabernet Franc. 1 hectare of vines is reserved for white Bordeaux wine grape varieties, Sauvignon Blanc, Semillon Sauvignon Gris, Muscadelle and you also find a small parcel devoted to Chardonnay!
The property can be difficult to find, if you do not know the area well, especially driving at night, as I learned the hard way. However, clearly, it is well situated in the Fronsac appellation.
Located at the highest elevation on the plateau of Fronsac, the terroir is clay and limestone soils with their best parcels having a southern exposure. The vines are old. In fact, most of the vines are close to 45 years of age. On average, the chateau produces close to 3,500 cases of Chateau Fontenil wine per year.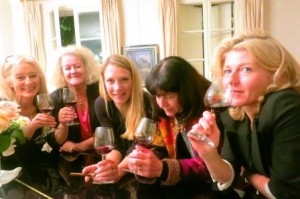 Traditionally, the wine of Chateau Fontenil is vinified in a combination of small, temperature-controlled, wood and stainless steel vats. Starting in 2010, 20% of the production is now being whole cluster fermented, meaning that 20% of the grapes are vinified with the stems attached. The fruit that is whole cluster is fermented and vinified in 100% new, French oak barrels.
Malolactic fermentation is carried out in 60% new, French oak barrels. Chateau Fontenil is aged in 60% new, French oak barrels.
There is a second wine, Filet Rouge. Aside from their Fronsac property Chateau Fontenil, Michel Rolland and Dany Rolland also own and produce Rolland Maillet, Bertineau St Vincent, and La Grande Clotte Blanc, which while the vines are planted in Lussac St. Emilion, the wine is sold as a Bordeaux blanc.
Le Blanc de Fontenil made its debut with the 2019 vintage. Sold as a Vin de France, the wine blends Sauvignon Blanc, Sauvignon Gris, Semillon, Muscadelle, and Chardonnay. The wine is vinified in a combination of new, French oak barrels and concrete, egg-shaped vats. The production is quite small, hovering at close to only 300 cases per vintage.
The best vintages of Chateau Fontenil are: 2022, 2021, 2020, 2019, 2018, 2017, 2016, 2015, 2014, 2012, 2010, 2009 and 2005.
Le Defi de Fontenil
The estate also produces Le Defi de Fontenil, which made its debut in 1999. The wine comes from a specific, 1.6-hectare parcel of old-vine Merlot that is more than 80 years of age. The terroir here is clay and limestone.
In 2000, 2001, and 2004, the wine of Le Defi de Fontenil was sold as a Vin de Table, due to its special vineyard management techniques in those vintages. What they did was shelter the grapes used to produce Le Defi de Fontenil from the rain by placing plastic sheets between the rows of vines. Because that was viewed as a violation of appellation laws, they were not allowed to state the wine was from Fronsac. All of the subsequent vintages of Le Defi de Fontenil have been labeled as Fronsac.
Starting with the 2008 vintage, Le Defi de Fontenil has been produced using 100% micro-vinification techniques, meaning that the wine was vinified and aged completely in the new, French oak barrels. The production is quite small as it averages about 300 cases per vintage.
When to Drink Chateau Fontenil, Anticipated Maturity, Decanting Time
Chateau Fontenil is better with at least 2-3 years of aging in good vintages. Young vintages can be decanted for up to 1 hour, helping the wine soften to help develop the aromatic character.
Older vintages might need very little decanting, just enough to remove the sediment. Chateau Fontenil offers its best drinking and should reach peak maturity between 3-15 years of age after the vintage.
Serving Chateau Fontenil with Wine, Food, Pairing Tips
Chateau Fontenil is best served at 15.5 degrees Celsius, 60 degrees Fahrenheit. The cool, almost cellar temperature gives the wine more freshness and lift.
Chateau Fontenil is best paired with all types of classic meat dishes, veal, pork, beef, lamb, duck, game, roast chicken, roasted, braised, and grilled dishes. Chateau Fontenil is also good when matched with Asian dishes, rich fish courses like tuna, mushrooms, and pasta.
Château Fontenil Wine Tasting Notes
23 Vintages 89,700 Views Sort by Vintage-Rating
2022
Château Fontenil (Fronsac)

With an opaque hue, the wine opens with all the black plums, black cherries, chocolate, flowers and licorice you need to start your day. But with the 2022, it is the palate, with its opulent, rich, endless waves of perfectly ripe, mineral-driven fruits that steal the show. The finish, with its layers of velvet-edged, creamy fruits finishes with salty, crushed stone accents, giving you length purity and complexity. Part of the reason the 2022 is so strong is that Le Defi was not produced this year, so all of that fruit was included this year. Drink from 2026-2042. 94-96 Pts

1,486 Views

Tasted

May 8, 2023

2021
Château Fontenil (Fronsac)

Salty, mineral-edged plums, soft, round tannins and a blast of spicy cherries along with a touch of refreshing mint-leaf on the mid-palate that you also find nuances of in the finish. You can enjoy this on release for its fruit and freshness. Drink from 2023-2032. 91-93

1,132 Views

Tasted

May 20, 2022

2020
Le Defi de Fontenil (Vin de France)

Deeply colored, you are instantly enticed by the nuances of smoke, flowers, black raspberries, licorice, and dark chocolate-covered, spicy plums. Opulent, full-bodied, luxurious and seductive, the finish builds and lingers with its layers of fruit, crushed rocks, chalk, espresso and chocolate. Drink it with a bit of age and enjoy it over the next 15-20 years. Drink from 2024-2040.

1,260 Views

Tasted

Mar 21, 2023

2020
Château Fontenil (Fronsac)

Dark in color, the nose pops with truffles, seaweed, roses, licorice, plums, black cherries and a hint of peppery spice. Elegant and sensuous in texture, there is freshness and purity as well as minerality in the fruit on the mid-palate and in the finish. Drink from 2023-2038.

1,007 Views

Tasted

Mar 21, 2023

Dark in color, the wine pops with notes of crushed stone, smoke, flowers, licorice, plums and black cherries. Silky in texture, with layers of fresh, sweet, ripe, polished cherries and dark cocoa. The wine is incredibly seductive. You can enjoy this on release, but it will be even better with a few years of age. 93-95 Pts

3,678 Views

Tasted

Jun 3, 2021

2020
Le Blanc de Fontenil (Vin de France)

The perfume is loaded with grapefruit, flowers, white peach, vanilla and lemon oil, on the palate, the wine is sweet, fresh, creamy and vibrant, finishing with spice, pears, green apple and citrus. Produced from a blend of Sauvignon Blanc, Sauvignon Gris, Semillon, Muscadelle and Chardonnay, this is only the second vintage for their white wine, but it is my first time tasting it. I am looking forward to tasting it again. 91 Pts

2,355 Views

Tasted

Jun 3, 2021

2019
Le Defi de Fontenil (Vin de France)

Quite dark in color, the wine is loaded with spice, licorice, smoke, espresso, and ripe, plums with cherries. The concentrated, luscious wine wine coats your palate with fruit, rocks and stones that comes in waves that build in intensity. The wine is fresh, long and complex with layers of sea-salt, black plums, velvet-textured tannins, dark chocolate, spice, licorice and espresso. Clearly, this is the best vintage ever of Le Defi Fontenil! Drink it with a bit of age over the next 15-20 years. Drink from 2024-2039.

625 Views

Tasted

Mar 29, 2022

2019
Château Fontenil (Fronsac)

Even better in the bottle than it was in barrel, and that is saying something, the wine opens with a massive bouquet of flowers on the nose. You also find crushed rocks, smoke, cherry blossoms, plums and sea-salt. The wine is soft, silky, fresh, vibrant and seductive with its layers of sweet fruits interspersed with various stones. Vibrant, long and fresh, the finish, with all of its sweet, fruits hits all the right notes. Drink from 2023-2037. Produced from 100% Merlot, this is one of the best vintages from Fontenil yet. Drink from 2023-2037.

2,101 Views

Tasted

Mar 29, 2022

Talk about seductive, this sexy, silky little number hits all the right moves. The wine is soft, but there is body and depth of flavor. The finish carries on with all the lushly-textured, chocolate-covered plums and cherries you need. This is one of the best vintages from Fontenil yet. The wine is produced from 100% Merlot, reaching 14.5% ABV. 92-94 Pts

3,556 Views

Tasted

Jun 8, 2020

2018
Le Defi de Fontenil (Fronsac)

Inky in color, the wine coats your palate with fruit, rocks and stones. Dense, but light on its feet, which is a difficult balance to achieve, the nose is all about the flowers, licorice, black cherry and boysenberry. With dark chocolate coming in at the end, the finish keeps on going long after the wine has gone to where it was destined to go. This is the best vintage ever of Le Defi Fontenil. 94-96 Pts

2,488 Views

Tasted

Apr 19, 2019

2018
Château Fontenil (Fronsac)

The flowery nose, with its incense, smoke, licorice and wild cherries gets your initial attention. However, it is the waves of perfect ripe, silky, sexy, sweet red fruits with their freshness and purity on the palate and in the finish that steals the show. The is the best vintage ever produced at Fontenil.

2,265 Views

Tasted

Mar 9, 2021

The nose pops with flowers, crushed rock, cherries and licorice without being asked. On the palate, the wine is concentrated with layers of ripe, fleshy, sweet black raspberries, licorice and plums. Complex on the nose and palate, there is the perfect amount of lift giving all the layers of fruit life. The is a new level of quality for Fontenil. 92-94 Pts

3,672 Views

Tasted

Apr 19, 2019

2017
Château Fontenil (Fronsac)

With suitable color, the nose kicks in with flowers, black cherry, licorice and smoke. On the palate, you'll find Rubenesque, lusciously textured, sweet black cherries, plums and soft, chubby textures with the perfect amount of bitter chocolate to round things off in the end.

2,125 Views

Tasted

Apr 26, 2018

2016
Le Defi de Fontenil (Fronsac)

Still inky in color, this looks like a barrel sample. The wine is rich, lush, silky and fresh. The velvet textured finish coats your palate with perfectly ripe, silky fruit, rocks and stones. Made from 100% old vine Merlot, this is going to age quite nicely.

1,824 Views

Tasted

Sep 21, 2019

Inky in color, with gobs of dark chocolate covered black raspberries, licorice, espresso and wet earth. The wine is concentrated, deep, dark, and rich. The fruit is ripe, pure and juicy, which you can really taste in the long, opulent finish. Made from 100% old vine Merlot, which varies in age from 80 to 100 years of age, this is Le Defi Fontenil yet produced by Dany Rolland and Michel Rolland. Le Defi Fontenil is not made in every vintage, it is reserved for only the top vintages.

1,703 Views

Tasted

Apr 29, 2017

2016
Château Fontenil (Fronsac)

Fresh, silky, ripe, polished and rich, the fruit combines with the sensation of saltiness on the palate, giving the wine length, energy and complexity.

2,481 Views

Tasted

Sep 21, 2019

Deep in color, the fruits are fresh, with sweet, juicy, dark, red berries, silky tannins and loads of juicy, blackberries to make the finish a treat.

3,255 Views

Tasted

Apr 29, 2017

2015
Le Defi de Fontenil (Fronsac)

Dark in color, with layers of rich dark fruit, licorice, crushed rock, wet earth and espresso. There is freshness, length, purity of fruit and complexity in the long, round, finish. This can age and evolve for 15-20 year with out any trouble.

2,075 Views

Tasted

May 21, 2018

Inky in color, with loads of dark, ripe, sweet fruits, freshness, black licorice, minerality and length, finishing with loads of ripe, lush, juicy fruit. Le Defi Fontenil is only produced in the best vintages.

1,596 Views

Tasted

Apr 29, 2016

2015
Château Fontenil (Fronsac)

Silky and supple, with sweet, ripe, soft, ripe, plums, truffle, licorice and smoke. On the palate, the wine is fresh, round and elegant. You find length, minerality and fruit in the finish. This is the best vintage of Fontenil ever produced.

4,455 Views

Tasted

May 21, 2018

Supple textures, soft and silky, with fresh, sweet plums, black cherries, and juicy, chocolate covered fruits in the finish. This should be quite tasty on release.

3,271 Views

Tasted

Apr 29, 2016

2014
Château Fontenil (Fronsac)

Soft, silky and easy to like, with a supple textured, sweet, plum and chocolate charm. 89-91 Pts

2,802 Views

Tasted

May 1, 2015

2013
Château Fontenil (Fronsac)

Black raspberry, flowers, fennel and oak in character, the dark chocolate and cherry dominated wine is easy to like and even easier to drink. 87-89 Pts

2,939 Views

Tasted

May 1, 2014

2012
Château Fontenil (Fronsac)

Oak, black and red fruits with fleshy textures and sweet, jammy cherries are found in this Michel and Dany Rolland-owned wine. 88-90 Pts

2,958 Views

Tasted

Apr 26, 2013

2011
Château Fontenil (Fronsac)

From 95% Merlot and 5% Cabernet Sauvignon, this simple, but fun, round Merlot will be a pleasure to enjoy young. 86-88 Pts

2,726 Views

Tasted

Apr 20, 2012

2010
Château Fontenil (Fronsac)

A great example of Bordeaux value wines at its best. Lots of plush, plum, sweet, ripe, black raspberries, plum, espresso bean, earth and cocoa notes, round tannins and a sweet, chocolately black cherry finish that is already fun to drink.

6,178 Views

Tasted

Mar 11, 2014

2009
Château Fontenil (Fronsac)

Blending mostly Merlot with 5% Cabernet Sauvignon produced a dark colored wine with blackberry, blueberry, vanilla, cocoa, jam and earthy scents. In the mouth, the wine is supple, forward and ends with round textured, jammy black cherry and plum. 2009 Fontenil can be enjoyed now, or aged for 5 - 8 years.

4,928 Views

Tasted

Jul 1, 2012

2008
Château Fontenil (Fronsac)

Licorice, espresso, spice and black cherry scents, medium/full bodied with a soft textured, fennel covered, black cherry and vanilla finish.

2,292 Views

Tasted

Oct 1, 2011

2005
Château Fontenil (Fronsac)

Fully mature, this luscious, round, supple round, with its smoke, licorice, plum and earthy profile shows how well the best wines of Fronsac can age.

3,870 Views

Tasted

Apr 16, 2016

Filled with fresh herbs and juicy plums, this soft textured wine is open and giving a lot of pleasure today with its supple, red berry personality.

4,566 Views

Tasted

Mar 12, 2012

With aromas of black licorice, black raspberries, dark cherry, coffee, stone and chocolate, this round, soft, sweet Bordeaux wine is already showing well. From a blend of 90% Merlot and 10% Cabernet Sauvignon, the wine ends with supple textures a long, chocolate covered black raspberry finish.

5,049 Views

Tasted

Oct 1, 2011

2001
Château Fontenil (Fronsac)

Fully mature, with a smoky, thyme, black cherry, plum, mocha and floral nose, the wine is round, fleshy, soft and ready for easy going, prime time drinking. This well-priced charmer is ready for drinking. Pop, pour and enjoy.

2,982 Views

Tasted

Sep 24, 2016