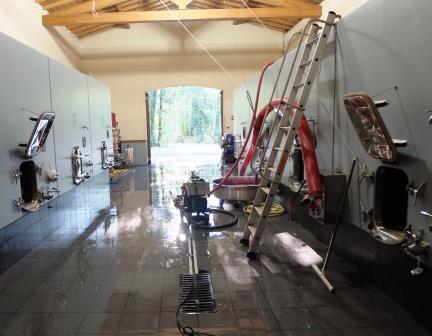 Learn everything about Clos du Jaugueyron Haut Medoc with wine tasting notes and wine with food pairing tips. Learn all the best vintages, wine ratings, a history of the property, information on the vineyards and winemaking. If you want to read about other important, Bordeaux Chateaux: Links to all Bordeaux Wine Producer Profiles
Clos du Jaugueyron History, Overview
Clos du Jaugueyron has a long history in the Margaux and Haut Medoc appellations that can be dated back to 1898. However, the modern era for the estate begins in 1993, when the winery was founded by Michel Theron and Stephanie Destruhaut.
To get their winery created, they did not purchase land. Instead, they began renting vineyards, which has turned out quite well for them, based on their wines and their expansion over the years. Michel Theron came to Bordeaux due to his family's interest in wine, as they were growers in the Southern Rhone, in the Minervois region, located in the Languedoc appellation.
Clos du Jaugueyron takes its name from some of their vineyards in the Left Bank which is known as Grand Jaugueyron and Petit Jaugueyron.
Clos du Jaugueyron Vineyards, Terroir, Grapes, Winemaking
Clos du Jaugueyron produces 5 wines, from 2 different vineyards. In the Haut Medoc appellation, they have a small, 3.4 hectare vineyard for Clos du Jaugueyron that is planted to 53% Cabernet Sauvignon, 40% Merlot and 7% Petit Verdot. Those vines are in the southern part of the appellation, not far from Chateau La Lagune and Chateau Cantemerle.
They also own 7 hectares of vines which are located in the Margaux appellation planted in the communes of Margaux, Cantenac and Arsac. Their better parcels are placed inland, close to Chateau du Tertre and in Cantenac. Many of their vines are young, due to replanting. However, they have old vines as well, that are close to 40 years of age. Their oldest vines are more than 100 years of age! Those vines are planted close to Chateau Palmer.
In total, from their vines in Margaux they produce 3 wines.
Clos du Juagueyron Margaux, their top wine from the appellation is usually a blend of 70% Cabernet Sauvignon, 20% Merlot, and 10% Cabernet Franc. Clos du Jaugueyron Perrain Margaux takes its name from a specific parcel of vines planted to 75% Cabernet Sauvignon and 25% Cabernet Franc. And Clos du Jaugueyron Margaux Nout, which is made from the estates youngest vines and includes a higher percentage of Merlot.
The vineyard is planted to a vine density of 7,000 vines per hectare. The terroir is gravel and sand soils. The best terroir for the estate is in Margaux in the Cantenac sector, which is where they have their Grand Jaugueyron and Petit Jaugueyron parcels. In 2008 Clos du Jaugueyron began converting to Biodynamic farming. In 2012 Clos du Jaugueyron was certified 100% organic in their vineyard management techniques.
In Margaux, and in the Haut Medoc appellation, Clos du Jaugueyron is now also certified as being 100% biodynamic.
To produce the wine of Clos du Jaugueyron, vinification takes place in small, temperature-controlled, cement vats that vary in size from 30-hectoliters to 40 hectoliters up to 50 hectoliters. Malolactic fermentation takes place in French oak barrels. The wine is aged in an average of 30% new, French oak barrels for about 12 months before bottling for the grand vin. The other wines do not see any new oak during the aging process.
Not much wine is produced as production for their Margaux wine is on average close to 2,000 cases per year. For the Margaux, there is a second wine, Petit Jaug.
The best vintages for Clos du Jaugueyron are: 2022, 2021, 2020, 2019, 2018, 2016, 2015, 2010, 2009, and 2005.
When to Drink Clos du Jaugueyron, Anticipated Maturity, Decanting Time
Clos du Jaugueyron needs some time before it can be enjoyed. Young vintages can be decanted for an average of 1 hour or so. This allows the wine to soften and open its perfume. Older vintages might need very little decanting, just enough to remove the sediment.
Clos du Jaugueyron is usually better with at least 6-9 years of bottle age. Of course, that can vary slightly, depending on the vintage character. Clos du Jaugueyron offers its best drinking and should reach peak maturity between 6-14 years of age after the vintage.
Serving and Decanting Clos du Jaugueyron with Wine, Food, Pairing Tips
Clos du Jaugueyron is best served at 15.5 degrees Celsius, 60 degrees Fahrenheit. The cool, almost cellar temperature gives the wine more freshness and lift. The wine of Clos du Jaugueyron is best served with all types of classic meat dishes, veal, pork, beef, lamb, duck, game, roast chicken, roasted, braised, and grilled dishes.
Clos du Jaugueyron is a perfect match with Asian dishes, hearty fish courses like tuna, mushrooms, and pasta as well as cheese.
Clos du Jaugueyron Wine Tasting Notes
8 Vintages 25,800 Views Sort by Vintage-Rating
2016
Clos du Jaugueyron (Margaux)

Floral, with fresh red fruits, earth and black cherry, with a liberal dose of new oak, the wine is medium bodied, round, fresh and fruity with notes or earth, cocoa and black cherry in the finish.

3,507 Views

Tasted

Apr 29, 2017

2015
Clos du Jaugueyron (Margaux)

Clos du Jaugueyron Margaux - From a blend of 50% Cabernet Sauvignon, 35% Merlot and 15% Cabernet Franc, the wine is forward, round and offers a nice dose of flowers, blackberry, espresso and cocoa with a medium/full bodied palate presence and a round, fruit filled finish. 89 - 91 Pts

3,365 Views

Tasted

Apr 21, 2016

2012
Clos du Jaugueyron (Haut-Médoc)

Medium-bodied, earthy and with a strong tobacco, herb, cedar, cranberry and cassis character, the wine is on the lean, crisp, bright side of the style range.

2,671 Views

Tasted

Nov 25, 2019

2010
Clos du Jaugueyron (Haut-Médoc)

Medium bodied, tannic and tight, the wine need coaxing to bring out its crisp, blackberry, tobacco and earthy elements.

2,367 Views

Tasted

Aug 16, 2015

2009
Clos du Jaugueyron (Margaux)

From a blend of 50% Cabernet Sauvignon, 35% Merlot and 15% Cabernet Franc, the wine is forward, round and offers a nice dose of flowers, blackberry, espresso and cocoa with a medium/full bodied palate presence and a round, fruit filled finish.

1,773 Views

Tasted

May 25, 2016

Supple, forward, soft and fresh, with a floral, blackberry, cocoa and dark cherry personality. The wine was produced from a blend of 50% Cabernet Sauvignon, 35% Merlot and 15% Cabernet Franc.

1,911 Views

Tasted

Dec 31, 2014

2006
Clos du Jaugueyron (Margaux)

Firm, classic, structured, medium/full bodied vintage with more interesting things going on in the nose, with its earthy, spicy, dark, red fruits, thyme and tobacco character. You can drink this now with an hour of decanting or another few years of age, which should remove some of the more stern tannic character.

2,651 Views

Tasted

Oct 15, 2017

2005
Clos du Jaugueyron (Margaux)

Nice, ready to drink wine, with a floral, sweet, cherry blossom, tobacco and licorice nose, soft, smooth textures and freshness in the ripe, red and dark red fruits.

2,059 Views

Tasted

Aug 20, 2016

2000
Clos du Jaugueyron (Margaux)

Coffee, boysenberry, licorice and truffle scents, masculine, tannic, full bodied, with a touch of olive in the crème de cassis finish. This is not quite as much fun to drink as previous bottles. It's a little bit more stern and tannic. I'm going to drink my few remaining bottles over the next few years.

3,273 Views

Tasted

May 14, 2014

From a blend of 60% Cabernet Sauvignon, 30% Merlot plus equal parts Petit Verdot, and Cabernet Franc, most of the vines that produce this small 110 case production wine are said to be pre-phylloxera! These old vines situated near Chateau Palmer are some of the oldest vines in Bordeaux! With aromas of flowers, cassis, earth, tobacco and spice, this soft textured, medium/full bodied, refined wine is already showing well. Elegant in style, with some tannin remaining, this should evolve for at least another 15-20 years. The wine ends with soft, sweet black cherry and kirsch filled finish.

2,223 Views

Tasted

Jul 26, 2011