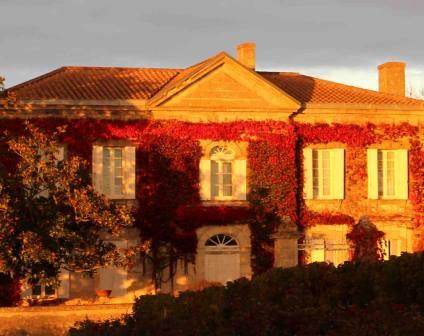 Learn everything about Chateau Greysac, Medoc, and Bordeaux, with wine tasting notes and wine with food pairing tips. Learn the best vintages, a history of the property, information on the vineyards, and winemaking. If you want to read about other, important Bordeaux chateaux; Chateaux: Links to all Bordeaux Wine Producer Profiles
Chateau Greysac History, Overview
The creation of what know as Chateau Greysac dates back to the late 1700s. However, the modern era of the estate begins in 1975, when it was purchased by the Agnelli family from Baron Francois de Gunzburg.
The Agnelli family was of course already quite famous for owning the automobile company, Fiat. After buying Chateau Greysac, they entered into a partnership to purchase Chateau Margaux in 1977, with the Mentzelopoulos family. They eventually sold their shares in Margaux to Corrine Mentzelopoulos.
Once the Agnelli family took over Chateau Greysac, they completely modernized the wine-making facilities, cellars, and replanted portions of the vineyard. In late 2012, Jean Guyon purchased Chateau Greysac from the Agnelli family. Jean Guyon was already well-known in Bordeaux as the owner of Rollan de By, Tour Seran, and Haut Condissas.
Chateau Greysac Vineyards, Terroir, Grapes, Winemaking
The 70-hectare, Left Bank vineyard of Chateau Greysac is planted to 50% Merlot, 40% Cabernet Sauvignon, 8% Cabernet Franc and 2% Petit Verdot. The vineyard is situated in the Medoc appellation, just north of St. Estephe. The terroir is gravel, clay, and limestone soils. The vines are on average, 25 years of age.
Previously, the estate planted 2 hectares of Sauvignon Blanc for the production of white Bordeaux wine. But that has been discontinued and the vines were removed. However, starting with the 2016 vintage, the property once again began producing Le Blanc de Greysac from a blend of Sauvignon Blanc Sauvignon Gris. That seems to have been a short-lived experiment as no white wine has been produced at Chateau Greysac since 2018.
The best vintages of Chateau Greysac are: 2022, 2021, 2020, 2019, 2018, 2017, 2016, 2015, 2014, 2010, 2009, and 2005.
To produce the wine of Chateau Greysac, vinification takes place in thermo-regulated stainless steel vats. Malolactic fermentation takes place in tanks, although a small portion of the malolactic fermentation takes place in barrels. The wine is aged in 20% new, French oak barrels for 12 months before bottling. On average, the large production here is close to 45,000 cases of wine per year.
When to Drink Chateau Greysac, Anticipated Maturity, Decanting Time
Chateau Greysac needs some time before it can be enjoyed. Young vintages can be decanted for an average of 1 hour or so. This allows the wine to soften and open its perfume. Older vintages might need very little decanting, just enough to remove the sediment.
Chateau Greysac is usually better with at least 1-3 years of bottle age. Of course, that can vary slightly, depending on the vintage character. Chateau Greysac offers its best drinking and should reach peak maturity between 2-9 years of age after the vintage.
Serving and Decanting Chateau Greysac with Wine, Food, Pairing Tips
Chateau Greysac is best served at 15.5 degrees Celsius, 60 degrees Fahrenheit. The cool, almost cellar temperature gives the wine more freshness and lift. The wine of Chateau Greysac is best served with all types of classic meat dishes, veal, pork, beef, lamb, duck, game, roast chicken, roasted, braised, and grilled dishes.
Chateau Greysac is a perfect match with Asian dishes, hearty fish courses like tuna, mushrooms, and pasta as well as cheese.
Château Greysac Wine Tasting Notes
12 Vintages 32,045 Views Sort by Vintage-Rating
2022
Château Greysac (Médoc)

The best Greysac ever made is forward, fresh, and already drinkable in its soft, round, fruity, easy-drinking currant-filled manner. Drink from 2025-2032. 89-91 Pts.

1,183 Views

Tasted

May 8, 2023

2021
Château Greysac (Médoc)

Medium-bodied, soft, round, fruity, easy-drinking currant and floral oriented wine with a strong, green, leafy accent in the finish. Drink this on the young side. Drink from 2023-2027. 85-87

1,378 Views

Tasted

May 20, 2022

2020
Château Greysac (Médoc)

Medium-bodied, fresh and chewy, with a solid core of cherries, mocha, cedar and soft-textures, this is already set to go, for easy-going, uncomplicated and pleasurable drinking. Drink from 2023-2034.

465 Views

Tasted

Mar 21, 2023

Medium-bodied, round, soft, forward and fruity, with the accents of tobacco and cigar box adding to the polished character. You can enjoy it on release or age it for a few more years to gain more of its Left Bank character. 87-89 Pts

1,502 Views

Tasted

May 20, 2021

2019
Château Greysac (Médoc)

Tobacco, cedar and red currants show up well on the nose and palate. Medium-bodied, easy-drinking, fresh, sweet and fruity, with a round, soft finish. You can drink this with ease on release. Drink from 2022-2030.

959 Views

Tasted

Mar 29, 2022

2018
Château Greysac (Médoc)

Soft, forward, medium-bodied, fruity, and with a nice, tobacco leaf to the round, red fruits, this is fully ready to go for pleasant, but uncomplicated drinking. Drink from 2022-2028.

1,720 Views

Tasted

Aug 23, 2022

Medium bodied, with a tobacco and floral accent to accompany the soft, textured, ripe, cherry and currants, you can enjoy this on release, or age it for a few more, to gain more of its Left Bank character. 87-89 Pts

1,622 Views

Tasted

Apr 19, 2019

2017
Château Greysac (Médoc)

Medium bodied, forward, easy drinking, sweet, fruity and earthy with just a touch of tobacco, the wine offers early cordiality.

2,243 Views

Tasted

Apr 26, 2018

2016
Château Greysac (Médoc)

Medium-bodied, soft, lighter, fresh, open-styled wine with an earthy, cherry, and cocoa character that should be consumed over the next few years. Drink from 2022-2025.

2,467 Views

Tasted

Nov 25, 2022

Medium-bodied, easy-drinking, juicy and correct with a forward style and gentle cassis in the finish.

2,339 Views

Tasted

Apr 29, 2017

2015
Château Greysac (Médoc)

Medium bodied, forward, without faults, for a Left Bank Cabernet Sauvignon based wine made in this quantity, that can be enjoyed on release, for the price, it's a square deal. 84 - 86 Pts

3,891 Views

Tasted

Apr 26, 2016

2014
Château Greysac (Médoc)

Forward but easy to drink, this medium-bodied wine is without faults or complications. 83-85 Pts

3,065 Views

Tasted

Apr 21, 2015

2012
Château Greysac (Médoc)

Easy drinking, forward, Merlot dominated quaffer with freshness, charm and sweet, dark cherry and plum with a hint of espresso in the soft, textured finish.

2,527 Views

Tasted

Nov 6, 2016

2010
Château Greysac (Médoc)

Pleasant, light, drinkable quaffer without faults that is meant for early drinking.

3,576 Views

Tasted

Jan 11, 2015

2009
Château Greysac (Médoc)

Mature, pleasant, easy drinking, soft wine right out of the bottle.

3,108 Views

Tasted

Feb 14, 2016