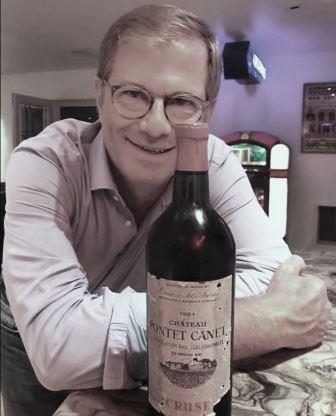 One of these days, I will manage to post these articles on a basis! On the bright side, I am getting closer, perhaps I am almost up to every second week. It's good to have goals!
Wines of the week are not just about the wine in the bottle. That is far too limiting. The wines that stick with me the most are the bottles that create memories. Maybe it was an older wine you saved for a friends birth year, anniversary or celebration of some other significant event. That is one of the key reasons why we have cellars. Holding on to a few, precious gems that we know, will pay dividends at some distant point in the future.
1961 Pontet Canet has been in my cellar for close to 20 years. I wanted to open it, but I never found the right night to open the bottle. A few weeks ago, Emmanuel Cruse of Chateau dIssan in Margaux came to the house for dinner. His family owned the revered, Fifth Growth Pauillac for years. They owned several other Classified growths in the Medoc as well. Hoping this would be a fun bottle to drive those in attendance down memory lane, we popped the cork and let the inertia of the night take care of the rest.
Emmanuel Cruse regaled us of stories about his father, who was the winemaker at the property during the time the 1961 Chateau Pontet was produced. That delivered all the memories needed to make the night and bottle a success! The bottle, as you now know, did its job. How often can you bring smiles to a table full wine loving friends, with just 1 bottle? The group discussed some of the other events shaping the world in 1961: John F. Kennedy was inaugurated as the President of the United States, the Berlin Wall was in the initial steps of construction, Roger Maris slammed in 61 home runs and there was that little fiasco down in CUBA, the "Bay of Pigs."
There was also an amazing harvest in Bordeaux, on both sides of the region. 1961 was perfect in the Left Bank, Pomerol and to a lesser extent, St. Emilion enjoyed a strong vintage.
1961 Chateau Pontet Canet – The nose was a bit peculiar at first, as its primary note was cedar, followed by green pepper, more cedar, forest floor, leaf, herbs and a minor hint of red fruit. Very little tobacco or smoke. 3o minutes, the tobacco and cigar box aromatics emerged. The palate started off a bit rough, but with time in the glass, the wine softened and filled out, becoming a better, more elegant, Bordeaux experience. The fruit is light on the palate, focusing more on its texture, cedar and green pepper. Still, it was quite a charmer, in its old school, rustic way as it approaches 60 years of age. 92 Pts