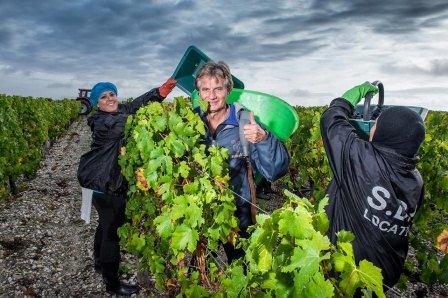 To read detailed information on the 2011 Bordeaux harvest at Brane Cantenac: Brane Cantenac, Margaux, 2011 Bordeaux Harvest Stressful
2011 Brane Cantenac From a blend of 56.5% Cabernet Sauvignon, 37% Merlot, 6% Cabernet Franc, and for the first time, a small percentage of .5% Carmenere has been added as well. Forest aromas with leaves, kirsch, flowers and spice, this medium-bodied, soft and round wine ends with a fresh and bright black raspberry and cassis finish. 90-91 Pts
.
2011 Baron de Brane – Red and black berries with earth, medium body and a soft, red cherry finish. 84-85 Pts
.
Jeff Leve In the difficult 2011 Bordeaux vintage, how did your recent improvements with optical sorting technology help with 2011 Brane Cantenac?
.
Henri Lurton "The fruit took more effort to work with this year. It was the first time we experienced bunches with ripe green, pink and berries with botrytis.  The human eye cannot work at the same level of performance as modern technology.  The speed of sorting also helped us get the grapes into the vats quicker which keeps more freshness and aromatics as it slows down oxidation".
.
Jeff Leve What is the reason you are using Carmenere in the blend for the first time in 2011 Brane Cantenac?
.
Henri Lurton "We planted Carmenere as an experiment in 2006.  We did this because the climate is changing in Bordeaux. The vines are planted in one of our hotter terroirs. We added the fruit to 2011 Brane Cantenac because it adds some complexity to the fragrance and it ripened well in 2011".
.
Jeff Leve What are your yields with 2011 Brane Cantenac compared to last year?
.
Henri Lurton "A larger percentage of the yields were relegated to the Grand Vin of Brane Cantenac in 2011 than in 2010".
.
Jeff Leve Don't you have less wine this year for Brane Cantenac?
.
Henri Lurton "Yes. In 2011, we produced less Brane Cantenac than we did last year. This is for two reasons. We had stricter selection as well as damage caused by drought and hail to the younger vines.  However although we had less volume, the percentage of Chateau Brane Cantenac produced was higher than the percentage of Baron produced: 40% vs 35% . The reason for that is, the vines producing Baron were damaged by the hail and the drought ".