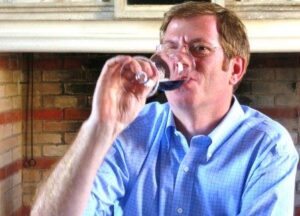 2011 d'Issan – From a blend of 61% Cabernet Sauvignon and 39% Merlot, which represents 57% of the harvest with yields of 36 hectoliters per hectare, 2011 d'Issan reached 13.23% alcohol and will be aged in 50% new oak. In the nose, earth, coffee, licorice, blackberry and truffle scents.  Soft, round and filled with fresh black and red fruits, this is a charming style of Chateau d'Issan. 91-93 Pts
.
2011 Blason d'Issan Blending 60% Cabernet Sauvignon & 40% Merlot, the wine opens with smoke, truffle and black cherry, offering soft textures and a cassis, black cherry finish. This second wine of Chateau d'Issan will drink best at a young age.  86-88 Pts
.
Jeff Leve How was the 2011 d'Issan effected by the hail storm earlier in the growing season?
Emmanuel Cruse "The damage suffered reduced the amount of grapes on the vines.  Yields for 2011 d'Issan were lower. On the positive side. this left their vineyards in good sanitary condition."
Jeff Leve How much lower were your yields for 2011 d'Issan, when compared to last year?
Emmanuel Cruse "The yields at the estate were lower this year due to vintage conditions, stricter selection in the vineyards and more stringent sorting.  We had less wine for sure. But that added up to helping produce a good 2011 d'Issan."
.
Jeff Leve How do you compare 2011 d'Issan with previous vintages?
Emmanuel Cruse "2011 d'Issan is better than 2004, 2006 or 2008 d'Issan. But 2011 d'Issan is not at the level of 2005, 2009 or 2010."
Jeff Leve Of all those vintages, which is your favorite?
Emmanuel Cruse "2009 d'Issan is my favorite vintage so far."
Jeff Leve At Chateau d'Issan, what are you doing to remain ahead of the technology curve?
Emmanuel Cruse "We experimented with new infrared destemmers for the 2011 Bordeaux vintage.  We were very happy with the results. For 2011 d'Issan, we only used it in one of their grape reception areas.  Next year, both reception areas will be equipped with this new technology."