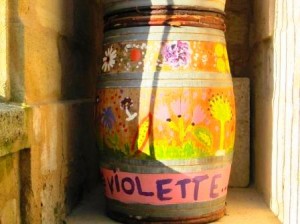 Catherine Pere Verge is one of the most successful owners in Pomerol with three properties under her control. Chateau Le Gay, Chateau Montviel and her most recent acquistion, Chateau La Violette.  If that wasn't enough to keep her busy, Pere Verge is also responsible for estates in the Mendoza region of Argentina.  Chateau Le Gay has a long history in Pomerol. Prior to Pere Verget, the property was owned by the Robin family, who also owned Chateau Lafleur.  Le Gay enjoyed a massive uptick in quality, starting with the 2005 vintage.  La Violette, located on some of the best terroir on the Pomerol plateau has also surged in quality under her control.  How did her Pomerol properties fare in the 2011 Bordeaux vintage? We spoke with her winemaker, Marcelo Pelleriti to find out.
Jeff Leve : How were you able to overcome the difficulties of the 2011 Bordeaux harvest?  
Marcelo Pelleriti "The advantage we have with the harvest with different climatic phenomena is that our plots are on very good land. The plateau" of Pomerol, with deep clay which allows us to control the state vine water and support the warm, dry years like 2011. The strength of our wines is that we can differentiate between years of each other with good acidity, tannins that need to be mature at the time of harvest for a texture in the mouth without aggressiveness".
Jeff Leve: When did you start the 2011 Bordeaux harvest at your Pomerol estates?
Marcelo Pelleriti "We began September 8 and ended September 27".
Jeff Leve What do you think  2011 Bordeaux wine will be known for?
Marcelo Pelleriti "In Bordeaux, we have good PH balanced and consider that we do not have high lalcohol evels for premium wines, for which we seek a just ripe polyphenols. In 2010, we had the right balance between acidity, pH, maturity and alcohol. In 2011, the acidity is more pronounced at the end of the fermentation ,which gives the wines after malolactic balance. We have no low pH in these wines."
Jeff Leve: With the difficult growing season, were you able to achieve phenolic riupeness?
Marcelo Pelleriti "In Bordeaux, with 20 days of good weather and sunshine and we can come to have a very good phenolic ripeness. 2011 Bordeaux wine has a style that offers good acidity, good pH, and tannins that should evolve well. In a few years we can say that man has managed to control the challenges that climate imposed on us".
Jeff Leve: What happened during the 2011 Bordeaux growing season?
Marcelo Pelleriti "It was a year of technical challenges. A vintage when every day we asked questions. A year when we had to monitor the vineyard. We can not say it was easy. But we can say once the wines are finished, the result should be better than what we expected in some plots. We obtained surprising results at La Violette. Le Gay and the heart of the parcels at Montviel".
Jeff Leve Did you suffer from the draught?
Marcelo Pelleriti "Stress, yes. Always with the drought in an early early as this vintage we need to be careful about the water stress. But if the vines are properly worked all year, it will be better. Plus the rains at tend of the season helped the process of phenolic maturity".
Jeff Leve: Did you end up with many sun damaged vines during the spring?
Marcelo Pelleriti "On some plots planted east-west, we had high exposure to the sun".
Jeff Leve:  How important was sorting for you in the vines and during harvest this year?
Marcelo Pelleriti "It was very important to the pink berries and go out on a cluster where botrytis attacked the grapes." 
Jeff Leve: What role does technology play in the vineyards?
Marcelo Pelleriti "We focus on sound and ripe reason and think about the strategy in our winemaking".
Jeff Leve: Many winemakers are reporting low yields in the 2011 Bordeaux vintage. What yields do you expect this year?
Marcelo Pelleriti "We will obtain about 30 hectoliters per hectare for our normal style of wine and the age of our vines. This is higher than we experienced in 2010"!
Jeff Leve: Now that wines are fermenting, wWhat specific choices will you need to make during the vinification for 2011?
Marcelo Pelleriti "Rapid extraction at the beginning of the fermentation and maceration without movement of wine. This will help balance the pH".
Jeff Leve: Can you please share some technical information on your potential alcohol levels and pH numbers?
Marcelo Pelleriti "On average, the Ph is close to 3.6 and we are near 13.5% alcohol".