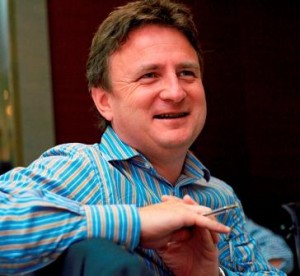 Stephen Browett of Farr Vintners hosts 2001 First Growth Bordeaux Wine Blind Tasting and comes up with interesting results.
The 2001 First Growth Bordeaux Wine Blind Tasting tasting was held at the end of October 2011 at Jancis and Nick Robinson's house and I was delighted to be invited to join this most select of wine tasting groups. The great Michael Broadbent, at 84 years of age, still has a twinkle in his eye and his brilliant palate is as sharp as ever. This is the man who created Christie's wine department in 1966 and whose "Vintage Wine" remains, in my view, the greatest set of tasting notes ever printed.
In a break from tradition us "youngsters" (ha ha) decided to serve the wines blind and in completely random order. The 8 wines were decanted 2 hours in advance and served with delicious food cooked by Nick Lander. They are listed here in the order in which they were served. The scores are my own (not the average of the group).
2001 Margaux – This is a wine that has reached maturity. There is a little fade on the rim now and the nose is very fragrant with a touch of spice. On the palate there is lovely fruit and richness but it is no heavyweight. Charming is the word here. Not intense but finely focussed with some gentle and surprisingly persistent fruit. Smooth, refined, elegant and classy. This is an easy-going wine of considerable subtlety. Not a wine to win a blind tasting competition, as it whispers rather than shouts, but one to give great pleasure now and over the next 5-10 years Score : 17+
2001 Ausone – A little fade on the plate but still a dark red. Some rich, plummy notes on the nose. The palate is very youthful for 10 years of age. There is a firm structure that, at this stage in its development still slightly dominates the fruit. This is a classically structured claret that still needs a few years to hit peak maturity. There is plenty of rich, intense fruit hiding behind the tannins. There are flavours of cassis, black cherry and liquorice., Young, closed but impressive. A slightly nervous adolescent that should make a great wine in the long term. Score 16.5 (but could be 18.5 in 5 years.)
2001 Lafite Rothschild – This has a deep colour and a sensational, big, opulent, sexy, spicy nose. On the palate it is huge and powerful, full of dense black fruit. Serious, strong and stacked but with an opulent, creamy texture. A perfect marriage of power and finesse. Long and beautifully polished. Very classy and clearly of First Growth quality. Can be enjoyed now or will last for ages. Paulo and I were convinced that this would be revealed as Latour. Very impressive. Score 18+
Michael Broadbent voted for this as his top wine of the night and commented "Lafite is always the first of the First Growths". I hope that, if I reach 84 years of age, I'll still be able to spot my favourite wine in a blind tasting!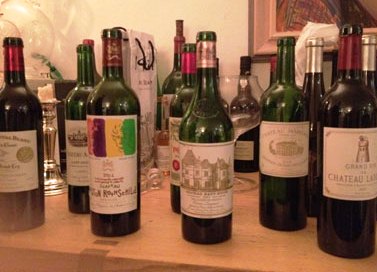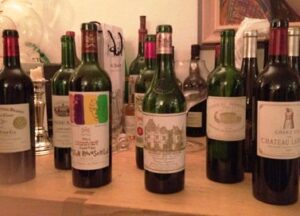 2001 Latour – A very deep colour and really solid black/red at the centre. Virtually no fade. Unlike the previous wine this is really quite reserved on the nose. The palate has really impressive weight and is solid and firm. Some serious cassis density. A great claret that is still not ready. Moody, deep and serious. Great wine but in comparison to some of its peers, a little austere. Could be a classic when fully mature. Score 18 (but could be 19+ in 5 years)
2001 Cheval Blanc – A medium/deep colour. Certainly less concentrated than the previous two wines. A really lovely, enticing, sweet, rich nose with hints of woodsmoke and Asian spices. The nose carries through to the palate. This is a lovely, smooth, creamy wine that is round, open-knit and caressing on the palate. Totally different from the previous two wines. This is a smooth charmer that is today absolutely à point and ready to enjoy. Can't possibly be a Medoc. No Cabernet Sauvignon character here. Drink this now, don't keep it. Score 17.5
2001 Haut Brion – Deep at the centre with a little fade at the rim. Rich black fruit on the nose with some hints of smoke, vanilla and spice. Very exotic and decadent. On the palate it is sweet, sexy and very smooth and creamy. Beautifully plump and polished with cherry fruit. Absolutely gorgeous to drink now but it's only just ready and will keep for many years. Still youthful but no austerity and ripe tannins. So sexy that I was sure that it was going to revealed as Petrus or Cheval. A simply wonderful wine that you can keep or drink tonight. Lovely. Score 18+
2001 Mouton Rothschild – This has a deep colour and a very opulent nose of ripe plums, cigar box, vanilla and exotic spices. There is lovely sweetness on the palate with real fatness and rich, round cassis fruit. The tannins are soft and harmonious and this wine seems to be really singing tonight. At a perfect state of maturity. Everything in perfect harmony. Score 18.5
2001 Petrus – Solid colour with a touch of fade. A very welcoming nose with black cherry richness. On the palate this is really deep and powerful. Thick and chewy with a super-sweet ripeness and a big, chewy texture. Quite hot and heady (almost a hint of Banyuls), this is a powerful and undeniably impressive wine that seems to be fairly different from the previous seven. Pumped-up and powerful but maybe just a little unsophisticated in this company? Impressive. Score 18
Conclusions: 2001 Bordeaux is clearly a very good vintage and all eight wines showed very well, albeit at different levels of maturity. At 10 years of age, we have reached a stage where some are ready to drink, some are ready but will improve and a couple are still not ready. This was a fascinating tasting that I was privileged to attend. I'm already looking forward to the 2002's next year!
'
If you want to read detailed information on the 2001 Bordeaux harvest: 2001 Bordeaux Wine. If you're seeking tips on some of the better priced wines that are not First Growths from the 2001 Bordeaux vintage: 2001 Best Bordeaux wine for the money today