Vertical tastings are fun to attend. They allow tasters the opportunity to learn several things about a property. You can see how well the wine ages, as well as see the changes in how a chateau is managed and most importantly, get a good idea on the style of wines produced by the estate, which is located in the Margaux appellation.
When Alexander van Beek invited me to attend a special tasting of Chateau Giscours, an outstanding Bordeaux property, I jumped at the chance!  This was made even better by the duo birthday celebrations taking place that day. Alexander and the noted wine writer Stephen Brooks were both celebrating their birthday!
Chateau
Giscours
, like numerous Bordeaux wine producing estates has experienced up and down periods. The renaissance of Chateau Giscours began in 1995, when Alexander van Beek was hired by the passionate owner, Eric Albada Jelgersma. It took a few years until it was easy to see a slow but steady progression in quality. At least in my opinion, the wines being made at Giscours by Jelgersma team, headed by van Beek and consultant Denis
Dubourdieu
are the best wines they have produced in the history of the estate.
A vertical of Chateau du Terte was also held at the same tasting. Those notes are available on the Chateau du Tertre page.
The majority of the wines tasted were from bottles sourced directly from the chateau. The 1961 came from a friends collection, who was the original owner. The wines were not tasted blind.
2010 Giscours –  Deep in color, the intense perfume is packed with crème de cassis, blueberries, spice, flowers, tobacco, earth and spice box aromas. Rich, opulent and plush, this deep, ripe wine ends with a supple, fresh, elegant, dark berry filled finish.  This is clearly the best vintage of Giscours I've ever tasted!  It improved a lot since tasted in April. Bravo. 93-95 Pts
2009 Giscours  – Spicy blackberry, tobacco, crème de cassis, blueberry, earth and toasty oak aromas are the perfect introduction to this suave, rich, ripe Margaux. Fresh, round and soft, this ends with layers of sweet blackberry and cassis. As this wine develops, it could increase in score.  92 Pts
2005 Giscours – Blackberry, cassis, truffle, woodsy aromas with hints of flowers prepare you for this medium/full boded, refined Margaux wine. With its plush, silky textures, ripe dark berries, structure and balance, this will only get better with another 5-10 years of bottle age. 92 Pts
2003 Giscours – With black licorice, back cherries, truffle and cassis aromas, this silky textured, ripe, medium/full bodied, elegant wine is developing nicely. The wine, which is on a fast track to maturity, ends with a refined, spicy, cassis and kirsch filled finish. 90 Pts
2001 Giscours –  With a perfume filled with blackberries, earth, tobacco, smoke and cedar scents, this silky, medium bodied Margaux wine ends with an elegant, cassis filled finish. Another 2-3 years will more complexity to the wine.  90 Pts
2000 Giscours –  Still young in appearance, this wine is filled with floral, crème de cassis, spice, tobacco and truffle scents.  Soft textures and good concentration of flavors are found in the supple, fresh, ripe, dark plum finish.  Still young, this will only get better with age. 92 Pts
1998 Giscours  – Cassis, forest floor, tobacco, earth and blackberry aromas lead to a medium bodied wine that ends with a red and black fruit filled finish. 88 Pts
1995 Giscours  –  Crème de cassis, tobacco, earth and cherry aromas, medium bodied with some tannin to resolve, this lighter style of Margaux ends with a cassis and strawberry finish.  88 Pts
1990 Giscours – Cedar chest, tobacco, forest floor, menthol, and cassis aromas show a wine that is fully mature. This medium bodied wine ends with a short kirsch finish. Drink up as this is already starting to gently decline. 88 Pts
1989 Giscours – Light crimson and tea in color, the wine offers earth, tobacco, cassis, barnyard and cherry flavors. With a short, red fruit finish, this is beginning to dry out. Consumers should drink this sooner than later. 86 Pts
1986 Giscours – Severe bricking in color, with stewed prunes and wet earth sensations, this wine is in serious decline.  80 Pts
1985  Giscours – Smoke, cassis, cedar wood, damp earth and spice aromas open to a medium bodied wine that ends with a cranberry, cassis and green olive finish.  The fruit is fading from this wine. It requires immediate consumption. 82 Pts
1975 Giscours – Tobacco, earth, cassis, forest floor and tea aromas lead to a medium bodied, lean wine that ends with a slightly tart, strawberry finish.  Drink up. 83 Pts
1961 Giscours – A complex perfume filled with earth, forest floor, truffle, smoke, blackberry, cigar box, spice and ash. Full bodied and concentrated, but the black cherry flavor was marred by the tart cranberry sensation in the short, traditionally styled finish. I imagine this wine was better about 10-15 years ago.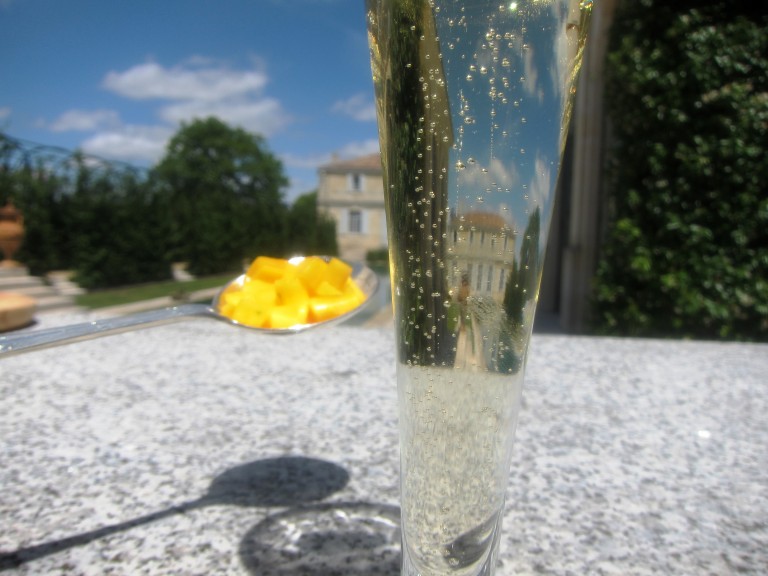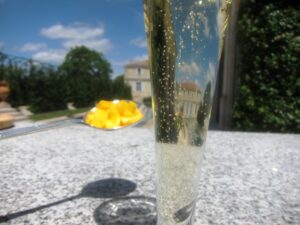 Following the tasting, to refresh our palates, we spent a relaxing half hour enjoying Champagne before enjoying a spectacular lunch.  It was a nice day to be in Bordeaux.