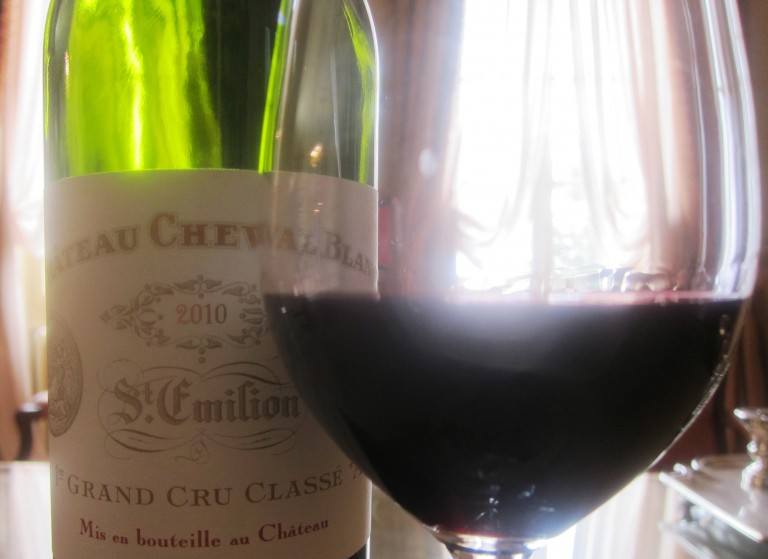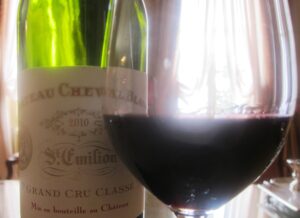 2010 Cheval Blanc St. Emilion Bordeaux wine review, tasting note and rating.
2010 Cheval Blanc Produced from a higher percentage of Cabernet Franc than usual, 56% Cabernet Franc, with the remaining 34% percent relegated to Merlot; that assemblage is similar to what is planted in the vineyards today. The wine reached 14.5% alcohol with a 3.75 pH, allowing for a rich, ripe wine that is also alcoholic and fresh. Placing your nose into this wine reminds you of walking into a flower shop. The aromatics are further complicated with scents of stone, oak, truffle, caramel and black cherry. Pairing delicacy with power, this is an elegant, deep, wine of finesse, purity and refinement. Part of the reason for the wines success is the long and exacting time spent harvesting the fruit. The estate took three weeks to conclude picking. Previously, they finished the harvest in two weeks. 96-98 Pts
When comparing 2009 with 2010, 2009 is a  more exotic and sexier wine, while 2010 offers more power and structure.  If I could afford either and was forced to chose, I'd go with the 2009. I took a tour of the new cellars being built by Cheval Blanc.  Wow!  These modern, and fully functional cellars will be the showplace for St. Emilion.  Construction is expected to be finished by June, in time to make their debut for Vin Expo.  There is nothing like them in the Right Bank to compare.
2010 Le Petit Cheval From 75% Merlot and 25% Cabernet Franc, this medium bodied wine is filled with coco powder, black cherry and licorice, coupled with round textures.  90-92 Pts