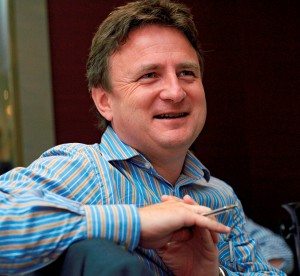 Chateau Margaux Vertical Tastings – 22 Vintages in Brussels
Wednesday, 15 December 2010 by Stephen Browett
Oliver East and I hopped on the Eurostar to Brussels at the end of last week for another of our annual First Growth dinners with Belgian friends, a group of real super-gastronomes! This time the venue was the great Restaurant Bruneau (www.bruneau.be) and the theme was Chateau Margaux.
We enjoyed a magnificent menu of classic dishes that included scallops, lobster, brill, turbot, hare and the piece de resistance a woodcock on toast served with a slice of foie gras and black truffles. Wow…..
My job however is to write about the 22 vintages of Chateau Margaux that we tasted. They were not served in chronological order but I will report on them here from youngest to oldest.
2006 – We kicked off with a wine that I expected to be tight and tannic, but far from it. Indeed, this vintage was so surprisingly sweet and open that we wondered if the sommelier had decided to serve the wines in random order. Certainly not a dense colour and showing a little watery fade already at the rim. The nose is sweet, ripe and sexy with lots of vanilla/oak character. The palate is full of cream, spice and a touch of coconut. A very polished wine with soft edges and a smooth mouth-feel. Lots of puppy fat and, dare I say it, almost ready to drink. This a lovely Margaux but not a profound First Growth for the long term. 17 points.
22 vintages of Margaux ready to be decanted
2005 – A deep colour for Margaux. This has a soaring nose of ripe red fruit, vanilla, Asian spices and brioche. The palate is densely packed but not at all jammy. Very much Chateau Margaux but there is an exceptional intensity here. Certainly some noticeable tannins but not too tough. This is a wine that manages to appear delicate, refined and sophisticated yet it clearly has hidden depth and power. With a few more years in bottle this will blossom into something truly gorgeous. The overall feel is of cashmere but there is clearly a solid core beneath the charming facade. A superb example of Chateau Margaux at its finest. This is a wine of real First Growth quality yet it is so elegant and full of finesse. Pure class. 19 points.
2004 – A classic Bordeaux nose of pencil shavings, smoke and red cherry fruit. This is a medium-bodied wine for a First Growth with a charming personality and attractive fruit and spice. Some dry tannins at the finish suggest that it would benefit from a couple more years in bottle but it is destined to give early-mid term drinking pleasure. Very nice but not profound. Finely polished. 16 points
2003 – A little brown at the rim, the colour certainly suggests a wine older than seven years of age. There is a whiff of brown sugar on the nose. Is this really Margaux? This seems to be performing more like a silicone enhanced stand-in than the real thing. Very forward, really quite sweet and one-dimensional. Undeniably sexy but not in the same league as the 2005. This is a classic example of the vintage over-shadowing the vineyard. 17 points.
a few empties…
2002 – Still quite a deep colour (less brown than the 2003). A classic cigar box nose with hints of cassis. The palate has a defininite dry edge to it which reminds me of a year like 1988. Really quite firm and structured. Medium weight fruit but perhaps not quite enough flesh on the mid palate to cover the bones. A blend of the 2002 and 2003 could have made a very good wine indeed !! Decent Margaux but not one to get too excited about. Similar quality to the 2004. 16 points.
2001 – A little fade at the rim but still a strong colour. This has a lovely, sweet red fruit nose with spice and smoke. Immediately appealing and gorgeously silky on the palate. Much smoother and more polished than the somewhat angular 2002. This is absolutely perfect to drink now. Similar to the 2000 but without quite the same depth and concentration. Certainly closer in quality to the great vintages than it is to the "average" years. For me this is more serious and more Margaux than the 2003, has more flesh than the 2006, 2004 and 2002 and is a beautiful wine. Maybe not Premier League but top of the Championship. This is so attractive, forward and plump. Ideal for current drinking and over the next ten years. 17.5 points
2000 – At ten years of age this is showing little maturity. Hardly any fade and no browning. Lovely, seductive red fruit on the nose with classic Margaux aromas. The palate is superb with near perfect balance. There is a lovely rich melange of red and black fruits like a summer pudding and perfect, seamless structure that gives it backbone but no harshness. Everything seems in harmony here. Just about ready to drink but this is a great First Growth that will be enjoyed for a few more decades yet. I give it maybe half a point less than the 2005 for potential but right now this is the wine of the tasting. 18.5+ points
1999 – Medium colour with sweet red cherries on the nose. On the palate this is very open-knit and up-front. Maybe a bit "obvious" and one-dimensional. There is lots of sweet cherry fruit and it's really easy to drink. Still quite a strong oak character. This is a good rather than great wine now at its peak. Less sophisticated than the 2001 but more friendly than the 2002. It offers great pleasure for drinking over the next five years. 16.5 points
1998 – Medium colour with a whiff of roasted meat on the nose. This wine has a hard finish and one senses that there is not enough fruit on the mid palate for it to ever reach perfect balance. There is almost a rawness to the fruit and this is a wine that lacks the normal Margaux sophistication. Not bad but not much fun either. 15.5 points.
1996 – Just a little fade at the rim. A huge multi-dimensional nose, almost a touch medicinal. Certainly one of the most intense and concentrated noses of the night. The palate is really serious with great fruit intensity and classic cigar box notes match the cassis richness. This is a great, classic claret that has impressive depth and structure. It is dry, but in a good way. Not hard but not fleshy either. Balance and control. Very classically Cabernet Sauvignon and probably the only wine in this tasting that I could have guessed to be a Pauillac. A more masculine style of Margaux although it does possess that tell-tale elegance. Very serious wine. Still not really ready to drink. 18 points.
1995 – A similar colour to the 1996. More meaty on the nose with a touch of bovril. This is quite solid and chunky. Less classy than the 1996. Really quite dense and chewy and fairly harsh and dry at the finish. Black fruits and licorice here. Built for the long haul and not typical of Chateau Margaux for me. Certainly not as sophisticated as the 1996, nor is it sure to evolve into a great mature wine. An ugly duckling. This could become a swan, but I'm not sure that it will. A surprisingly tough wine. 16.5 points
1994 – Showing some brown fade at the rim. Quite dense and chewy but perhaps a little rustic. Not quite enough flesh in the middle and a little papery at the finish. Not really First Growth quality but a decent effort for the vintage. 15.5 points
1990 – A surprisingly light colour for such a famous wine, pink at the rim. The nose however is very impressive with sexy ripe red fruits and vanilla ice cream notes. This wine is amazingly intense yet quite delicate and fresh. Certainly not in the blockbuster style. There is wonderful purity here with essence of vanilla pods, strawberries, raspberries and cream. Soft, generous but with bright, lifting acidity. Very classy indeed and very much Margaux. Beautiful wine and really quite subtle. Almost a surprise that this gets 100 points from Robert Parker as I wouldn't have thought that this was his kind of wine! 19 points
1929 Margaux – Abel Laurent
1989 – I have always thought that this was a much under-estimated wine. At a third of the price of the 1990 it' s better value and on its day I think it might even be a better wine. The colour is certainly deeper than the 1990 with a dark centre and little fade. The nose is very different too, rich, roasted intense and powerful. On the palate this is sexy, ripe and concentrated. Much more muscular and opulent than the 1990, less pretty and less "fine". The rich palate has hints of iodine, barbeque sauces and meat. Lots of sweetness, ripe tannins and a real crowd-pleaser. Quite why Mr Parker scores this lower than the 1994 beats me! 19 points (a bit generous – but it was my bottle)
1986 – unfortunately corked
1985 – A maturing colour with fading at the rim. Soft, smoky and quite delicate. A lovely, delicate Margaux that is just starting to dry out a little at the finish. The best part of it is the nose. This is a charming wine but it was probably at its peak 5-10 years ago and will only get weaker from now on. 16.5 points
1983 – Still quite a deep colour. Certainly stronger-looking than the 1985. A powerful nose of mature black fruit with a roasted character similar to the 1989. This is slightly chunky and rustic on the palate but there is impressive depth and density for a wine that is 27 years old. Not quite the class, charm or sophistication of a really great Chateau Margaux but this is clearly a very good vintage here. 17.5 points.
1982 – A slightly lighter colour than the 1983 but more fragrant and sexy on the nose. If the 1983 is like the 1989 then this is like the 1990. Wonderful purity and a complex pot pourri of flavours. Cassis, flowers, wood-smoke and hints of tar. Rich and still full bodied but just drying a touch at the finish. A great wine but maybe just past its peak on this showing and, as good as it is, not in the same league as Mouton or Latour 1982. 18.5 points
1979 – Still a good deep colour. A touch of "forest floor" on the nose but there is plenty of sweet fruit on the palate. Earthy, complex but still quite creamy-textured. This is extremely good for the vintage and I think it would be hard to find a better 1979 Bordeaux than this. 16.5 points
1978 – Another deepish colour. A waft of iodine on the rather medicinal nose. This reminds me of a slightly drier version of the 1983. Chunky and solid with good density but the fruit is starting to dry out and it finishes a little lean. Nevertheless a very good 1978 claret.16 points.
1947 Chateau Margaux bottles by Vandermeulen of Ostend
1947 (Vandermeulen bottling) – This wine was bottled by the famous Belgian merchant Vandermeulen who were active from the 1920's to the mid 1950's. Their 1947 bottlings are legendary. This has a bright mature colour. A very strange nose of cherry liqueur and tawny Port. This is remarkably sweet and well preserved but it does taste to me like it has been fortified. Maybe simply that is just the result of a very hot summer but I think that Monsieur Vandermeulen might have topped up his bottles with something a little stronger than red wine. Fascinating stuff. ?? points
1929 Abel Laurent Label – This bottle had a Ginestet label and we were told that the Abel Laurent was a vineyard within Chateau Margaux that was owned by the Ginestet family before they acquired the whole of Chateau Margaux. An amazingly black colour but the nose is volatile and the palate fairly oxidised. Powerful and one suspects that this might have been a great wine in its youth. Not really all there today.
Conclusions – Château Margaux is clearly one of the great names of Bordeaux. Since 1978 (the vintage between 1962 and 1977 were all pretty poor) the quality level here has been excellent and consistent. Margaux never produces "powerhouse" style wines and for this reason it may suffer in comparison with the more obviously tannic and intense wines produced by the Pauillac First Growths – especially Latour. It does not have the the exotic, tarry, gamey character of Haut Brion or the rich sweetness of Petrus, Ausone and Cheval Blanc. What it does have is wonderful purity, class, balance and sophistication. None of these wines was over-powering, nor was any one of them weak or thin. Paul Pontallier often talks of the "music" of Margaux and that seems a good description to me. Perfumed bouquets, polished palates and long finishes blend together to produce a fine symphony.