Jean Luc Thunevin at the 2010 Hong Kong International Wine and Spirits Convention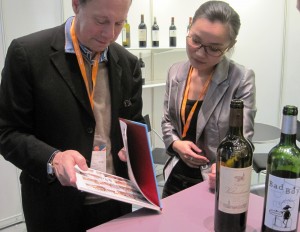 The more things change, the more things stay the same, especially when it comes to Bordeaux Wine in China…
Much has been written and postulated on the health and success of Bordeaux wine in China. Some people are convinced large amounts of 2009 futures have sold through to China. Is this true?
.
One other problem remains before China begins to demand and receive serious allocations of Bordeaux wine. They will need to buy Bordeaux wine futures. The hard truth is, as of today, very little wines are bought as futures in China. The concept of paying for wine 2-3 years before it's delivered remains stubbornly difficult to overcome.
On my recent trip to China, I met with wine lovers who purchased select 2009 futures. While small in volume, it's a crack in the dam. If and when China begins to purchase a wide array of Bordeaux futures, the entire allocation system of Bordeaux all over the world will shift. This will cause prices to rise due to shortages in countries that previously enjoy large allocations. While that remains years away, it will happen in time.
.
Think about this, Bordeaux wine producers spend more time promoting their wines in China, as well as in other Asian countries than ever before. Many of the top chateaux spend more time in China than they do in America these days. They view many established markets as declining and see China along with other Asian countries as countries rife with sales opportunity.
One aspect to the Chinese market that must be a thrilling concept to Bordeaux wine merchants is the fact that China, unlike America, is not vintage conscious. While more money is being paid for the better vintages, substantial sums of money are still being spent on wines from years that do not have stellar reputations. In time, with a fast learning curve, coupled with the strong desire to learn, this too will change. I spoke about Bordeaux wine at the Hong Kong International Wine and Spirits Convention in November, The conference was well attended by merchants and consumers who were thirsty for knowledge as well as for Bordeaux wine.
Think about this. Prior to the 82 futures campaign, America was not considered a wine buying or wine consuming nation. The top British merchants of the day said the following about potential American wine buyers. This is a direct quote that was told to me from merchants active at the time.
"Americans would never develop a palate. They would only buy the top wines like First Growths. Even then, American's would not drink the wines. Instead, they will invest and sell what they purchase." Do those remarks sound familiar? They should. Those comments are exactly what many American's say about Chinese wine buyers today.
It is my view that from 1982 to 2006, America was the number one purchaser of all the top Bordeaux wine from the best vintages during that time period. If there were not enough wines allocated to satisfy America's hunger for great Bordeaux wine, they purchased as much as possible from Londond, Switzerland and other countries that would sell to them. Due to the loss of the dollars purchasing power, bulging cellars and a weak economy, America is no longer seen as the top buyer of the best Bordeaux wines.
The good news for American consumers remains, we are well stocked with older vintages purchased at great prices when the dollar was strong. The bad news for American consumers is, the top Chinese wine buyers are well stocked with the disposable income needed to buy the best wines when they are offered.
.
The more things change, the more they stay the same.
.
If you have comments or questions about this article, please feel free to share your views.