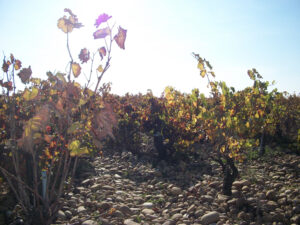 Pierre Usseglio, Chateauneuf du Pape, Rhone wine producer profile with wine tasting notes, wine ratings, a history of the property, information on wine making and terroir, along with wine tasting reviews and images. If you want to read about other important wineries and wine makers from the Rhone valley: Links to all Rhone Valley Wine Producer Profiles
Pierre Usseglio, not to be confused with Raymond Usseglio (which is a different winery owned by his brother,) was founded in 1948 by Francis Usseglio. Francis moved to the Rhone from Italy in 1931. Francis had two sons, Pierre and Raymond. Pierre took over this domaine and his brother Raymond created his winery using his name. Today, Pierre Usseglio's children, Jean-Pierre and Thierry manage the Pierre Usseglio Chateauneuf du Pape estate. That change took place in 1999. One of the first changes the new generation of owners did was begin to completely destem the grapes starting with the 2001 vintage.
Pierre Usseglio owns 22 hectares of vineyards spread out over 15 different, small parcels in Chateauneuf du Pape. The terroir is a combination of sand and stones. The vineyards are planted to 75% Grenache, 10% Syrah, 6% Mourvèdre, 5% Cinsault, 2% Counoise and 2% Muscardin.
In 1998, Pierre Usseglio introduced a new wine, cuvee Mon Aieul. Most of the fruit comes from old vine, low yielding, Grenache that was planted in 1926. This was following in 2000 with the debut vintage of Réserve des Deux Frères, which is also made from very old Grenache and 10% Syrah. The fruit is harvested from their oldest vines. More modern in style, the wine is aged in a combination on new demi muids. barrels and in either one year old, or two year old, French oak barrels. The wine is not made every year, but when it is, only a few hundred cases are produced. Aside from being expensive, the bottles of Réserve des Deux Frères are oversized and do not fit in standard wine racks. Pierre Usseglio Mon Aieul is my favorite wine from Pierre Usseglio. I find it more interesting and a much better value than their more expensive, Deux Freres offering.
Pierre Usseglio also produces a standard Chateauneuf du Pape that blends 75 % Grenache with portions of Syrah, Mourvedre and Cinsault. They make and a Chateauneuf du Pape Blanc and a Cotes du Rhone.
Pierre Usseglio made a special wine in 2007 and 2010 called Not For You. The wine is produced from Grenache picked from vines close to 100 years of age that took almost two years to finish fermentation! Extremely high in alcohol, at close to 18%, this high octane wine is said to resemble close to 100 the Cuvee Speciale from Bonneau that is very port like. Obviously the brothers are having some fun with the wines name. Production is extremely limited, less than 400 bottles were produced.
Wine Tasting Notes
Displaying 14 vintages | 49788 Views Sorted by vintage
2010 Domaine Pierre Usseglio & Fils Châteauneuf-du-Pape Cuvée Tradition

Jammy black raspberry, licorice, cherry griotte and herbs, this rich, concentrated, fleshy wine is filled with layers of sweet, ripe, fresh, dark, jammy berries. This is another top value Chateauneuf du Pape wine from the 2010 vintage.

92

points - Tasted

Mar 21, 2012

1055 Views

2010 Domaine Pierre Usseglio & Fils Châteauneuf-du-Pape Cuvée de mon Aïeul

From 100% Grenache, made from insanely low yields of 16 hecoliters per hectare, the wine reached 16.5% alcohol. Yet there is no touch of heat in the concentrated, deep, lush, ripe, licorice, black cherry liqueur and floral wine. I love this stylish wine. Mon Aieul is one of the most consistent producers of Chateauneuf du Pape.

96

points - Tasted

Mar 21, 2012

2918 Views

2007 Domaine Pierre Usseglio & Fils Châteauneuf-du-Pape Réserve des Deux Frères

I'm not sure Chateauneuf du Pape gets much better than this. In a year or two, this should hit triple digits. It's incredibly concentrated, the wine coats your mouth palate, teeth and gums with waves of perfectly, polished, ripe, sweet berries. Everything is in balance. The fruit offered a beautiful sense of purity and the finish is seamless.

99

points - Tasted

Dec 2, 2012

1606 Views

This is compelling from the first swirl, sniff and sip. Layers of silky, smooth, perfectly ripe, rich, spicy red berries coat your mouth. Big, powerful, and concentrated with all the right stuff, this delicious Chateauneuf du Pape and in balance and harmony.

99

points - Tasted

Nov 25, 2012

1615 Views

Ridiculously expensive, especially when compared to the much more reasonably priced Mon Aieul bottling, there is no reason to knock what's in the bottle. The compelling aromatics offer licorice, black raspberry jam, kirsch liqueur, earth, herb and cracked black pepper. Juicy, big, fat and packed with black cherry, kirsch and strawberry jam, the wine coats your palate with flavor.

98

points - Tasted

May 11, 2012

2698 Views

2007 Domaine Pierre Usseglio & Fils Châteauneuf-du-Pape Cuvée de mon Aïeul

From 100% old vine Grenache, this explosive Chateauneuf du Pape offers a perfume packed with jammy, black cherry liqueur, fennel, plum, garrigue and kirsch. Intense, powerful and layered with a melange of perfectly ripe, juicy berries, this concentrated wine coats your mouth with flavor, plush textures and purity of black and red fruits. The finish seems to last at least 50 seconds. I've enjoyed every vintage off Usseglio mon Aieul, but this is the best yet. As good as this amazing Chateauneuf du Pape is now, in a few years, it's really going to take off!

98

points - Tasted

Feb 19, 2012

5043 Views

2006 Domaine Pierre Usseglio & Fils Châteauneuf-du-Pape Cuvée de mon Aïeul

This fabulous Chateauneuf du Pape was popped and poured. It only needed 20 minutes to wake up and offer an array of spicy cherries, earth, garrigue, pepper and black raspberry notes. Full bodied and richly textured, this delicious, balanced wine could use a few more years before it starts to open and drink well.

95

points - Tasted

Aug 11, 2011

4660 Views

This kicks off with a blast of fresh garrigue, herbs, olives and fruit. Good depth and body. The long cherry, strawberry finish ends withan elegant licorice note. Produced from 90 year old Grenache

95

points - Tasted

Jul 1, 2009

2380 Views

2005 Domaine Pierre Usseglio & Fils Châteauneuf-du-Pape Réserve des Deux Frères

This Chateauneuf du Pape offers a mouthful of ripe, sweet, jammy black berries, complicated by hints of fennel, cherry, herbs and dark chocolate. Full bodied and powerful. The finish includes a light kiss of oak. This demands a few years before it all comes together

96

points - Tasted

Jul 1, 2009

2653 Views

2003 Domaine Pierre Usseglio & Fils Châteauneuf-du-Pape Cuvée de mon Aïeul

What a delicious treat! Opulent textures, meet ripe,fresh, spicy, strawberry, raspberry, pepper, garrigue and kirsch. There is no sensation of heat and the fruit is fresh. This is not a jammy style of wine. Lush and open, this is a Chateauneuf du Pape of pleasure that wants to be enjoyed over the next 5-8 years.

95

points - Tasted

Jan 19, 2012

3018 Views

2003 Domaine Pierre Usseglio & Fils Châteauneuf-du-Pape Réserve des Deux Frères

With a perfume that explodes in your face the moment the wine hits the glass, powerful aromas of fresh, pure, ripe cherries, kirsch, minerality, herbs, pepper, licorice, black raspberry, earth, spice, pepper and garrigue scream for your attention. The wine offers intense depth of flavor, concentration, balance, length and purity of fruit. The long, clean, spicy, cherry packed finish feels luxurious on your palate. Popped and poured, 2003 Usseglio Deux Freres does not need decanting. There is no hurry to drink it, but if you have some, it's a great time to be tasting it. Even though the label reads 15% alcohol, there is no sensation of heat.

98

points - Tasted

Aug 6, 2012

1816 Views

2001 Domaine Pierre Usseglio & Fils Châteauneuf-du-Pape Réserve des Deux Frères

At 16.2% alcohol, there is not a touch of heat. You're too busy enjoying the rich, peppery, sweet, black raspberry, garrigue, strawberry jam, spice and earth. Rich and mouth filling, this is drinking perfectly today. I'd guess it's good for at least 10-12 more years.

96

points - Tasted

Dec 2, 2012

1152 Views

Intense, full bodied, concentrated, rich and packed with kirsch, ripe strawberry and black raspberry, pepper, spice, black cherry and fennel, the wine is open and offering a sensuous, Chateauneuf du Pape tasting experience.

96

points - Tasted

Aug 13, 2012

1316 Views

2001 Domaine Pierre Usseglio & Fils Châteauneuf-du-Pape Cuvée de mon Aïeul

Floral, black raspberry, licorice pepper, kirsch and black cherry liqueur aromas, sensuous, full bodied, rich textures and plush, long, spicy, plummy finish are found in this wine. Popped and poured, the wine fleshed out in the glass with 15 minutes of air. This is drinking superbly today. Why wait when there is so much pleasure to be found in this delicious Chateauneuf du Pape?

96

points - Tasted

Oct 18, 2012

1587 Views

The perfect combination of rustic, lushness. Licorice, kirsch, garrigue, earth and spicy strawberry. Rich, plush, powerful and delivering about as much pleasure as one can get from bottle of 2001 Chateauneuf du Pape.

96

points - Tasted

May 30, 2012

2240 Views

Inky color. Herbs, jammy berries, pepper and blackberry liqueur aromas take over your senses. This is very serious juice. Huge, dense, concentrated. This is no shy wallflower of a wine. Wild and untamed with a long fresh, ripe, fruit filled finish.

97

points - Tasted

Oct 28, 2010

635 Views

2000 Domaine Pierre Usseglio & Fils Châteauneuf-du-Pape Cuvée de mon Aïeul

Black pepper, jammy strawberries, Provencal herbs, plums, earth and black raspberry aromas are easy to spot as soon as this delicious Chateauneuf du Pape leaves the bottle and enters your glass. This voluptuous wine has entered full maturity, The baby fat has been replaced with soft, silky textures and a long, sweet, spice filled, red and black fruit filled finish. There is probably not much to be gained by further aging. I'm going to finish my remaining bottles over the next 2-4 years.

94

points - Tasted

Aug 31, 2011

3901 Views

Notes of pepper, red and black fruit, coffee, cola, herbs and more pepper. The finish lasts at least 40 seconds. Wow! The wine takes over your entire palate. And as good it is, it's only going to get better.

96

points - Tasted

Jul 25, 2005

722 Views

2000 Domaine Pierre Usseglio & Fils Châteauneuf-du-Pape Réserve des Deux Frères

Licorice, jammy black raspberries, pepper, earth, kirsch, Provencal herbs, rocks, strawberry and black cherry scents awaken your senses, Full bodied and filled with fresh, strawberry and cherries, this intense Chateauneuf du Pape is drinking at the perfect place. To catch its beautiful layered, fresh fruit and spice, drink this over the next 3-5 years.

97

points - Tasted

Sep 4, 2011

2231 Views

1999 Domaine Pierre Usseglio & Fils Châteauneuf-du-Pape Cuvée du Cinquantenaire

Fully mature, with a peppery, kirsch, earth, strawberry jam, herb and spice box nose. this medium bodied Chateauneuf du Pape offers a lot of charm and character. But it's at peak, or slightly past, (I do not see this wine often,) and should be consumed sooner than later. This bottling was replaced by the Usseglio Mon Aieul the following year.

91

points - Tasted

Nov 27, 2011

1180 Views

1998 Domaine Pierre Usseglio & Fils Châteauneuf-du-Pape Cuvée de mon Aïeul

Peppery red and black fruits, earth, spice and kirsch make up the perfume. The wine is round and soft on the palate, finishing with cherries and pepper. I bought a case of this Chateauneuf du Pape on release and it's not the explosive wine it was. It's lost some of its power and freshness. This was a better wine a few years ago. I'm going to finish my remaining bottles over the next 2-3 years. This vintage of Mon Aieul needs to be drunk up sooner than later.

93

points - Tasted

Dec 28, 2011

2443 Views

I'm hoping this showing was for this specific bottle, as this did not feature the same body or length as other bottles have shown in past. Ruby in color, with pepper, black raspberry, herb, fennel and black cherry aromas making up the perfume. Medium bodied with a spicy plum and jammy berry finish. All my bottles are from the original case. I'm going to pop another in the next few weeks to see if this bottle was correct or not.

93

points - Tasted

Jul 26, 2010

2919 Views