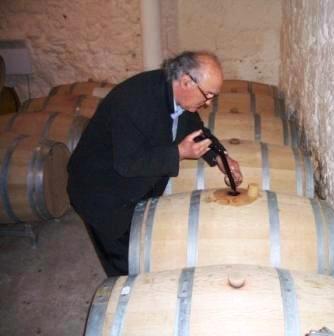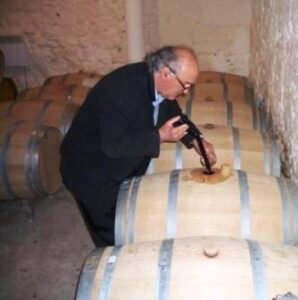 Everything about Les Angelots de Gracia St. Emilion wine producer profile, with wine tasting notes, wine and food pairings, best vintages, wine ratings, a history of the property, information on winemaking and terroir, along with wine tasting reviews. If you want to read about other important, Bordeaux Chateaux: Links to all Bordeaux Wine Producer Profiles
Les Angelots de Gracia History, Overview
Les Angelots de Gracia is a true Garage wine! That is because the wine is made right in the heart of the village of St. Emilion in a small space, located on a tiny back alley that is next to a working garage. The estate is owned by Michel Gracia who of course owns the better known, Chateau Gracia.
However, it's important to note that Les Angelots de Gracia is not the second wine of Chateau Gracia. It is its own separate, unique, Right Bank wine that comes from its own terroir and soils.
The minute 1.26-hectare vineyard is situated between Chateau Angelus and Chateau Fonrazade. The original plan for this parcel of vines was to include it as part of Chateau Gracia. But after looking over the terroir, it was determined that this was a unique soil and terroir, so a new wine was created.
The idea for the first wine from Michel Gracia came about in 1994 when Michel Gracia purchased 1.5 hectares of vines in great terroir, not far from Troplong Mondot. At first, he sold the grapes to other producers.
Thanks to the continued prodding by Jean Luc Thunevin of Valandraud and Alain Vauthier of Ausone, he began producing his own wine with the 2007 vintage.
Les Angelots de Gracia Vineyards, Terroir, Grapes, Winemaking
The tiny, 1.5 hectare vineyard used for Les Angelots de Gracia is planted to 80% Merlot and 20% Cabernet Franc. The amount of effort required to produce the wine of Les Angelots de Gracia is impressive. But it all starts in the vineyards. The terroir is sand and clay soils on top of a layer of crasse de fer.
Similar to what takes place with Chateau Gracia, de Gracia Les Angelots is also produced with low yields. In 2009, the wine came from an astoundingly low, 12 hectoliters per hectare!
These are some of the lowest yields in all of Saint Emilion! The vinification takes place in a combination of small, dual-walled, insulated, stainless steel vats and cement tanks. The juice receives a 21 to 25-day maceration in temperature-controlled, stainless steel vats and Taransaud oak tanks. Malolactic fermentation takes place in 100% new, French oak barrels. The wine of Les Angelots de Gracia is aged in 100% new, French oak barrels.
The best vintages of Chateau Les Angelots de Gracia are: 2022, 2021, 2020, 2019, 2018, 2017, 2016, 2015, 2014, 2012, 2010, 2009 and 2005.
As you can expect, not much wine is made as on average, there are less than 350 cases of wine produced here per vintage.
When to Drink Les Angelots de Gracia, Anticipated Maturity, Decanting Time
Les Angelots de Gracia needs some time before it can be enjoyed. Young vintages can be decanted for an average of 1-2 hours or more. This allows the wine to soften and open its perfume. Older vintages might need very little decanting, just enough to remove the sediment.
Les Angelots de Gracia is usually better with at least 5-7 years of bottle age. Of course, that can vary slightly, depending on the vintage character. Les Angelots de Gracia offers its best drinking and should reach peak maturity between 6-18 years of age after the vintage.
Serving Les Angelots de Gracia with Wine and Food Pairings
Les Angelots de Gracia is best served at 15.5 degrees Celsius, 60 degrees Fahrenheit. The cool, almost cellar temperature gives the wine more freshness and lift.
Les Angelots de Gracia is best paired with all types of classic meat dishes, veal, pork, beef, lamb, duck, game, roast chicken, roasted, braised, and grilled dishes. Les Angelots de Gracia is also good when matched with Asian dishes, rich fish courses like tuna, mushrooms, and pasta.
Les Angelots de Gracia Wine Tasting Notes
12 Vintages 34,875 Views Sort by Vintage-Rating
2021
Les Angelots de Gracia (St. Émilion Grand Cru)

Incense, espresso, spice and cherries with a bit of chocolate in the end note come through easily in this fresh, medium-bodied, soft-textured, forward, light wine. Drink from 2023-2036. 87-89

1,921 Views

Tasted

May 20, 2022

2020
Les Angelots de Gracia (St. Émilion Grand Cru)

Flowers, black and blue fruits, licorice, spice box, espresso and wild cherries are found in the nose. Medium-bodied, elegant, fresh, vibrant and silky, the wine finishes with a dose of espresso, infused red fruits and spice. 91-93 Pts

2,678 Views

Tasted

Jun 3, 2021

2019
Les Angelots de Gracia (St. Émilion Grand Cru)

Forward, round, fresh and fruity, the wine is packed with chewy-textured, red berries, oak and savory herbs. Give it a few years in the cellar to soften and integrate. Drink from 2024-2036.

854 Views

Tasted

Mar 29, 2022

Medium-bodied, soft, floral and fruity, with a core of sweet, juicy, fresh, ripe red fruits giving you lift and a nice bite of cherry and red plums in the finish. The wine was made from a blend of 90% Merlot and 10% Cabernet Franc. 90-92 Pts

3,597 Views

Tasted

Jun 8, 2020

2018
Les Angelots de Gracia (St. Émilion Grand Cru)

Opulently textured, with layers of espresso, dark cocoa, ripe black plums, cherries, chocolate and spice, the wine is long, polished and intense, with gorgeous textures and length. Give it a few years for the oak to better integrate. The wine blends 90% Merlot with 10% Cabernet Franc.

1,957 Views

Tasted

Mar 9, 2021

Espresso, flowers, black cherry and licorice form the perfume. The wine is dripping with opulence and packed with mocha, cocoa, black cherry and plum. Polished in nature, the texture is truly fine this year. The wine blends 90% Merlot with 10% Cabernet Franc. 93-95 Pts

2,509 Views

Tasted

Apr 19, 2019

2016
Les Angelots de Gracia (St. Émilion Grand Cru)

Espresso, spice, smoked fruits and licorice, dominate the wine. Clearly, this is luxurious, abundant and dense, but the modern style with its oaky character will not work for everyone.

2,158 Views

Tasted

Apr 29, 2017

2015
Les Angelots de Gracia (St. Émilion Grand Cru)

Fat, lush, juicy and fresh with polished, sweet, ripe fruits, length and freshness, this is the best vintage of Angelots de Gracia I've ever tasted. Made from a blend of 90% Merlot and 10% Cabernet Franc.

3,483 Views

Tasted

Apr 29, 2016

2014
Les Angelots de Gracia (St. Émilion Grand Cru)

Deep garnet in color with freshness of fruit and layered with licorice and chocolate covered cherries, this wine is plush in texture with a long, creamy finish. Made from a blend of 90% Merlot and 10% Cabernet Franc. 90-91 Pts.

2,243 Views

Tasted

Apr 27, 2015

2012
Les Angelots de Gracia (St. Émilion Grand Cru)

Incense, coffee and blackberry notes open to spicy, dark berries and a saline, dark chocolate and blackberry, round finish. 88-90 Pts

1,906 Views

Tasted

Apr 26, 2013

2011
Les Angelots de Gracia (St. Émilion Grand Cru)

With oak, truffle, smoke and dark berry scents, this ripe, jammy wine ends with coffee and sweet blackberries. 90-91 Pts

2,999 Views

Tasted

Apr 24, 2012

2010
Les Angelots de Gracia (St. Émilion Grand Cru)

2010 Les Angelots Gracia 80 % Merlot 20% Cabernet Franc combined to produce a wine that 14.5% ABV. The nose offers a perfume of oak, licorice, plums and jammy blackberries. Supple in texture, the round, ripe wine finishes with anise and sweet blackberry jam. 90-92 Pts

3,670 Views

Tasted

Apr 22, 2011

2008
Les Angelots de Gracia (St. Émilion Grand Cru)

Full bodied, concentrated and showing a strong minerality edge to the dark red berries and black frit. Here, you also find espresso, licorice and chocolate accents. This is round, fresh, richly textured and drinking fine today. The wine was made from a blend of 90% Merlot and 10% Cabernet Franc.

2,306 Views

Tasted

Jan 2, 2018

2005
Les Angelots de Gracia (St. Émilion Grand Cru)

Not much of this wine is made, so it was a nice surprise to find it on the table. Fully mature, medium bodied, soft, lush and round. The wine easily keeps you focused on its dark cherry, licorice, thyme, espresso, mocha and plummy personality.

2,594 Views

Tasted

Nov 7, 2016