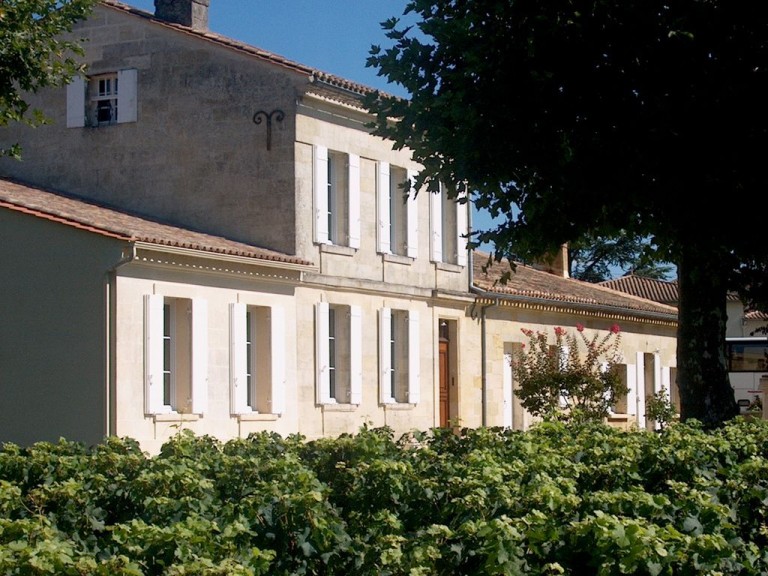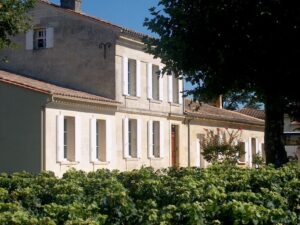 Learn everything about Chateau Laniote St. Emilion with wine tasting notes, wine, and food pairing tips, best vintages, a history of the property, information on the vineyards, and winemaking. If you want to read about other important, Bordeaux Chateaux: Links to all Bordeaux Wine Producer Profiles
Chateau Laniote History, Overview
Chateau Laniote has been owned by the same family for the past two centuries. The Saint Emilion property was created by Pierre Lacoste. Pierre Lacoste was a Bordeaux negociant before purchasing the vineyards and creating Laniote.
He spent 3 decades building Chateau Laniote between 1816 and 1844. The chateau has not changed much since it was initially created by Lacoste. In fact, it's the same size today as it was in 1844. Chateau Laniote has another claim to fame, actually three more claims to fame.
The estate owns three historic sites in the Saint Emilion village. The Trinity Church, created in the 13th century, which is featured on their label, caves are said to have been dug by the Monk Emilion, (whot the village and appellation is named for) and several Catacombs, which are located directly beneath the Church.
Like many Bordeaux chateaux, Chateau Laniote has been handed down through multiple generations. Similar to what takes place at Chateau Corbin, Chateau Laniote continues to be passed down from mother to daughter. The names of the registered owners have shifted from Lacoste, Rouja, Freymond, Schneider, and now, La Filolie.
Arnaud de la Fiolie, the current owner of this Right Bank chateau is a direct descendant of Lacoste. His wife, Florence Ribereau-Gayon is the winemaker.
Chateau Laniote Vineyards, Terroir, Grapes, Winemaking
The 5 hectare-vineyard of Chateau Laniote is planted to 80% Merlot, 15% Cabernet Franc and 55 Cabernet Sauvignon. The terroir is clay and limestone soils. On average, the vines are close to 35 years of age.
The vineyard is in one contiguous parcel, not too far from Chateau Fonroque, Chateau Larmande, and Chateau Cote de Bateau. It's also located fairly close to Saint Emilion village. The vineyard is planted on sloping hillsides that rise to 60 meters at their peak.
The vinification of Chateau Laniote takes place in a combination of concrete vats and smaller, stainless steel vats. The wines are aged in close to 50% new, French oak barrels for between 12-15 months.
The best vintages of Chateau Laniote are: 2022, 2021, 2020, 2019, 2018, 2017, 2016, 2015, 2014, 2012, 2010, 2009 and 2005. It should be noted that in 2019, Chateau Laniote began producing markedly better wine.
There is a second wine, Chapelle de Laniote. On average, the annual production of Chateau Laniote is between, 2,000 and 2,250 cases of Bordeaux wine per vintage.
When to Drink Chateau Laniote, Anticipated Maturity, Decanting Time
Chateau Laniote needs an average of 1 hour of decanting. This allows the wine to soften and open its perfume. Older vintages might need very little decanting, just enough to remove the sediment.
Chateau Laniote is usually better with at least 2-4 years of bottle age. Of course, that can vary slightly, depending on the vintage character. Chateau Laniote offers its best drinking and should reach peak maturity between 3-9 years of age after the vintage.
Serving Chateau Laniote with Wine and Food Pairings
Chateau Laniote is best served at 15.5 degrees Celsius, 60 degrees Fahrenheit. The cool, almost cellar temperature gives the wine more freshness and lift.
Chateau Laniote is best paired with all types of classic meat dishes, veal, pork, beef, lamb, duck, game, roast chicken, roasted, braised, and grilled dishes. Chateau Laniote is also good when matched with Asian dishes, rich fish courses like tuna, mushrooms, and pasta.
Château Laniote Wine Tasting Notes
12 Vintages 30,299 Views Sort by Vintage-Rating
2022
Château Laniote (St. Émilion Grand Cru)

Chocolate covered plums, espresso, ripe, cherries, and polished tannins in a medium-bodied wine, finishing with a creamy, fruit-packed finish, and a sprig of mint in the endnote. Drink from 2025-2040. 90-92 Pts.

1,321 Views

Tasted

May 8, 2023

2021
Château Laniote (St. Émilion Grand Cru)

Medium-bodied, fresh, bright, earthy, and with a leafy, underbrush accent to the crisp, savory, red plums in the finish. 2023-2034. 88-90

1,309 Views

Tasted

May 20, 2022

2020
Château Laniote (St. Émilion Grand Cru)

Medium-bodied, round and supple, with a noticeable oak-underpinning to the ripe, but subtle, red pit fruits. A definite step up from previous vintages, a bit less oak, or a touch more fruit would make this wine even better. Drink from 2023-2035.

725 Views

Tasted

Mar 21, 2023

Licorice, smoke, underbrush, spice and red pit fruit aromas come together on the nose. Medium-bodied, forward, soft, round and fruity, with a nice, sweet, fresh, jolt of spicy red plums in the finish. 89-91 Pts

1,566 Views

Tasted

May 20, 2021

2019
Château Laniote (St. Émilion Grand Cru)

Fresh and fruity with a solid core of red plums and dark cherries topped with espresso, spice box, sandalwood and flowers, the wine is medium-bodied, supple, sweet and ready to go. Soft and polished, with a chocolate covered, black plum filled finish, you can enjoy this now and it should get better from here. Clearly things are on the upswing here. This wine is a huge step-up from previous years! Drink from 2022-2033.

715 Views

Tasted

Mar 29, 2022

The best vintage of Laniote ever produced. Medium-bodied, forward, soft and seductive, with layers of polished, ripe, lush fruits. Clearly things are on the upswing here. This wine is a huge step-up from previous years! 90-92 Pts

2,742 Views

Tasted

Jun 8, 2020

2018
Château Laniote (St. Émilion Grand Cru)

Medium-bodied, elegant, earthy and with some herbal and olive tendencies along with its earthy red pit fruits.

1,065 Views

Tasted

Mar 9, 2021

2017
Château Laniote (St. Émilion Grand Cru)

A medium bodied, forward, early drinking wine with herbs and olives and red fruits on the nose and on the palate.

1,292 Views

Tasted

Apr 26, 2018

2016
Château Laniote (St. Émilion Grand Cru)

Medium-bodied, earthy, bright and fresh, the wine combines bright red fruits with herbs and spice box notes, producing a forward styled expression of the vintage.

2,109 Views

Tasted

Sep 21, 2019

Earthy red fruits and thyme on the nose and on the palate, the wine is medium bodied, soft and will be drinkable on release.

1,825 Views

Tasted

Apr 29, 2017

2015
Château Laniote (St. Émilion Grand Cru)

With a touch of stone to accompany the red fruit notes, the wine is medium bodied, fresh, bright and a bit on the lean, red berry classic side.

2,942 Views

Tasted

May 21, 2018

The wine starts off with a sweet plum note but the finish shows some dryness and herbs in the endnote.

2,460 Views

Tasted

Apr 29, 2016

2014
Château Laniote (St. Émilion Grand Cru)

Fresh cherries and thyme, round textures with a light, red fruit finish. 83-86 Ps

1,917 Views

Tasted

Apr 27, 2015

2012
Château Laniote (St. Émilion Grand Cru)

Light in style, with spicy, bright red fruits and a hint of licorice, this will be best consumed on the young side.

1,864 Views

Tasted

Jul 6, 2015

2010
Château Laniote (St. Émilion Grand Cru)

Simple, with notes of red plum and black raspberry, the wine is slightly rustic in the finish.

3,022 Views

Tasted

May 7, 2014

2005
Château Laniote (St. Émilion Grand Cru)

Medium bodied, soft, fresh and ready to go, here you find ripe, dark, ripe, juicy plums, thyme, hints of truffle and cocoa from start to finish.

3,425 Views

Tasted

Aug 2, 2017