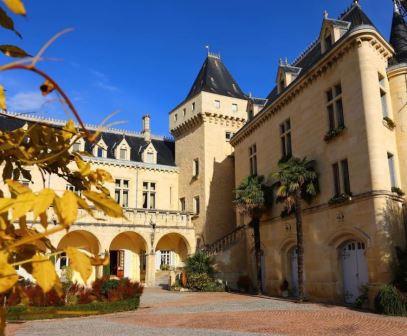 Learn everything about Chateau La Riviere Fronsac with wine tasting notes and wine with food pairing tips. Learn the best vintages, the history of the property, and information on the vineyards and winemaking. If you want to read about other important, Bordeaux Chateaux: Links to all Bordeaux Wine Producer Profiles
Chateau de La Riviere History, Overview
Chateau de La Riviere is one of the older estates in the Fronsac appellation. The history of the property can be dated back all the way back to 769, when Emperor Charlemagne ordered that a fort be constructed on the site, Prior to 769, the land was previously used by the ancient Romans as a burial mound.
The beautiful, picturesque chateau in use today was constructed in 1577 by the mayor of Bordeaux, Gaston de L'Isle. Before La Riviere was sold, amazingly, the estate had been owned by the L'Isle family for more than 500 years! Chateau La Riviere takes its name fittingly from the Dordogne river that sweeps through the Fronsac region. The estate was owned and managed by James Gregoire until 2013.
Chateau de la Riviere is the largest estate in the appellation of Fronsac, with close to 59 hectoliters of planted vines. However, the estate also includes beautiful gardens and forest land, bringing the total size of the property up to 65 hectares.
Here you also find an impressive array of underground limestone quarries, which provide perfect storage conditions for their wines. Chateau de la Riviere has enjoyed periodic renovations over the years. In 1962, the Right Bank estate was completely modernized. But not for the last time.
Chateau de la Riviere was purchased in 1995 by Jean Leprince who once again modernized the estate. Tragically, Jean Leprince was killed in a flying accident in 2002.
Following his death, the property was sold to James Edmond Gregoire. James Gregoire earned his wealth as one of the top manufacturers of grape harvesting machines. In a tragic twist of fate, James Gregoire also died in a flying accident. He was killed when his helicopter crashed in December 2013.
Sadly, the accident took place only one day after James Gregoire agreed to sell Chateau de la Riviere to the Chinese billionaire Lam Kok. This deal was said to be the largest investment by an Asian yet in a Bordeaux vineyard, surpassing the deal for Chateau Bon Pasteur earlier that same year!
The buyer, Lam Kok was also in the helicopter and died in the same accident. The group was said to have been flying over the Right Bank vineyard surveying the land when the accident took place. The children of James Gregorie purchased Chateau Ripeau in St. Emilion the following year.
Chateau de La Riviere Vineyards, Terroir, Grapes, Winemaking
The large, 65-hectare vineyard of Chateau de La Riviere is planted to 820 Merlot, 12% Cabernet Franc, 6% Cabernet Sauvignon and 2% old vine Malbec in 53 separate parcels on clay, limestone, and sandy soils. This shows a marked increase in the plantings of Cabernet Sauvignon. The vineyards have old vines, some of which are up to 80 years old.
Chateau la de Riviere takes a serious environmental approach to its vineyard management techniques. In 2012, they became one of the first Bordeaux chateaux to earn certification for high, environmental value.
The red wine of Chateau de la Riviere is fermented in temperature-controlled stainless steel vats and aged in 30% new French oak for between 12 to 18 months, depending on the character and style of the vintage.
In addition to the red wine of Chateau de La Riviere, the estate produces a dry white Bordeaux wine, Chateau de La Riviere Blanc from a unique blend of 67% Sauvignon Blanc and 33% Sauvignon Gris. What makes that blend unusual is the extremely high portion of Sauvignon Gris. The white wine is vinified in cement vats.
Chateau de La Riviere also makes a special, luxury Cuvee, Aria. Aria is a small production wine made from a Merlot-dominated blend that comes from some of the estate's oldest Merlot vines in a single 1.5-hectare plot.
This is a much richer style of wine that sees a lot more new oak. In fact, it's aged in 100% new, French oak barrels. Close to 1,000 cases of Aria are produced each vintage. Like all the wines of Chateau La Riviere, Michel Rolland is the consulting winemaker.
Production of La Riviere ranges but on average is about 24,000 cases of wine per year. They also make a second wine, Les Source Chateau de La Riviere.
The best vintages of Chateau de La Riviere are: 2022, 2021, 2020, 2019, 2018, 2017, 2016, 2015, 2014, 2012, 2010, 2009 and 2005.
When to Drink Chateau La Riviere, Anticipated Maturity, Decanting Time
Chateau La Riviere is much better with at least 2-4 years of aging in good vintages. Young vintages can be decanted for 1 hour or so, allowing the wine to soften and open its perfume. Older vintages might need very little decanting, just enough to remove the sediment. Chateau La Riviere offers its best drinking and should reach peak maturity between 3-12 years of age after the vintage.
Serving Chateau de La Riviere with Wine, Food, Pairing Tips
Chateau de La Riviere is best served at 15.5 degrees Celsius, 60 degrees Fahrenheit. The cool, almost cellar temperature gives the wine more freshness and lift.
Chateau de La Riviere is best paired with all types of classic meat dishes, veal, pork, beef, lamb, duck, game, roast chicken, roasted, braised, and grilled dishes. Chateau de La Riviere is also good when matched with Asian dishes, rich fish courses like tuna, mushrooms, and pasta.
Chateau La Riviere is more than just a winery, the estate is also a full-service hotel in the Fronsac appellation, which offers guests luxury and the opportunity to enjoy life in the middle of their Right Bank vineyards.
Château de la Rivière Wine Tasting Notes
19 Vintages 50,894 Views Sort by Vintage-Rating
2022
Château de la Rivière (Fronsac)

Lusciously-textured, dark-cherries, coffee beans, and licorice already show well in the round, supple, fresh, medium-bodied, plummy wine. This is going to be simply delicious on release. But, if you allow it a year or so for the oak to better integrate, it is going to be an even better wine. Drink from 2025-2037. 91-93 Pts.

1,130 Views

Tasted

May 8, 2023

2020
Château de la Rivière (Fronsac)

Espresso, chocolate-covered cherries and plums, with a hint of licorice is what you find in the perfume. On the palate the wine is soft, polished and showy, with a finish packed with fresh brewed, cocoa and sweet, dark red berries. Give it a year or so for the oak to better integrate and it should be even better. Drink from 2024-2036.

646 Views

Tasted

Mar 21, 2023

Chocolate covered plums, cherries, licorice and wet earth on the nose and palate are found here. Round, lush, polished, fresh and fruity, the finish delivers ripe dark red fruits, spice, and cocoa with good acidity and length. You can enjoy this in its youth and for at least a decade or slightly longer. 91-93 Pts

1,540 Views

Tasted

May 20, 2021

2019
Château de la Rivière (Fronsac)

Medium-bodied, round, supple-textured, plush, polished, forward wine with a generous dose of sweet, ripe, fresh, red fruits with just the right amount of chocolate in the round finish. You can drink this on release. Drink from 2022-2031.

1,229 Views

Tasted

Mar 29, 2022

Dark in color, the perfume exudes licorice, smoke, cocoa and ripe plums. The wine is round, lush, rich and offers a good depth of flavor on the palate finishing with loads of fresh black cherries, dark chocolate and plums. 91-93 Pts

2,214 Views

Tasted

Jun 28, 2020

2019
Château de la Rivière Blanc (Bordeaux)

Light in color, better in the nose with its pomelo accents than on the palate, the wine is light in flavor and should be consumed over the next 1-3 years. 84 Pts

1,632 Views

Tasted

Jun 28, 2020

2018
Château de la Rivière (Fronsac)

Forward, round, silky, soft, fresh and fruity, the wine delivers its blend of chocolate covered cherry, espresso, smoke and licorice effortlessly. Medium-bodied with ample, dark cocoa and a hint of peppery plums in the finish, this is already a treat in the glass.

1,043 Views

Tasted

Mar 9, 2021

Dark in color, the wine is round, fat, sweet and filled with ripe, dark red fruits, licorice, wet earth, coffee bean, smoke and cocoa. Lusciously textured in the finish, this is going to great shortly after release. 90-92 Pts

1,486 Views

Tasted

Apr 19, 2019

2017
Château de la Rivière (Fronsac)

The wine easily shows its oaky side along with its chocolate and plummy character. Medium bodied, round, lush and juicy, this will clearly offer pleasure on release.

1,838 Views

Tasted

Apr 26, 2018

2016
Château de la Rivière (Fronsac)

Luscious, forward, ripe, round, chocolate coated, plum, and black cherry-filled wine with licorice and espresso notes on the nose, in the palate, and in the finish. This is fully ready to go, just pop, pour and enjoy. Drink from 2023-2028.

2,175 Views

Tasted

Dec 28, 2022

2016
Château de la Rivière Aria (Fronsac)

Plummy, round, juicy and forward, with luscious textures, cocoa and coffee bean in the finish create a crowd pleasing styled wine that will drink well early.

1,576 Views

Tasted

Sep 21, 2019

Forward, fun and easy to drink, this is a crowd pleasing styled wine that will drink well early.

1,296 Views

Tasted

Apr 29, 2017

2015
Château de la Rivière (Fronsac)

Smoke, licorice and dark cherries open the nose. Medium/full-bodied, deep in color, with soft, round, plush textures and a blast of sweet, ripe, dark plums, cherry and a touch of smoky, dark chocolate in the finish. With a bit of air before serving, this is quite easy to like.

3,104 Views

Tasted

Apr 20, 2020

Forward, soft, polished, ripe and packed with, sweet, plush, dark red fruits, this will drink well on release.

2,956 Views

Tasted

Apr 29, 2016

2014
Château de la Rivière (Fronsac)

Fresh, juicy, round, forward and offering loads of ripe black cherry licorice, smoke and earthy characteristics. Even at this young stage, this is already quite tasty and easy to drink. With a few years, this could be even better as it fills out and gains more weight.

2,494 Views

Tasted

Jul 10, 2017

2013
Château de la Rivière (Fronsac)

Oak, earth and dark cherries move to a soft, accessible, oaky, red berry finish that will offer pleasure on release. 86-88 Pts

2,168 Views

Tasted

May 1, 2014

2012
Château de la Rivière Aria (Fronsac)

Deep in color with licorice, flowers and jammy berries in the nose, the wine is rich, deep, ripe, jammy and full-bodied with a chocolate-covered, black cherry finish. 89-91 Pts

1,822 Views

Tasted

Apr 26, 2013

2012
Château de la Rivière (Fronsac)

Licorice, smoky cherries and earthy notes on the nose, lead to a sweet, open, fresh plummy wine.

2,708 Views

Tasted

May 15, 2015

Supple-textured, ripe and approachable, this early-drinking wine offers a lot of fleshy, sweet, jammy and fresh black and red fruits with a fun, fleshy personality. 88-90 Pts

3,123 Views

Tasted

Apr 26, 2013

2011
Château de la Rivière Aria (Fronsac)

From 73% Merlot, 12% Cabernet Franc, 12% Cabernet Sauvignon and 3% Malbec, with black cherry, licorice, soft textures and an open personality. 89-90 Pts

1,463 Views

Tasted

Apr 20, 2012

2010
Château de la Rivière Aria (Fronsac)

La Riviere Aria was a discovery for me. Thank you to to Bill Blatch from Vintex for introducing me to it. It was the first time I had tasted this wine. From a blend of 86% merlot, 12% Cabernet Franc and the rest Cabernet Sauvignon, with vines averaging 40 years of age, the wine sported a deep color. Floral, boysenberry aromas, a rich mouth full of ripe, black fruit, chocolate and boysenberry jam makes this a very tasty offering from Fronsac. I'm not sure what this cost, but chances are, this will be a good value wine to seek out. 90-92 Pts

2,959 Views

Tasted

Mar 14, 2011

2009
Château de la Rivière Aria (Fronsac)

This delicious, Merlot based wine is filled with ripe, juicy, dark berries, chocoalte, cherry, minerality and vanilla. Supple in texture, concentrated, fleshy and plummy, the wine is already drinking well now. It's hard to find in America at the moment, but if you run across a bottle, it's worth tasting.

2,602 Views

Tasted

Jan 19, 2012

2009
Château de la Rivière (Fronsac)

Fully ready to drink, the wine is filled with round textures, licorice, espresso bean, plum and cherries. This is not for aging. It's for drinking.

2,984 Views

Tasted

Dec 16, 2013

2008
Château de la Rivière (Fronsac)

Jammy black fruit, licorice and coffee aromas, soft textures, medium body with a plum and herb filled finish. I'd drink this on the young side.

3,004 Views

Tasted

Dec 5, 2011

2005
Château de la Rivière Aria (Fronsac)

Fully mature, round, flashy, espresso, dark, plum, licorice and black cherry filled wine with sweetness to the chocolatey fruit and a touch of oak that remains in the finish. This is not a wine to hold for further development.

1,702 Views

Tasted

Dec 19, 2017