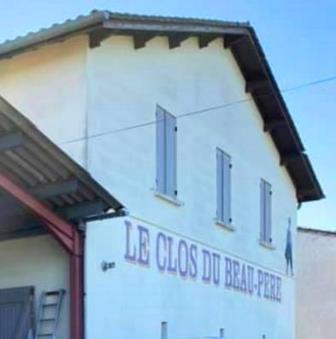 Learn everything about Le Clos du Beau Pere Pomerol with wine tasting notes and wine with food pairing tips. Learn the best vintages, the history of the property, and information on the vineyards and winemaking. If you want to read about other important, Bordeaux Chateaux:Links to all Bordeaux Wine Producer Profiles
Le Clos Beau Pere History, Overview
In 2006, Jean Luc Thunevin, better known for his numerous successful estates in St. Emilion like Valandraud, purchased a little-known Pomerol property, Chateau Ratouin, as the name implies was owned by the Ratouin family.
Here is a bit of trivia for you. Previously, the property was known as Chateau l'Angelus. The name was changed to avoid confusion with the famous St. Emilion vineyard.
After their purchase of the vineyard, Jean Luc Thunevin renamed the estate to honor the father of his long-time partner and wife, Murielle Andraud. They changed it to Le Clos du Beau Pere, which can be translated into father in law.
In 2021, Jean Luc Thunevin began to produce a tiny amount of white wine at Le Clos du Beau Pere making them the first vineyard in well over 100 years to produce white Bordeaux wine in Pomerol!
Le Clos Beau Pere Vineyards, Terroir, Grapes, Winemaking
The small 4-hectare vineyard of Le Clos Beau Pere is planted to 90% Merlot and 10% Cabernet Franc for the red wine. However, .5 hectares of vines are planted with Sauvignon Blanc and Sauvignon Gris. Only 200 cases of white wine are produced here in a good vintage, so good luck finding any.
The Right Bank estate was only 2 hectares when it was purchased by Jean-Luc Thunevin and Murielle Andraud in 2006. In 2009, they obtained another 2 hectares of vines through purchasing and an arrangement with another Pomerol vineyard owner to rent and farm his land, allowing Thunevin to include those grapes into the wine of Le Clos du Beau Pere.
The majority of Le Clos du Beau Pere vineyards have a terroir of gravel and sand-based soils. However, there is a smaller portion of their vineyard with vines that are planted in terroir with more clay in the soil.
The vines are well-placed in two sectors. Most of their better vines are close to Chateau Bourgneuf and Chateau Bellegrave, just due west of highway 89. They also have vines planted near Clos Rene. The vines are maintained at a very good old age, as many of their Merlot vines are more than 45 years of age for the Merlot, with some vines being even older than that. The Cabernet Franc vines are younger, as they are closer to an average of 20 years of age.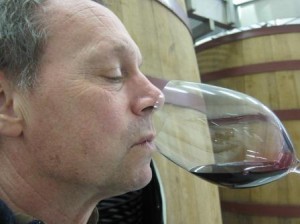 To produce the wine of Le Clos du Beau Pere, vinification takes place in traditional, temperature-controlled stainless steel vats. Malolactic fermentation takes place in barrels. The wine is aged in 100% new, French oak barrels for up to 18 before bottling. The production is quite small as less than 1,500 cases of red wine are produced from Le Clos du Beau Pere per vintage.
Le Blanc du Beau-Pere, is entirely vinified and aged in French oak barrels. Not much wine is made. The production averages about 250 cases of wine per vintage. The wine is sold as an AOC Bordeaux Blanc.
The best vintages of Le Clos du Beau Pere are: 2022, 2021, 2020, 2019, 2018, 2017, 2016, 2015, 2012, 2010 and 2009.
When to Drink Le Clos du Beau Pere, Anticipated Maturity, Decanting Time
Le Clos du Beau Pere needs some time before it can be enjoyed. Young vintages can be decanted for an average of 1 hour or more. This allows the wine to soften and open its perfume.
Older vintages might need very little decanting, just enough to remove the sediment. Le Clos du Beau Pere is usually better with at least 3-4 years of bottle age. Of course, that can vary slightly, depending on the vintage character. Le Clos du Beau Pere offers its best drinking and should reach peak maturity between 4-12 years of age after the vintage.
Serving and Decanting Le Clos Beau Pere with Wine, Food, Pairing Tips
Le Clos Beau Pere is best served at 15.5 degrees Celsius, 60 degrees Fahrenheit. The cool, almost cellar temperature gives the wine more freshness and lift. Le Clos Beau Pere is best served with all types of classic meat dishes, veal, pork, beef, lamb, duck, game, roast chicken, roasted, braised, and grilled dishes.
Le Clos Beau Pere is also good with Asian dishes, hearty fish courses like tuna, mushrooms, and pasta.
Le Clos du Beau Père Wine Tasting Notes
14 Vintages 35,158 Views Sort by Vintage-Rating
2022
Le Clos du Beau Père (Pomerol)

Flowers, orange peel, black cherries, cocoa, and truffle open the nose. The wine is medium-bodied, forward, soft, polished, and fresh, with a lingering cocoa, black raspberry, and plum finish. For those seeking something unique, check out the white wine from Le Clos du Beau Pere, 2022 is only the second vintage. Back to the red wine. Drink from 2025-2037 91-93 Pts.

2,041 Views

Tasted

May 8, 2023

2022
Le Clos du Beau Père Blanc du Beau-Père (Bordeaux)

The first white wine from Pomerol in over 100 years could only come from Jean-Luc Thunevin and Murielle Andraud. Flowers, white peach, lemon rind and spice show easily in the nose and on the fresh, sweet, juicy and lively palate. Produced from blending 50% Sauvignon Blanc and 50% Sauvignon Gris. Good luck finding any as the production is limited to about 200 cases. Drink from 2025-2030. 91-91 Pts.

787 Views

Tasted

May 8, 2023

2021
Le Clos du Beau Père (Pomerol)

Medium-bodied, forward, soft and fruity, with a core of red cherries, strawberry and easy-going tannins. You can enjoy this with pleasure on release. And if you re looking for something a bit extra from Jean-Luc Thunevin and Le Clos du Beau Pere, 2021 is the first vintage they produced a white Bordeaux wine, making this the first white Pomerol in more than 150 years! Drink from 2023-2031. 88-90

1,916 Views

Tasted

May 20, 2022

2019
Le Clos du Beau Père (Pomerol)

Silky, fresh, soft and energetic, the cherries and plums are ripe, sweet and pure. And the earthy chocolate and spice note on the palate adds the perfect nuance that rounds things out in the supple textured finish. 90-92 Pts

3,496 Views

Tasted

Jun 8, 2020

2018
Le Clos du Beau Père (Pomerol)

Nice depth of color, the toasty oak rounds out the fresh plums, cherry and licorice notes. Supple textures, fruity and juicy with a nice hit of chocolate in the finish, this is a delicious, early drinking Pomerol. 89-91 Pts

2,745 Views

Tasted

Apr 19, 2019

2017
Le Clos du Beau Père (Pomerol)

This wine is all about the smoky black cherries and vanilla bean aromas. Medium bodied with curvy textured plums, cherries, cocoa and dusty tannins resound in the finish.

2,187 Views

Tasted

Apr 26, 2018

2016
Le Clos du Beau Père (Pomerol)

It is quite easy to like this medium-bodied, elegant, charming, soft, early drinker, due to all its ripe red plums, silky textures and sweet, fresh cherries. You can drink this on release, or age it for a few years.

1,886 Views

Tasted

Sep 21, 2019

Dark in color with vanilla, smoke and black cherries in the nose and plums and milk chocolate in the finish, the wine is soft, forward and willing. You can enjoy this on release.

1,766 Views

Tasted

Apr 29, 2017

2015
Le Clos du Beau Père (Pomerol)

Medium-bodied and as fresh, sweet and bright as a high school valedictorian, this wine is all about dark, red fruit with plums and chocolate cake at its core. The experience culminates with licorice, vanilla and fresh, black raspberries. 89 - 91 Pts

1,956 Views

Tasted

Apr 27, 2016

2014
Le Clos du Beau Père (Pomerol)

Silky smooth, round and plummy, with a blast of licorice, espresso and chocolate covered black cherries that remain from start to finish. 88-89 Pts

1,745 Views

Tasted

Apr 30, 2015

2013
Le Clos du Beau Père (Pomerol)

Floral notes with sweet plum and cherry carry through from start to finish with good freshness and flavor. 86-88 Pts

1,896 Views

Tasted

Apr 25, 2014

2012
Le Clos du Beau Père (Pomerol)

Medium bodied, slightly strict, especially for Pomerol, red plum filled wine is ready for prime time drinking with an hour or so of air. This is not a wine I'd age for long term development.

2,769 Views

Tasted

Mar 4, 2017

2011
Le Clos du Beau Père (Pomerol)

From 85% Merlot and 15% Cabernet Franc, the wine reached 14% ABV and will be aged in 100% new oak. Deep in color with toast, chocolate, coffee, plum and licorice, the wine is round, fresh and filled with ripe, juicy plum and dark chocolate. 88-90 Pts

2,562 Views

Tasted

Apr 21, 2012

2010
Le Clos du Beau Père (Pomerol)

One of the best values in Pomerol today. Produced by Jean Luc Thunevin, the wine serves up fresh, black plum, mocha, earth and espresso. Medium bodied, round and reasonably open. If you like your wines young, you can enjoy this in its youth. Else, this should be better with a few years of bottle age.

2,286 Views

Tasted

Feb 26, 2014

2009
Le Clos du Beau Père (Pomerol)

Opulent, lush, forward style of Pomerol with perhaps a bit too much oak. But it's hard not to like all the plush, chocolate covered black cherries, fresh plums, earth and smoke. It's a good value for Pomerol, which is hard to find these days.

3,308 Views

Tasted

Aug 4, 2013