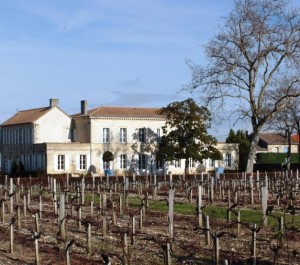 Learn everything about Chateau Rollan de By, Haut Medoc with wine tasting notes, and wine with food pairing tips. Learn the best vintages, the history of the property, and information on their vineyards and winemaking. If you want to read about other important Bordeaux chateau, Links to all Bordeaux Wine Producer Profiles
Chateau Rollan de By History, Overview
Jean Guyon, the owner Chateau Rollan de By did not start out life seeking a career in wine. At first, he followed his father and grandfather as a seller of antiques and as an interior designer. But the world of wine caught his interest before his 30th birthday.
Chateau Rollan de By is a relatively young estate. The vineyard began earning a reputation when it was purchased by Jean Guyon in 1989. At the time, Rollan de By was a diminutive estate with only 2.5 hectares of vines when it was initially created.
Under the direction of Jean Guyon, the property has increased in size almost 20 times! Over the years, Jean Guyon has also added other Bordeaux value wines to his holdings including Chateau Haut Condissas, Chateau Greysac, Chateau Tour Seran, and Chateau La Clare.
In 2012, Jean Guyon purchased one of the most famous Cru Bourgeois estates in all of Bordeaux when he took control of Chateau Greysac. In 2014, Jean Guyon produced an upscale version of his 5 different wines sold as The Collection Or.
Led by Rollan de By, the bottles used in the collection are all made from opaque, black glass etched in gold. Due to their ornate packaging, they are the most expensive Cru Bourgeois yet released. The boxed set includes Larose Trintaudon, Greysac, Tour Seran, and La Clare.
Chateau Rollan de By Vineyards, Terroir, Grapes, Winemaking
The 45-hectare vineyard of Chateau Rollan de By is planted to 70% Merlot, 10% Cabernet Sauvignon, 10% Cabernet Franc and 10% Petit Verdot. They have a terroir of clay and gravel soils. All the clay in the soils explains why there is so much Merlot planted here.
The vines at Chateau Rollan de By are old, with an average age of 35 years. The vineyard is planted to a vine density of density that ranges from 8,500 vines per hectare up to 11,000 vines per hectare. Before being purchased by Jean Guyon, the vineyard of Rollan de By had more Cabernet Sauvignon in the vineyard.
It was the decision of Jean Guyon to decrease the amount of Cabernet Sauvignon in the vines and add more Merlot, due to the high concentration of clay found in the soil as we mentioned previously.
The vinification of Rollan de By takes place in temperature-controlled, stainless steel vats. Malolactic fermentation for the Cabernet Sauvignon takes place tank, while the Merlot and Petit Verdot go through Malolactic in French oak barrels.
The wine of Rollan de By is aged in a combination of 90% new, French oak barrels and 10% new, American oak barrels for an average of 12 months. There is a second wine, Fleur de By. Chateau Rollan de By also makes a Kosher cuvee'. Alain Raynaud is the consultant. On average, 20,000 cases of Chateau Rollan de By are produced every vintage.
Chateau Rollan de By also produces a small amount of white Bordeaux wine from 100% Sauvignon Blanc, using the aptly named moniker of Rollan de By Sauvignon Blanc.
When to Drink Chateau Rollan de By, Anticipated Maturity, Decanting Time
Chateau Rollan de By can be decanted for an average of 1 hour or so. This allows the wine to soften and open its perfume. Older vintages might need very little decanting, just enough to remove the sediment.
Chateau Rollan de By is usually better with at least 2-4 years of bottle age. Of course, that can vary slightly, depending on the vintage character. Chateau Rollan de By offers its best drinking and should reach peak maturity between 3-15 years of age after the vintage.
Serving and Decanting Chateau Rollan de By with Wine, Food, Pairing Tips
Chateau Rollan de By is best served at 15.5 degrees Celsius, 60 degrees Fahrenheit. The cool, almost cellar temperature gives the wine more freshness and lift. The wine of Chateau Rollan de By is best served with all types of classic meat dishes, veal, pork, beef, lamb, duck, game, roast chicken, roasted, braised, and grilled dishes.
Chateau Rollan de By is a perfect match with Asian dishes, hearty fish courses like tuna, mushrooms, and pasta as well as cheese.
Château Rollan de By Wine Tasting Notes
14 Vintages 48,725 Views Sort by Vintage-Rating
2022
Château Rollan de By (Médoc)

Supple, round, creamy, forward, and filled with sweet black cherries, black currants and espresso, with some licorice that comes in on the back end of the finish. Drink from 2025-2035. 89-91 Pts.

678 Views

Tasted

May 8, 2023

2021
Château Rollan de By (Médoc)

Round, forward, currant and espresso filled wine with an early-drinking, forward, fruity, oaky character. Drink from 2023-2028. 85-87

1,456 Views

Tasted

May 20, 2022

2020
Château Rollan de By (Médoc)

Here you find flowers, espresso and leafy, red currants on the nose, before moving to the soft, ripe, fresh, easy to like and drink, mid-palate and slightly, tangy finish. You can drink this on release. Drink from 2023-2032.

899 Views

Tasted

Mar 21, 2023

Medium-bodied, soft, forward, bright and polished, the wine offers an espresso, herb and red berry core on the palate and in the finish. You can drink this on release. 85-87 Pts

2,420 Views

Tasted

Jun 3, 2021

2019
Château Rollan de By (Médoc)

Medium-bodied, bright, fresh, crisp, juicy red currants with an herb accented profile on the nose and in the finish. Forward in style, you can enjoy this on release. Drink from 2022-2031.

1,343 Views

Tasted

Mar 29, 2022

2018
Château Rollan de By (Médoc)

Lush, round and forward, with ripe, dark red fruits, licorice, cocoa, espresso, vanilla and smoke, this is perfect for early drinking. 87-89 Pts

2,368 Views

Tasted

Apr 19, 2019

2017
Château Rollan de By (Médoc)

Licorice, tobacco, and red fruits along with soft tannins and an early drinking charm define the medium bodied wine.

2,243 Views

Tasted

Apr 26, 2018

2016
Château Rollan de By (Médoc)

Fresh, round, fruity, medium-bodied, and open, allowing you to enjoy all of its sweet, ripe, dark red berries, spice, espresso, earth, and thyme now, and over the next few years. Drink from 2022-2030.

2,110 Views

Tasted

Aug 23, 2022

Polished red fruits and black cherries with softness, medium body and a forward attitude.

3,321 Views

Tasted

Apr 29, 2017

2015
Château Rollan de By (Médoc)

Ready to drink, this forward, round, supple, soft, dark red berry-filled wine comes with a liberal blast of oak, licorice, smoke and chocolate. It is a nice, crowd-pleasing wine that is already easy to drink.

4,858 Views

Tasted

Sep 29, 2019

2014
Château Rollan de By (Médoc)

Bright red fruits and black cherries create the character of this early drinker that is already showing a polished, forward, sweet and fresh personality. 85-87 Pts

1,912 Views

Tasted

Apr 21, 2015

2012
Château Rollan de By (Médoc)

Medium bodied, simple, and vinified to be enjoyed in its youth. 84-86 Pts

3,568 Views

Tasted

Apr 23, 2013

2010
Château Rollan de By (Médoc)

Licorice, coffee bean, vanilla and ripe, dark berries are found in this forward, easy to like, crowd pleasing wine.

4,161 Views

Tasted

May 8, 2013

2009
Château Rollan de By (Médoc)

Blending 70% Cabernet Sauvignon, 25% Merlot and 5% Petit Verdot produced an earthy, vanilla, cassis and licorice flavored, medium bodied wine that's already fun to drink and value priced as well.

6,471 Views

Tasted

May 9, 2012

2008
Château Rollan de By (Médoc)

Espresso with black and red fruits with herbal aromatics make up the perfume. Medium bodied and okay on the palate, the wine ends with a dusty, cassis finish.

4,645 Views

Tasted

Aug 29, 2011

2005
Château Rollan de By (Médoc)

Coffee, chocolate, boysenberry and tobacco scents lead to a medium/full bodied, round textured, crowd pleasing style of Bordeaux wine that is ready to drink.

6,272 Views

Tasted

Sep 19, 2011