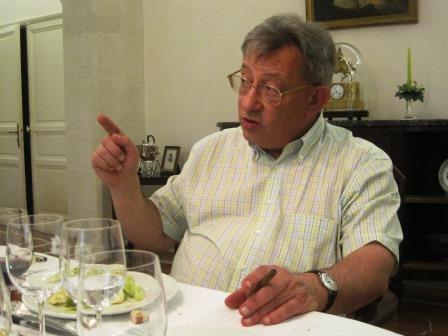 Learn everything about Chateau Potensac Medoc with wine tasting notes and wine with food pairing tips. Learn the best vintages, a history of the property, and information on winemaking and vineyards. If you want to read about other important, Bordeaux Chateaux: Links to all Bordeaux Wine Producer Profiles
Chateau Potensac History, Overview
Chateau Potensac takes its name from its location, which is on the top of Potensac plateau in the northern part of the Medoc. The estate dates back to the mid-1800s when it was owned by the Liquard family. Today, Chateau Potensac is owned by the Delon family. The Delon family is better known for their famous property in St. Julien, Leoville Las Cases, and Chateau Nenin in Pomerol.
Chateau Potensac has been in the hands of the Delon family for several generations. The grandfather of Jean Hubert Delon obtained the estate through marriage when he married into the Liquard family. From that time on, Chateau Potensac has been passed down from father to son.
Chateau Potensac Vineyards, Terroir, Grapes, Winemaking
The large, Potensac vineyard is planted to 48% Merlot, 33% Cabernet Sauvignon, 18% Cabernet Franc and 1% Petit Verdot. Although there are a few Carmenere vines remaining in the vineyards. This represents a major shift in the vineyard plantings which were previously planted to 60% Cabernet Sauvignon.
The 60-hectare, Left Bank vineyard has a terroir that consists of gravel with patches of clay and limestone in the soil. Located only 6 kilometers north of Chateau Calon Segur, part of what makes the soils of Potensac unique is the limestone deposits, which in some parcels, are similar to what you find in St. Emilion, as well as other Right Bank appellations.
The vines are on average close to 50 years of age. However, they have old vines, some of which are more than 80 years of age. The vineyard is planted to a vine density of 7,700 vines per hectare.
The vineyard is located on two slopes that reach up to 35 meters at their peak elevation. Over the past several years, in an effort to add softness to the wine, slowly but surely, more Merlot has been added to the vineyards of Chateau Potensac. Picking takes place using both manual and machine harvesting.
To produce the wine of Chateau Potensac, vinification takes place in a combination of temperature-controlled, stainless steel vats and concrete tanks. Malolactic fermentation takes place in vat.
The same technical team that works on the wines of Leoville Las Cases works with Chateau Potensac. The wines are aged in French oak barrels passed down from Clos du Marquis for between 14 and 16 months, depending on the character and style of the vintage.
There is a second wine, La Chapelle de Potensac. On average, close to 24,000 or more cases of wine are produced each vintage.
The best vintages of Chateau Potensac are: 2022, 2021, 2020, 2019, 2018, 2017, 2016, 2015, 2014, 2010, 2009 and 2005.
The wines of Potensac are structured, firm, and often display an austere quality, especially in their youth. So it names age to soften. Chateau Potensac is the perfect wine for fans of old-school, classic Bordeaux winemaking.
When to Drink Chateau Potensac, Anticipated Maturity, Decanting Time
Chateau Potensac is not much fun to drink young, due to its tannins, and masculine style. The wine can be decanted for an average of 1-3 hours, give or take. This allows the wine to soften and open its perfume. Older vintages might need very little decanting, just enough to remove the sediment.
Chateau Potensac is usually better with at least 5-7 years of bottle age. Of course, that can vary slightly, depending on the vintage character. Chateau offers its best drinking and should reach peak maturity between 7-20 years of age after the vintage.
Serving and Decanting Chateau Potensac with Wine, Food, Pairing Tips
Chateau Potensac is best served at 15.5 degrees Celsius, 60 degrees Fahrenheit. The cool, almost cellar temperature gives the wine more freshness and lift. The wine of Chateau Potensac is best served with all types of classic meat dishes, veal, pork, beef, lamb, duck, game, roast chicken, roasted, braised, and grilled dishes.
Chateau Potensac is a perfect match with Asian dishes, hearty fish courses like tuna, mushrooms, and pasta as well as cheese.
Château Potensac Wine Tasting Notes
24 Vintages 153,666 Views Sort by Vintage-Rating
2022
Château Potensac (Médoc)

Tobacco leaf, cedar, peppery herbs, and black fruits show on the nose, and on the palate. There is volume, intensity, concentration, tannic structure, and a regal bearing for the wine on the palate. By miles, this is the most complete vintage for Potensac I have ever tasted. The wine was produced from blending 43% Cabernet Sauvignon, 36.5% Merlot, 19.5% Cabernet Franc and 1% Petit Verdot.14.52% ABV. Drink from 2026-2045. 92-94 Pts.

960 Views

Tasted

May 8, 2023

2021
Château Potensac (Médoc)

Leafy spearmint and red fruits are the thrust of this bright, crisp, foursquare styled vintage. Quite classic in nature, this firm, chewy wine is perfect for lovers of classic styled Bordeaux. The wine was produced from blending 40% Merlot, 34% Cabernet Sauvignon, 23% Cabernet Franc and 13% Petit Verdot, 13.1% ABV. Drink from 2025-2038. 89-91

1,771 Views

Tasted

May 20, 2022

2021
La Chapelle de Potensac (Médoc)

Bright, crisp raspberry, red plums and spicy currants are fresh, vibrant and crunchy. You will be able to enjoy this on release. Drink from 2022-2028 85-87

1,470 Views

Tasted

May 20, 2022

2020
Château Potensac (Médoc)

Dark in color, the wine opens with persuasive notes of cedar, creme de cassis, tobacco and forest leaf in the perfume. Full-bodied, ripe, rich and packed with crisp, juicy currants, the wine finishes with a big mouthful of firm, chewy blackberries, currants and a refreshing sprig of mint on the backend. 91-93 Pts

2,539 Views

Tasted

May 20, 2021

2019
Château Potensac (Médoc)

Medium-bodied, fresh, lively, fresh and vibrant, the wine is almost ready to go with its blast of tobacco leaf, currants, spice and touch of mint leaf on the nose and palate. The wine was produced from blending 47% Merlot, 36% Cabernet Sauvignon, 16% Cabernet Franc and 1% Petit Verdot. Drink from 2024-2038.

2,677 Views

Tasted

Mar 29, 2022

Mint, cedar, leaf and herbal aromatics combine to produce a structured, firm, crisp bite of cassis, blackberry and stone on the nose and palate, creates a wine with freshness, fruit, with a true Medocian character. The wine was produced from blending 47% Merlot, 36% Cabernet Sauvignon, 16% Cabernet Franc and 1% Petit Verdot, reaching 14.05% ABV. 90-92 Pts

6,097 Views

Tasted

Jun 17, 2020

2019
La Chapelle de Potensac (Médoc)

Medium-bodied, forward, fresh and floral, this lighter styled, red fruited, early drinking charmer already focuses you on its ripe, cherries and red currants. You can enjoy this with ease on release. Drink from 2022-2027.

802 Views

Tasted

Mar 29, 2022

2018
Château Potensac (Médoc)

The ripe nose exudes fresh, juicy, sweet fruit, cedar, smoke, spice and tobacco notes. Full-bodied with ripe, soft, round tannins and finish filled with sweet, ripe, fresh red berries that linger with flavor. For Potensac this is forward, so you will be able to enjoy this within a few years. This is the finest wine made in the history of Pontesac. The wine was produced from blending 45% Merlot, 36% Cabernet Sauvignon, 18% Cabernet Franc and 1% Petit Verdot, 14.5 ABV

3,409 Views

Tasted

Mar 9, 2021

Tobacco, cedar and smoke are paired with ripe, red berries that have a roundness in them this year. The wine is full-bodied and continues with its classic spirit. But with the 2018, you find more generosity than normal. Still, I would wait at least a decade before opening a bottle. The wine was produced from blending 45% Merlot, 36% Cabernet Sauvignon, 18% Cabernet Franc and 1% Petit Verdot. 90-92 Pts

3,867 Views

Tasted

Apr 19, 2019

2017
Château Potensac (Médoc)

Ruby in color with a cedar wood soul and leafy green spirit, you'll find bright red fruits assigned to the nose. Medium/full bodied and nearly approachable right now, the willing, accessible fruit displays a cheerful and zippy personality. The wine was produced from blending 47% Merlot, 35% Cabernet Sauvignon, 17% Cabernet Franc and 1% Petit Verdot.

3,446 Views

Tasted

Apr 26, 2018

2016
Château Potensac (Médoc)

With a classic combination of cigar box, forest floor and cassis, the wine is full-bodied, tannic, firm and fresh, Structured to age, give it at least a decade for the wine to soften, developing complexities and softness.

3,992 Views

Tasted

Sep 21, 2019

Dense, powerful, round and classic, this wine is ripe with character, weight, tannin and the structure to age. Best vintage of Potensac I've ever tasted.

7,174 Views

Tasted

Apr 29, 2017

2015
Château Potensac (Médoc)

Minty fresh, cedar, fennel and spicy red fruits bring you to a fresh, solid block or ripe tannins and juicy berries. Classic, but in a good way, this will need time to develop and soften.

3,493 Views

Tasted

May 21, 2018

From a blend of 45% Merlot, 38% Cabernet Sauvignon and 17% Cabernet Franc, the wine reached 13.32% ABV and will be aged in 1/3 new, French oak barrels. Offering up classic notes of earth, cedar and cassis, the wine is firm, structured, masculine and tannic. Give this old school wine a decade of age, before it begins to unfurl its secondary characteristics and starts to soften. The finish is fresh, with a nice licorice accent to the crisp, fresh cassis. 87 - 89 Pts

4,751 Views

Tasted

Apr 26, 2016

2014
Château Potensac (Médoc)

Firm, young, fresh, with a forest floor, leaf, tobacco and red berry profile, the wine is firm, backwards and needs time to age and develop.

3,860 Views

Tasted

Jul 12, 2017

From a blend of 40% Merlot, 39% Cabernet Sauvignon, 18% Cabernet Franc and 3% Petit Verdot, the wine reached 13.25% ABV. Offering notes of cassis and earth, this structured, tannic, powerful, masculine shows a firm, classic tannic profile that with a large amount of Merlot in the blend, will demand time in the cellar. 88-90 Pts

4,827 Views

Tasted

Apr 21, 2015

2013
Château Potensac (Médoc)

Blending 66% Merlot, 28% Cabernet Sauvignon and 6% Cabernet Franc, the wine offers hints of oak, cedar and cassis. Medium bodied with bright, sweet character, it ends with a tart, crisp and austere finish. 87-88 Pts

5,057 Views

Tasted

Apr 23, 2014

2012
Château Potensac (Médoc)

Wet forest, cedar and cassis, firm, bright and classic, with a tannic, crisp, cassis and cranberry note in the finish.

4,066 Views

Tasted

Jul 2, 2015

Dominated by Merlot at 48% of the blend, followed by 33% Cabernet Sauvignon and 19% Cabernet Franc, the wine reached 13.47% ABV and will aged in 33% new French oak. With dark color, the wine opens with herbs, cedar wood, wild strawberry and pepper. Full bodied, dense, tannic and strict, this powerful wine is packed with kirsch, cassis and acidity. It is going to need time to come together. 87-89 Pts

4,409 Views

Tasted

Apr 23, 2013

2011
Château Potensac (Médoc)

Fully ready to go, the medium-bodied wine is completely developed, showing a hint of chocolate on top of its red currants, cedar, spice, and lit cigar nuances.

2,580 Views

Tasted

Sep 8, 2021

Lean, with a bright, crisp, cassis and fresh, black raspberry, masculine leaning personality.

4,578 Views

Tasted

May 21, 2014

From a blend of 52% Merlot, 34% Cabernet Sauvignon and 14% Cabernet Franc, the wine will be aged in 30% new oak. Reaching 13.5% ABV, this brawny, powerful wine is packed with cassis. Structured and built to age, it will need time. 87-89 Pts

3,342 Views

Tasted

Apr 8, 2012

2010
Château Potensac (Médoc)

Cedar wood, tobacco and cassis scents lead to a full bodied, powerful, structured, classically styled Potensac with the ability to age and develop. This is a powerful, masculine, tannic, old school, classic style of wine that will appeal to some tasters more than others.

6,298 Views

Tasted

May 8, 2013

Potensac Beefy in style, powerful and tannic,with a long bitter chocolate and cassis finish that is slightly marred by some dryness in the finish traditionally styled wine. 88-90

7,244 Views

Tasted

Apr 21, 2011

2009
Château Potensac (Médoc)

Tobacco, cigar box, spearmint and earthy red fruit scents open the wine. On the palate, the wine is firm, crisp, chewy and bright, with a sweet, cassis and cherry finish. This is starting to show well, but it needs another 3-5 years to show at its best.

3,878 Views

Tasted

Sep 20, 2019

With gravel, smoke and cassis in the perfume, the wine is filled with layers of juicy, ripe cassis filled berries. Fresh, ripe and crunchy, this is my favorite vintage of Potensac.

7,254 Views

Tasted

May 7, 2012

2008
Château Potensac (Médoc)

Firm, solid, stern and with a sense of austerity, this is a good example of old school classic claret. The wine has concentration, and a liberal dose of cedar, tobacco, earth and cassis, which is still backed up with its tannic structure.

5,558 Views

Tasted

Aug 26, 2017

2007
Château Potensac (Médoc)

Metallic, with herbs, tobacco, cedar and red fruits, the firm for the vintage wine can be enjoyed today with some air. Structured and tannic for the vintage, this can take further cellaring.

3,499 Views

Tasted

Jul 12, 2017

2006
Château Potensac (Médoc)

Classic in style, tannic in manner and with a core of dark, red and black fruits, cedar and tobacco, the wine is four-square with its firm, tannic, hard profile. Still quite tannic, you are going to need to lay this down several more years before consumption.

3,889 Views

Tasted

May 25, 2016

2005
Château Potensac (Médoc)

Additional time in the cellar has added a lot to this wine, in texture and complexity. The tannins have softened allowing all the ripe, deep, dark, fresh cassis, with its tobacco and herbal accents to shine brightly on the nose and in its full, firm, and almost round, red berry palate. Drink from 2022-2034.

3,036 Views

Tasted

Jul 11, 2022

Still young and holding on to its firm profile, the wine is powerful, tannic, classic, old school Bordeaux with a tannic, austere finish that demands time.

4,156 Views

Tasted

Jun 28, 2015

Firm, masculine and structured, notes of tobacco, cassis, blackberry and earth shine through with effort. Full bodied and traditional in style, give this Haut Medoc another 3-5 more years.

9,425 Views

Tasted

Sep 12, 2011

2004
Château Potensac (Médoc)

Tobacco, earth, forest floor and hints of blackberry make up the perfume. The finish is all about the fresh cassis. Still tannic, time will help soften the dusty texture and add more complexity to this classic styled wine.

4,396 Views

Tasted

Jan 4, 2015

2003
Château Potensac (Médoc)

Firm, classic styled wine not showing the heat like most wines from the vintage. Earthy with lots of cedar, tobacco leaf, mushroom, cigar box and currants, the medium-bodied wine is fully ready to go.

2,430 Views

Tasted

Jul 26, 2020

Tobacco, wet earth, cigar box and blackberry notes open to a big wine that offers some fruit, without much complexity and a stern, drying finish.

3,756 Views

Tasted

Dec 18, 2013

1996
Château Potensac (Médoc)

Firm, strict, tannic, vibrant and full bodied, the nose is typical of an aged Left Bank wine, with its tobacco, cedar wood, red berry and wet, forest aromatics. At 20, this is still tannic, so I a guessing that will dissipate. If old school, classically, styled Bordeaux from the 1970's i your thing, you are going to like this wine more than I did.

5,145 Views

Tasted

Oct 20, 2017

1990
Château Potensac (Médoc)

Light berry, mushroom, tobacco and spice aromatics, an old school personality and a finish that ends with earth and berry flavors are the hall marks of this fully mature Bordeaux wine.

4,535 Views

Tasted

Jun 28, 2010