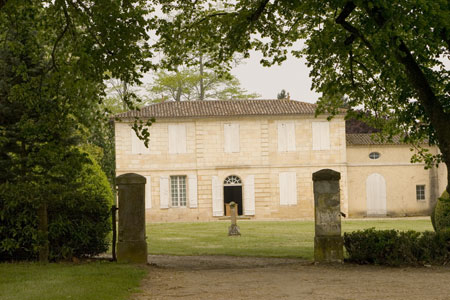 Learn everything about Chateau Brown Pessac Leognan with wine tasting notes and wine with food pairing tips. Learn the best vintages, a history of the property, and information on vineyards and winemaking. If you want to read about other important, Bordeaux Chateaux: Links to all Bordeaux Wine Producer Profiles
Chateau Brown History, Overview
The history of Chateau Brown dates back almost 1,000 years! Vines were first planted at this location around 1200 BC! The estate takes its name from one of its earlier owners, John Lewis Brown, who moved to Bordeaux from Scotland during the later part of the 18th century. John Lewis Brown also owned Chateau Cantenac Brown in the Margaux appellation.
However, the modern age for Chateau Brown starts in 1939, when it was purchased by Andre Bonnel. The estate stopped producing wine at some point during the 1950s and the vineyards fell into a dilapidated state. Chateau Brown was sold to Jean-Christophe Mau in 2004.
The Mau family were well established in Bordeaux as the owners of a large Bordeaux wine negociant firm. They also owned Chateau Preuillac in the Medoc appellation until late 2014.
Within a few years of purchasing Chateau Brown, the family sold their interests in the negociant company and focused their efforts on improving the Bordeaux wine produced by Chateau Brown and their other estates. To aid in this effort, the family hired the famed wine consultant, Stephane Derenoncourt.
In 2018, Chateau Brown earned their HVE (High Environmental Certification), due to its extensive commitment to green farming. To coincide with this, they also updated their label design. To celebrate this, the estate updated its labels with a new design, starting with the 2016 vintage.
Chateau Brown Vineyards, Terroir, Grapes, Winemaking
The terroir at Chateau Brown is gravel-based, with some clay, sandstone, and iron deposits in the soil. In addition to the vineyards, Chateau Brown has 30 hectares devoted to trees, parkland, beehives, and gardens creating a bio-diverse environment.
The 31-hectare vineyard of Chateau Brown has 26 hectares planted to 55% Cabernet Sauvignon, 40% Merlot, and 5% Petit Verdot for the production of red wine. This shows more Merlot in the vineyards and less Cabernet.
Chateau Brown maintains 5 hectares of white Bordeaux wine grape varietals which are planted to 70% Sauvignon Blanc and 30% Semillon.
The vineyard is planted to a vine density of 7,400 vines per hectare. This is a higher level of density than in the past. This was achieved after complete replanting that began in 1994 and was completed in late 2019.
This not only increased the vine density but also changed the direction of many of the vineyard rows to a north to south direction. This will allow for better ripeness and more concentration. The vines are on average, 20 years of age. At its peak, the vineyard rises to 23 meters of elevation.
To produce the red wine of Chateau Brown, vinification takes place in large, 100-hectoliter, temperature-controlled, stainless steel vats and aged in 33% to 40% new, French oak barrels for between 12 and 16 months, depending on the style and character of the vintage.
To produce the white Bordeaux wine of Chateau Brown, fermentation takes place in smaller, 50 hectoliter, stainless steel vats. The white wines are aged in 50% new, French oak barrels for an average of 8 months.
There is a second wine which is sold under two different names, for both the red and white wine of Chateau Brown; Le Colombier de Brown and La Pommeraie de Brown. On average, Chateau Brown produces close to 5,000 cases of red Bordeaux wine per vintage from their Pessac Leognan estate and less than 300 cases of white wine per year.
The Best Vintages of Chateau Brown are: 2022, 2021, 2020, 2019, 2018, 2017, 2016, 2015, 2014, 2012, 2010, 2009 and 2005. However, it is important to keep in mind that in some vintages, the red wines are going to be much better than the white wines. There are also years when the white wines are superior to the red wines.
When to Drink Chateau Brown, Anticipated Maturity, Decanting Time
Chateau Brown can be enjoyed on the young side with decanting. Young vintages can be decanted for an average of 1-2 hours, give or take. This allows the wine to soften and open its perfume. Older vintages might need very little decanting, just enough to remove the sediment.
Chateau Brown is usually better with at least 5-8 years of bottle age. Of course, that can vary slightly, depending on the vintage character. Chateau Brown offers its best drinking and should reach peak maturity between 9-20 years of age after the vintage.
Serving Chateau Brown, with Wine, Food, Pairing Tips
Chateau Brown is best served at 15.5 degrees Celsius, 60 degrees Fahrenheit. The cool, almost cellar temperature gives the wine more freshness and lift.
The red wine of Chateau Brown is best served with all types of classic meat dishes, veal, pork, beef, lamb, duck, game, roast chicken, roasted, braised, and grilled dishes. Chateau Brown is a perfect match with Asian dishes, hearty fish courses like tuna, mushrooms, and pasta as well as cheese.
The white wine of Chateau Brown is a perfect wine to serve with shellfish, sashimi, sushi, all types of seafood, chicken, veal, and cheese.
Château Brown Wine Tasting Notes
22 Vintages 68,707 Views Sort by Vintage-Rating
2021
Château Brown Blanc (Pessac-Léognan)

Lemon rind, yellow tropical fruits, mango, tangerine, and honeysuckle get your attention on the nose, while the fresh, bright, lemons, green apples and touches of orange seal the deal on the, bright, crisp palate. Drink from 2023-2030. 92-92

903 Views

Tasted

May 20, 2022

2021
Château Brown (Pessac-Léognan)

Cigar wrapper, tobacco leaf, smoke, spice and currant aromatics show with ease. Medium-bodied, soft, forward, fresh and sweet, with soft tannins, ripe, red berries and a nice polish to the finish. The wine blends 64% Cabernet Sauvignon, 31% Merlot and 5% Petit Verdot. Drink from 2023-2037. 89-91

881 Views

Tasted

May 20, 2022

2019
Château Brown (Pessac-Léognan)

With accents of flowers and smoke, the wine is elegant, soft, refined and medium-bodied. There is a nice sense of purity and freshness to the silky, earthy red fruits on the palate that carries through to the finish. 91-93 Pts

2,405 Views

Tasted

Jun 8, 2020

2019
Château Brown Blanc (Pessac-Léognan)

Pomelo, lemon peel, honeysuckle and assorted tropical orange citrus notes in the nose. Fresh, biting and inviting, with lush, round textures, juicy, creamy yellow citrus and a crisp, sweet, grapefruit and green apple filled finish. 91-93 Pts

2,307 Views

Tasted

Jun 8, 2020

2018
Château Brown (Pessac-Léognan)

Medium-bodied, soft, forward and ready to deliver all of its fresh, ripe, red berries along with hint of cocoa, forest leaf, espresso and earthy nuances.

1,918 Views

Tasted

Mar 14, 2022

Wet earth, smoke, thyme, mint and red pit fruits create the nose. On the palate, the wine is medium bodied, fresh, silky and loaded with sweet, dark cherries. This is going to be even better with 3-5 years of age. 91-93 Pts

2,315 Views

Tasted

Apr 19, 2019

2018
Château Brown Blanc (Pessac-Léognan)

Juicy, bright, crisp lemons, grapefruit, vanilla and florals are here from start to finish. Medium-bodied and ready to go, drink this over the first few years of life for the maximum amount of fruit and freshness.

1,453 Views

Tasted

Apr 19, 2019

2017
Château Brown Blanc (Pessac-Léognan)

The wine is loaded with ripe, fresh, bright lemons, grapefruit and a hint of orange blossom. Fresh, lively and crisp, you'll find hints of green apple in the finish.

1,802 Views

Tasted

Apr 26, 2018

2017
Château Brown (Pessac-Léognan)

Medium bodied, juicy and forward, there is a groovy smoky character to the red fruits. Tobacco leaf and herbs kick in on the back end. The wine will benefit from a few years of bottle age.

2,620 Views

Tasted

Apr 26, 2018

2016
Château Brown (Pessac-Léognan)

Medium bodied, juicy, smoky, ripe, dark fruits, lush textures, polished tannins and a supple, smoky finish.

4,094 Views

Tasted

Apr 29, 2017

2016
Château Brown Blanc (Pessac-Léognan)

Ripe yellow citrus and honeysuckle, with round, sweet, green apple and notes of pomelo in the finish.

2,379 Views

Tasted

May 1, 2017

2015
Château Brown Blanc (Pessac-Léognan)

Crisp, bright, fresh citrus, vanilla, stone and a zippy, sweet pomelo finish shine through in this stylish, well-priced, white Bordeaux wine.

1,976 Views

Tasted

Apr 23, 2016

2015
Château Brown (Pessac-Léognan)

Fresh, ripe, soft fruits, medium-bodied and refined on the palate, this wine could definitely improve once it's in the bottle. 89 - 91 Pts

2,880 Views

Tasted

Apr 23, 2016

2014
Château Brown (Pessac-Léognan)

Licorice, smoke and sweet blackberry scents open the perfume. This wine is soft, forward, medium-bodied, approachable and finishes with a blast of ripe, black cherries. 88-89 Pts

3,252 Views

Tasted

Apr 24, 2015

2014
Château Brown Blanc (Pessac-Léognan)

Fully mature, medium-bodied, citrus packed, flower, honey and white peach accented wine that is at peak and should be enjoyed over the next few years.

2,053 Views

Tasted

Aug 21, 2021

2013
Château Brown (Pessac-Léognan)

With incense, coffee bean, licorice and plum on the nose, this enjoyable wine is easy to drink with its open personality filled with light red berries. The wine is aging in 40% new French oak. 86-88 Pts

3,996 Views

Tasted

Apr 21, 2014

2012
Château Brown (Pessac-Léognan)

Smoke, earth, spice, tobacco and licorice aromas blend well with the medium-bodied, soft, silky and spicy red and black fruits, round textures and forward style. 87-89 Pts

5,222 Views

Tasted

Apr 25, 2013

2011
Château Brown (Pessac-Léognan)

Produced from a blend of 50% Merlot, 45% Cabernet Sauvignon, 5% Petit Verdot, the wine opens with smoke, caramel, coffee and jammy black cherry notes. Round, supple and fresh, this forward wine finishes with chocolate, coffee and cherry. 88-90 Pts

4,614 Views

Tasted

Apr 25, 2012

2010
Château Brown (Pessac-Léognan)

Brown is produced from 60% Cabernet Sauvignon, 35% Merlot and 5% Petit Verdot. Ripe, jammy berries, cassis, earth and spice lead to a round, supple, lush style of wine. Stephane Derenoncourt is starting to turn this property around. 89-91 Pts

5,182 Views

Tasted

Apr 22, 2011

2010
Château Brown Blanc (Pessac-Léognan)

Fully mature, slightly honeyed, floral, pear, green apple and grapefruit filled wine that continues to retain its freshness and sweet fruits. Though there is no reason to hold this any longer.

1,641 Views

Tasted

Aug 24, 2020

2009
Château Brown (Pessac-Léognan)

With a nose of coffee, smoke, blackberry and crème de cassis, this blend of 70% Cabernet Sauvignon and 30% Merlot produced a wine offering round textures, soft tannins and a ripe, spicy dark berry and jam filled finish.

4,280 Views

Tasted

Mar 20, 2014

2009 Brown has a personality of dark fruit and licorice. This is an early drinking, crowd pleaser style of wine. 88-90 Pts

4,185 Views

Tasted

Aug 26, 2010

2008
Château Brown Blanc (Pessac-Léognan)

Fully mature, the wine retains some of its crispness but has taken on aged honeyed attributes to accompany the citrus and green apple core of fruit. This is starting to tire and oxidize, so drink up.

2,724 Views

Tasted

Dec 19, 2019

2005
Château Brown (Pessac-Léognan)

A charming Pessac Leognan with smoke, dark cherries, cassis and earthy scents. Medium/full bodied with soft textures, the wine finishes with round, spicy plum sensations. This is already drinking well. This will not make old bones. I'd drink it over the next 5-8 years.

3,625 Views

Tasted

Sep 25, 2011