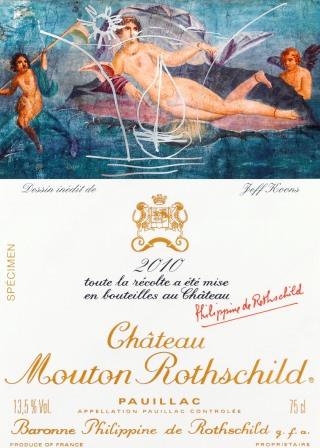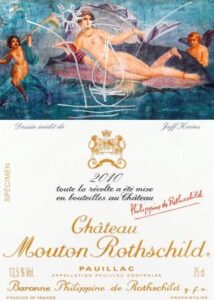 December 14, 2012 marks the date Chateau Mouton  Rothschild announced the news of their collaboration with famed artist Jeff Koons for the label for their 2010 wine. Koons, born in 1955 is considered one of the most important, as well as controversial artists from America. Koons is one of the most successful, contemporary as well as American artists.  In fact, his work, Tulips just sold in November, 2012 for $33,682,500 setting a record for the highest price for a work of art created by a living artist!
Jeff Koons studied art at the School of art Institute of Chicago and Maryland Institute College of Art.  Koons is in many ways as colorful as his art.  He married and divorced the Hungarian, Italian adult film star Cicciolnia Ilona Staller.
Jeff Koons is known for using familiar objects to start with, often adds colors, distortion and other artistic methods and creates new, works of art.  This technique of building on familiar images made Jeff Koons famous.  It's gotten him into legal problems with claims of copyright infringement. I told you he was colorful!
In the Mouton Rothschild 2010 label, Koons finds his inspiration from a fresco in Pompeii, creating Venus with a vessel. The label looks even better on the bottle, with its addition of hot stamped foil.  This is my favorite label from the famous First Growth estate, that remains committed to continuing the tradition of collaborating with a new artist, first started in 1945.
2010 Chateau Mouton Rothschild is one of the top wines of the vintage. Tasted twice, with similar results, Mouton Rothschild represents the largest percentage of Cabernet Sauvignon used in blend in the history of the chateau at 94%. The remainder is Merlot. The wine reached 14% alcohol, which is slightly higher than the estate achieved in 2009. From 49% of the harvest, which already experienced low yields due to the weather, the wine achieved natural concentration. Inky dark ruby with purple edges, abundant scents of cedar, truffle, tobacco, boysenberry, cassis, and hints of blueberry prepare your palate for a bath in pure Cabernet Sauvignon. Rich silk textures, power and refined elegance with a suave, exotic, opulent style is the signature of this wine which explodes on your palate and continues to broaden and expand in flavor. This is a great vintage of Mouton which competes with the sublime 2006. 97-100 Pts