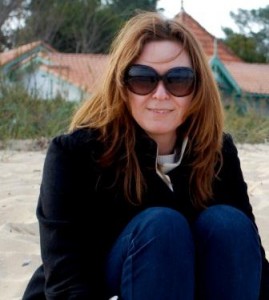 Interview with author Jane Anson on her new Bordeaux wine book, "Bordeaux Legends The 1855 First Growth Wines."
Jeff Leve What was your inspiration to write "Bordeaux Legends The 1855 First Growth Wines?"
Jane Anson "I felt this was an important subject and that it would be a genuinely useful addition to wine literature. These are the five most talked about chateaux in the world, linked by geography, economics, politics and history, and yet no one had explored how they got to where they are. Each estate has its own book(s) on its history, but none had yet examined how they were linked – and how their growth has affected the fine wine market worldwide.  I was not looking to write a traditional wine book with tasting notes. This is a story about who they are, and how they got there. I hope the book can be read like a novel, rather than an encyclopedia."
Jeff Leve Please share some of the surprising facts that you unearthed while writing the book.
Jane Anson "For much of the 18th century, just two families owned Lafite, Latour, Margaux and Haut Brion.  For two years, from 1718-1720, these two families owned all five, as Mouton was briefly held by Jacques de Ségur, owner of Lafite and Latour. Right back as far as I found records, the same family names turn up buying and selling, or marrying into the five estates. In 1855, at the Paris Exhibition it was Margaux, not Lafite, that came top of the tasting, with 20 out of 20. Lafite and Latour got 19 out of 20 (thanks to Dewey Markham for that one – in his book on the 1855 classification).
Jeff Leve Did you uncover new information about the terroir?
Jane Anson "Latour has very similar terroir to Petrus, a sticky clay. Of course at Latour in Pauillac, there is extensive gravel on top, but the 'argile gonflante' is almost identical to that of Petrus, which is in Pomerol. All five estates jointly run a Research and Development Club that pays for research into various viticultural issues.  
Jeff Leve Today, we are familar with counterfiet wines.  Is this a recent phenomina, or has it been going on for years?
Jane Anson "In the early 20th century, Lafite was widely forged in Russia. It was so much so that Lafite almost became a generic name for red wine!"
Jeff Leve Which First Growth managed to retain the most original documents?
Jane Anson "Chateau Latour and Chateau Haut-Brion both have extensive archives, although my access to Latour's archives was limited, as they are currently working on their own book. For them, I used existing archive work, and found wonderful archives with a former director of the estate, Jean-Paul Gardere, who has thousands of documents and records from the 20th century."
Jeff Leve On the flip side, which estate is missing the most historical documents?
Jane Anson "Chateau Mouton Rothschild has very few, as so much was lost during World War II."
Jeff Leve With the fame of these estates dating back to the 1400's, what were the oldest documents you were able to view?
Jane Anson "I viewed several Medieval documents in Chateau Margaux about the Seigneurie in the 15th century. I also viewed several 15th and 16th century documents in the Bordeaux City Archives, and looked through the archives in Tastet-Lawton courtiers back to the 18th century."
Jeff Leve At what point did the cooperation between the First Growths for pricing start and stop?
Jane Anson "When the owners were the same in the 18th century, prices were often the same, especially for Lafite and Latour. Later, for many years in the 19th century, even early 20th century, negociants would set the prices. It was fairly common during difficult economic times to see contracts lasting 10 years at a fixed price, regardless of vintage quality. It wasn't until the 1920s (with chateau bottling) that the 'power' gradually shifted towards the chateaux again. Anecdotally (from several previous directors), there were 'cozy lunches' discussing pricing until the 1970s, perhaps into the 1980s."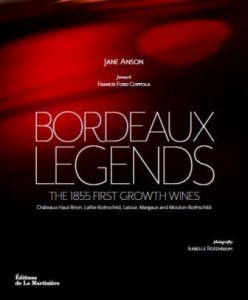 Jeff Leve While researching the book, which historical figure did you find the most interesting?
Jane Anson "Baron Hector de Branne, who owned Mouton and was married to Laure Fumel owner of Haut-Brion and Margaux, just after the French Revolution. They had a rather messy divorce, and he seemed to rack up debts all over Bordeaux. He was a fascinating man, who later did much to popularize the planting of Cabernet Sauvignon in the Medoc. I never did find a painting of him, but imagine him to have been a dashing, gregarious but ultimately rather tragic figure."
Jeff Leve As your title is, "Bordeaux Legends The1855 First Growth Wines," was it a difficult decision to add Mouton Rothschild to the book?
Jane Anson "It would be impossible to write this book today without including Mouton, so no, not a difficult decision. But of course I agonized over the title of the book. I asked the First Growths themselves what would work. In the end I took reassurance from a recent tasting that they held in New York, where they titled the tasting 1855 First Growths, without an asterisk footnote/long explanation of the fact that Mouton is strictly speaking a 1973 First Growth."
Jeff Leve As there would be no First Growths without the 1855 Classification, would did you learn about the classification that you found surprising?
Jane Anson "That it was a hotbed of politics and ego clashes even then!"
Jeff Leve Did you gain insight into how the German occupation of France affected the First Growths and the Bordeaux wine region?
Jane Anson "I learned how badly both Rothschild barons were treated by the French. They were both stripped of their French nationality. And how much they managed to do anyway, Baron Philippe took part in the D-Day landings and Baron Elie fought on the Maginot line before being taken prisoner in Colditz. These were brave men. It's very sad that they weren't better friends after the war."
Jeff Leve During the formative years of the Bordeaux wine trade, for example the 1700 and 1800, how were the wines sold?
 Jane Anson "Almost all my data on prices and deliveries in 18th and 19th century came from Tastet Lawton brokerage firm. One of the interesting things was that until late 19th century, barrels would be sold as soon as possible after harvest. Most orders in the 19th century  don't even record the vintage, as it is understood that the wine would be sold as soon as possible after harvest and having being made into wine. The purchasers then did much of the ageing themselves (and mixing/blending with other things."
Jeff Leve What about Bordeaux blends, for example mixing Pauillac with Hermitage wine?
 Jane Anson "I found no records of this happening with the First Growths. Although it is widely known that Bordeaux claret was often blended with Hermitage."
Jeff Leve What were the pricing policies from the chateaux in the formative years?
Jane Anson "Prices ranged hugely depending on vintage, as of course there was far less that the estates could do to guard against disease and bad weather, so quality really did differ hugely. Prices are further complicated by currency – ecus, then livres, then francs… and recorded by the tonneau, not the barrel or of course not bottle, so it is really very tough to get an accurate idea of what took place. But what is notable is how often they were the same price, and when they differed in price, the most expensive one would vary – so Lafite in some years, Margaux in others, Haut-Brion in others etc. Mouton either mirrored, was the same or higher than the other Firsts even before the 1855 Classification – it didn't take long for its price to come up to their level. In 1853, for example, it was sold for 5000 francs per tonneau, the same price as Lafite."
Jeff Leve If you were stranded on a desert island and you were only allowed one bottle of a First Growth wine, what would it be?
Jane Anson "Good question, very hard to answer. If I am really allowed to dream, I'll have a 1900 Margaux. And obviously the 1945 Mouton would be amazing, but I have to admit I have never tasted it, just longingly read tasting notes."
Jeff Leve How long did "Bordeaux Legends The 1855 First Growth Wines" take to write?
Jane Anson "Around two years."
Jeff Leve How did you decide on asking Francis Ford Coppola to write the forward?
Jane Anson "I briefly met him at the opening of Chateau Clerc Milon. These estates are such icons that it seems appropriate to ask another icon to write the foreword."
Jeff Leve When will your book be available in English?
Jane Anson "The French version will be in shops and Amazon/FNAC websites from October 24th, with a limited English distribution in places in French bookstores. The American publishers are not putting the main English version into stores until next spring."
Jeff Leve I cannot wait to read it.