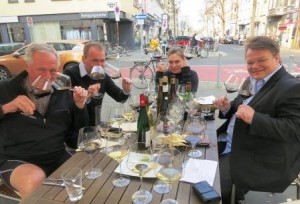 If you live in Europe, it's easy to hop a train, plane or automobile and be in another country within a few hours.  Living in California, it's a lot harder for us.  When I have extra time, I try going to a country or city to explore. Travel is one of life's great adventures. Never having been to Dusseldorf, I was looking forward to walking around and getting lost in the charming, old town section of the city.  The Cellar Devils of Dusseldorf had different plans.
With unseasonably warm weather, I walked from the hotel, following the Rhine river to the old town section of the city. I managed to enjoy the city for close to 30 minutes before I set to meet the Cellar Devils. But I digress, I was not aware they were Cellar Devils. I imagined lunch would be a nice, short affair with some conversation over a bottle or two. That would leave me with time to walk around, taking pictures before dinner. Once again… The best laid plans…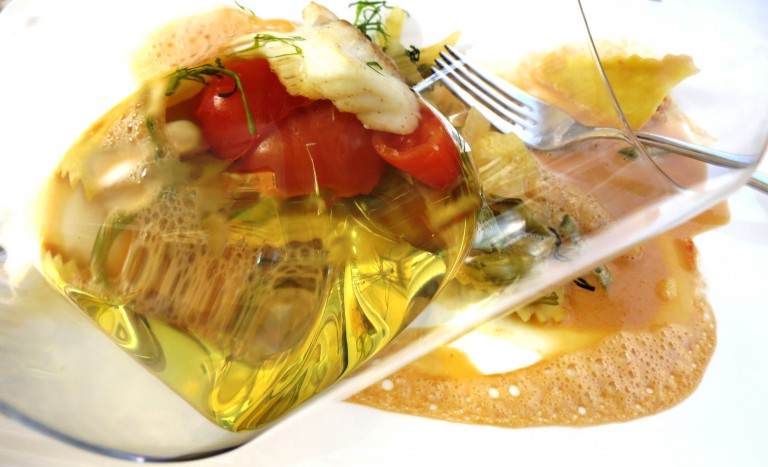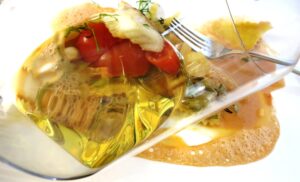 D'Vine is a charming Dusseldorf café, with indoor and outdoor dining areas.  After brief introductions, we began doing what many people all over the world do on basis. In fact, some people I know do it twice a day. Others even manage to do it with greater frequency.  I'm not sure which method works best, but as it was so much doing it last night, I was ready to do it for the first time today.
Get your mind out of the gutter.  We're talking about opening bottles!
Riesling is the key grape in Germany.  German Rieslings produce a wide variety of styles ranging from dry to sweet.  My friends were aware that my experience with Riesling is weak.  In fact, weak is too kind a word.  It's closer to zero.  To remedy that situation, we started lunch off with two flights of Riesling.
Having little experience with Riesling, instead of tasting notes, I'd to report that the fresh, pure, mineral driven wines were a pleasure to experience. I'm looking forward to trying more.  It's difficult to write notes on the wines, because the truth is, I have had almost no experience with them.  It's safe to say. This single day I tried more Rieslings than I've had during my entire life.
2007 Kuhling Gillot GG
2001 Koehler
1993 Franz Kunstler
2007 Schloss Lieser Kabinett
2006 Reinhold Haart Spatlese
2002 Prum Auslesse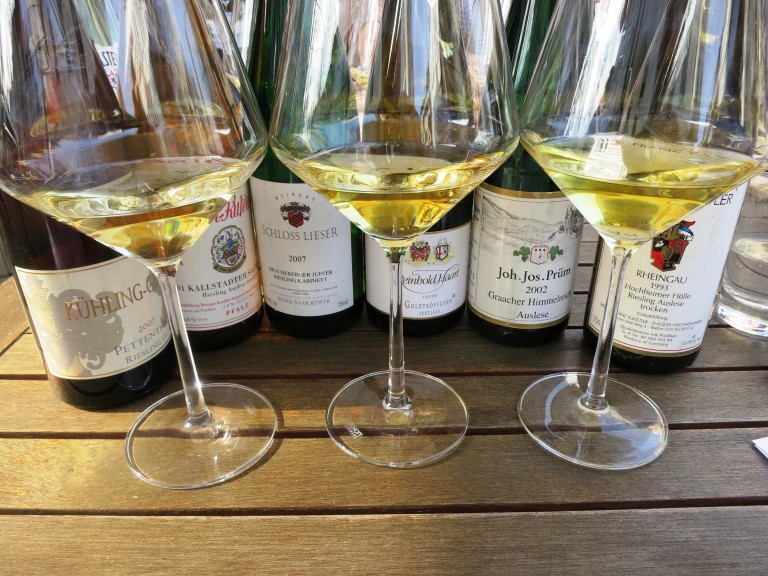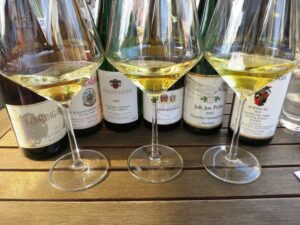 My original plan was a lunch and a return to old town to walk, get acquainted with the city and taking pictures with my new camera.  Once again, the best laid plans of man, once again went awry.  My hosts were so much fun and inviting, I could not refuse their kind offer.   Within minutes, a sea of glasses was placed before me, all double blind!
Finally, I was in my element. There was red wine in my glass. This is always a good start and with Bacchus on my side, I was able to find the regions. I was on a roll.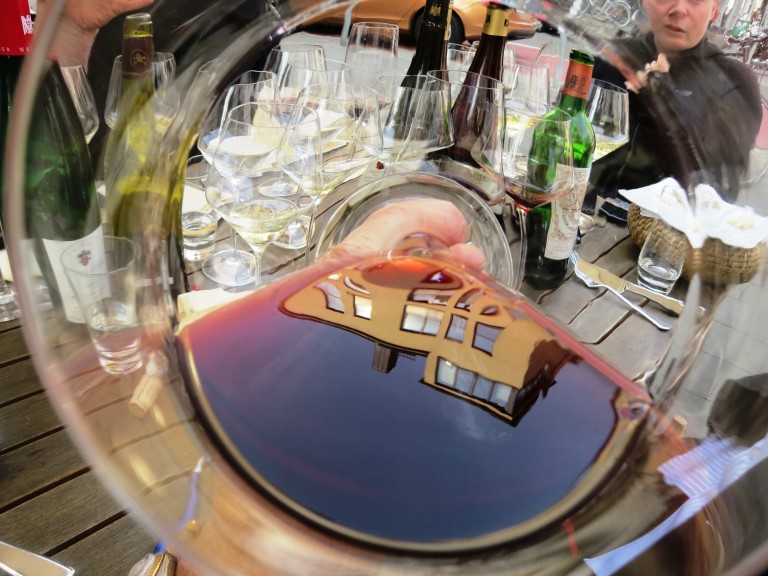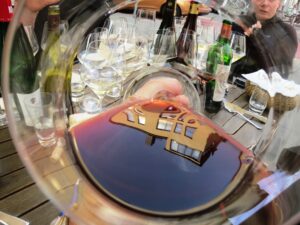 1989 Pichon Baron –Familiar scents of cedar, cassis, tobacco, cassis, blackberry, earth and cigar box, led me to Pauillac.  Big, dense tannic and masculine, the wine has developed a bit of firmness in its personality.  It's in a drink or hold stage.  I'd probably give it a few more years, hoping it will soften. 94 Pts
1990 Pegau – With an expressive nose of black cherry liqueur, kirsch, pepper, herbs and stone, we were in Chateauneuf du Pape. With beautiful textures and a sweetness to the fruit, this full mature Chateauneuf du Pape is a candidate for serious aging as it's still going strong at 22. 96 Pts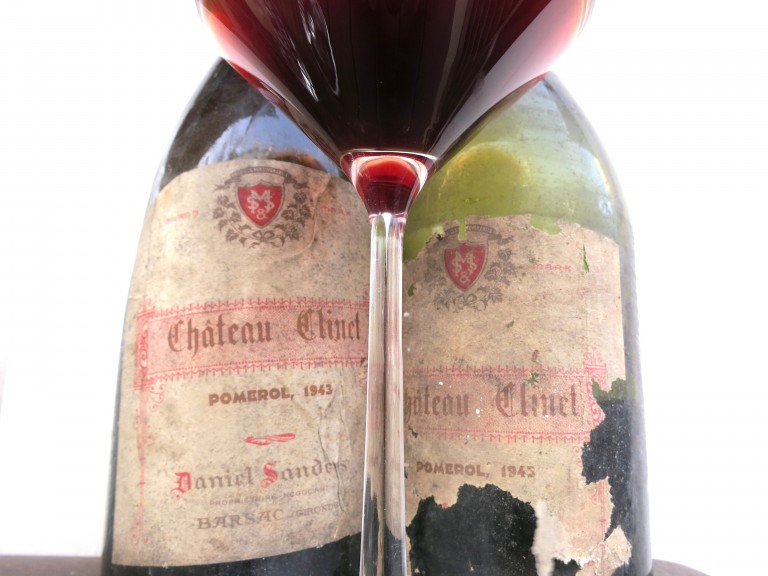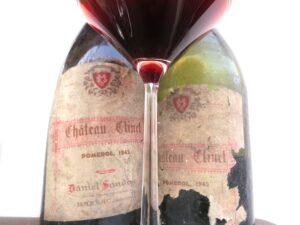 1945 Clinet – This was an insane treat from Uwe Bender!  There are bottles you've never tasted and there are wines you've never even seen.  This was a double header as I've never even been in the same room as a 1945 Clinet.  The war time bottling, with its Burgundy shape was beautiful.  With no money for glass, wines were bottled with anything that was handy. The label reads Daniel Sanders, who was the owner at the time.  Sanders is better known for owning Chateau Haut Bailly in Pessac Leognan.
The fully mature Pomerol was filled with tobacco, smoke, cigar box, ash, cherry, truffle spice and earth.  Tea in color, the wine offered some earth, spice and chart cherry, before fading.  Still, it was an incredible honor to taste history, especially when you consider this was the year World War 2 ended 85 Pts
1943 Clinet was almost black in color. With a war year bottle that was intended  for use in Burgundy, it looked great on the table. Very dark brown in color. Wines that dark at this age, are not a positive sign. Tart, drying, smoke, ash, cranberry, and herbs could be found. There was not much life left in the old girl.  Regardless of the shape and condition of the wine, it was an honor and treat to share and taste the wine together. 70 Pts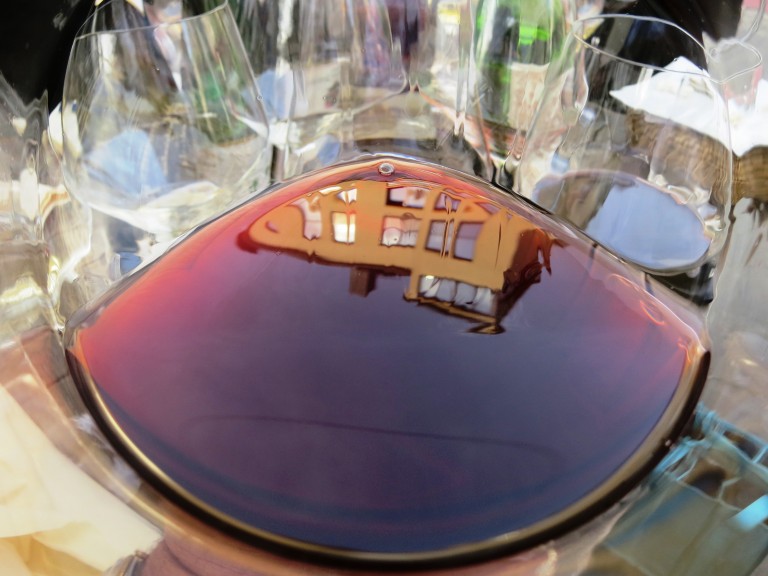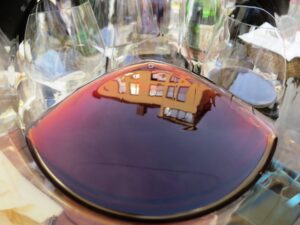 The final wine was the perfect way to end the lunch as it led to my being introduced to a new value Bordeaux wine producer.
2009 Nectar de Bertrand Cotes de Bordeaux – Deep in color, licorice, chocolate and fresh, jammy black raspberries, medium/full bodied, round tannins and a seductive, sweet, boysenberry, vanilla,  plush finish are found in the wine that is already open and ready for drinking. If you're looking for small wines, this is a winner. 89 Pts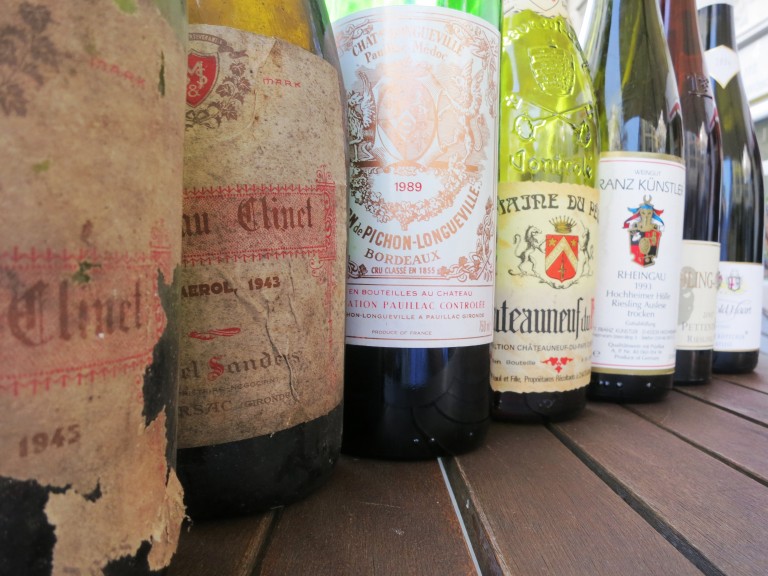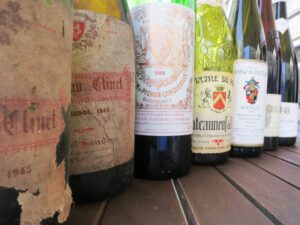 When in Rome, or should I say, when in Dusseldorf, you go along with the flow of the tide.  Lunch started promptly at 1p. It ended abruptly at 5pm, because dinner was set to start at 6. I had one hour to get ready for a night with the Cellar Devils.
I cannot thank Uwe Bende, Achim Becker and his daughter Anja Becker for such a perfect day. However, what happened that night, well, that's a different story. They kept me up drinking until 2 in the morning. Now, that's not such a big deal, except we started at 6pm and I had at 6am to Paris!  24 bottles later… Instead of getting started here, Cellar Devils of Dusseldorf Pt 2 will be published in a day or so.