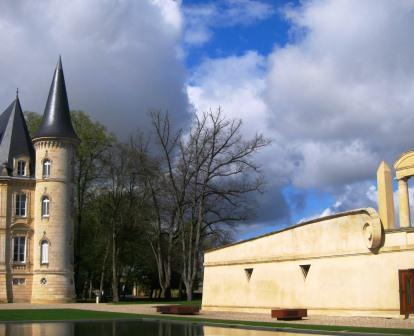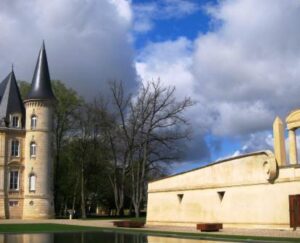 Chateau Pichon Baron suffered a through a difficult period in the 1960′s, 70′s and much of the 80's, due to a lack of investment and effort. That changed when Pichon Baron was purchased by the AXA insurance group. Jean-Michel Cazes of Chateau Lynch Bages was brought in to help run the estate. At the time of the purchase, the chateau, vineyards and Bordeaux wine making facilities were in need of major upgrading.
At the time of the purchase, Pichon Baron, the Chateau, vineyards and Bordeaux wine making facilities were in need of major upgrading. Jean-Rene Matignon started with the Bordeaux property in 1985. In three short years, Pichon Baron once again began producing wines of world class quality. The first vintage that brought this historic estate to prominence was the sublime 1989 followed by the even better 1990. When Jean-Michel Cazes retired from Pichon-Baron in 2000, Christian Seely began to manage Pichon Baron as well as the other seven properties of the wine group (including Château Suduiraut, Château Petit Village and Quinta do Noval. Pichon Baron endured another rocky patch through the  90's. The wines were OK in some years, but they lacked excitement. Starting with 2000, they never looked back and the wines continue getting better and better!
Pichon Baron produces rich, full bodied, spicy, concentrated, character filled, elegant Bordeaux wine. In the top vintages the wines age and improve for decades.  While prices have risen, so has the quality.   It's interesting to look back at the last decade.  2000, 2003 and 2005 stunning wines, that were abut as good as they be.  When 2009 came out, and was tasted in bottle, clearly the wine was as good, or better than those previous years. 2010 is their best wine yet!  It shows more richness, purity and complexity making Pichon Baron on the super second Bordeaux wines.
To read wine tasting notes on Chateau Pichon Baron from today, dating back to 1900 Pichon Longueville Baron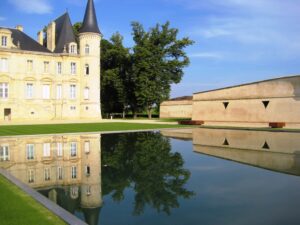 Pichon Baron's 70 hectares are planted with Cabernet Sauvignon (60%), Merlot (35%), Cabernet Franc (4%) and Petit Verdot (1%). The planting density is 9 000 vines per hectare using a double Guyot training and the average age of the vines is 30 years. The yield is typically 45 hectoliter per hectare. The vineyard is situated at the southern end of the commune of Pauillac near border with the St. Julien  appellation.Grapes are harvested and sorted by hand, and then macerated for 20-30 days, and fermented at 28-32 °C in temperature controlled stainless steel vats of varying sizes. The wine is transferred into oak barrels for aging after finishing its malolactic fermentation. The estate also produces a second wine, Les Tourelles de Longueville.