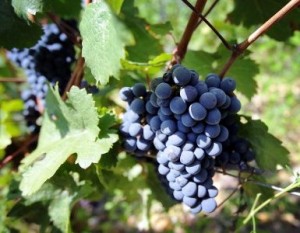 Most of the small Bordeaux wine producers are located in the Right Bank, in St. Emilion and Pomerol. However, there are a few small producers pushing the quality envelope in the Medoc and Graves/Pessac Leognan. One property that is striving to do something special is Liber Pater, who  took their name from an ancient Roman God associated with Bacchus.
Liber Pater produces three wines, red, white and a sweet, white dessert wine.  The red Bordeaux wine comes from 2 hectares of vines. The white Bordeaux wine is produced from one hectare.  The property has very old wines. For the red wines, the vines average close to 40 years of age.  For the white wine, the vines are closer to 85 years old! The vines are propagated from a selection massale of the property's own pre-phylloxera, ungrafted rootstock. Loic Pasquet discussed his latest vintage with us.
Jeff Leve: What took place at Liber Pater during the 2011 Bordeaux growing season?
Loic Pasquet "The 2011 conditions for the Bordeaux vintage was like a skipper who sails from Brest to New York. He should not be on autopilot. He needs to stay on the deck and observe nature. It was very, very exciting. The harder it is, the better it is for a winemaker".
Jeff Leve: Was 2011 an early harvest for you?
Loic Pasquet "Not really. This was not an early harvest. It was about average for the past 5 years.".
Jeff Leve: When did you start and finish your 2011 Bordeaux harvest?
"We completed out Merlot harvest in one day, October 2.  We were able to pick Cabernet Sauvignon in one day as well, October 8 and the same Petit Verdot, October 9. We achieved a high level of phenolic ripeness".
Jeff Leve: What was the most difficult challenge for you during the growing season?
Loic Pasquet "To wait, wait ,wait and wait some more was the challenge".
Jeff Leve: What about sunburn. Did you have problems with that during the spring?
Loic Pasquet "Not really. No. This is in part because we have very small quantities of grapes per vine. We also practice organic treatment of the vines. Plus, being a small winery, I personally worked in the vineyards and thinned the leaves at the start of June and again in August".
Jeff Leve: With the 2011 Bordeaux vintage, how important was sorting for you this year?
Loic Pasquet "It was very important. We check all the grapes during harvest and select again on the sorting table".
Jeff Leve: You are known for producing Bordeaux wine from some of the lowest yields in the entire region.  Your yields were 15 hl/ha in 2009 for the red and  even smaller in 2010 with 10 hl/ha. Your white was produced from only 5hl/ha!  With your old vines and pre-phylloxera, ungrafted rootstock, what yields do you expect from your 2011 Bordeaux harvest?
Loic Pasquet "We should have yields of about 10 hectoliters per hectare in 2011!"
Jeff Leve: Now that the grapes are in the cellars, what are you doing with the fermentation?
Loic Pasquet "We will vinify at low temperatures and we are conducting our alcoholic fermentation in new French oak barrels. I am also surprised by the very dark color we have".
Jeff Leve: Do you have any technical information you can share about your potential alcohol levels and possible blend?
Loic Pasquet "The alcohol levels should be at about 14.3 %. For the blend, it looks like  we might use 70% Cabernet Sauvignon, 28% Merlot and 2% Petit Verdot".