Depending on the vintage, Chateau Pichon Comtesse de Lalande can produce one of the best Bordeaux wines of Pauillac, as well as the entire Bordeaux wine region. Perhaps with a new management team in place, Pichon Lalande will produce the level of great wine they are capable of making on a more consistent basis.
Tasting Bordeaux wine barrel samples is always an interesting. The wines are continually changing, and at a rapid pace. Sometimes they improve. On different occasions they remain the same and at other times, they do not develop as well as expected. Another tasting at a later date could show the wines have changed once again. A June visit to one of my favorite Bordeaux wine producers, Chateau Pichon Lalande afforded me the opportunity to retaste 2010 and 2009 .  The earlier vintage was tasted in bottle and showed improvement, while the current vintage had me slightly less enthusiastic.
2010 Chateau Pichon Lalande sports a deep ruby color. With scents of fresh black pepper, cassis, olives and truffle, this is a tannic vintage for the chateau. The wine is fresh, but the tannins while round, do not feel perfectly ripe. The wine finishes with a cassis, black cherry and green peppercorn sensation with hints of cranberry. This was released at 138 Euros, a marked increase from their 2009 vintage. 93-95 Pts
2009 Chateau Pichon Lalande This Bordeaux wine offers an attention seeking espresso bean, ash, cassis, blackberry, olive, tobacco and floral scented perfume that is easy to find. With soft, silky tannins and an opulent, exotic, expressive profile, this outstanding Pauillac ends with a rich ripe, black cherry filled finish. This is my favorite vintage of this chateau since the delicious 2000. This wine merits attention because it's better than the 2010, and it sells for less money. 96 Pts
This was my final tasting with Thomas do-Chi-Nam at Chateau Pichon Lalande. We've become good friends over the years. We've tasted a lot of wine and enjoyed many, long discussions on Bordeaux wine and numerous other topics. After the 2011 harvest, he'll enjoy the same position as the technical director at Chateau
Margaux
. For our last tasting, we were able to re
taste
one of my favorite vintages of Pichon Lalande, the always outstanding 1996. After the tasting, we spent a perfect, leisurely lunch together with Jean-Rene Matignon from 
Pichon Longueville Baron
and Jean-Emmanuel Danjoy from
Clerc Milon
.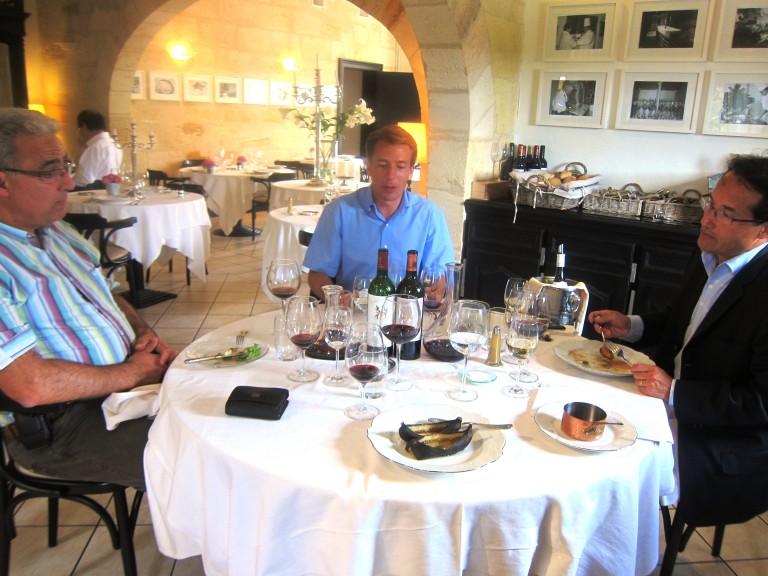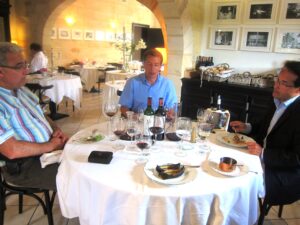 1996 Chateau Pichon Lalande Truffles, cigar smoke, dark berries, cassis, cedar wood, spice, tapenade, anise and damp forest scents open to a suave, rich, full bodied, silky, fresh, polished, sensuous wine with multiple layers of ripe, black fruits.  The long, clean, black cherry finish with sensations of velvety tannins remains in your mouth for close to 50 seconds. At 15 years of age, this is starting to its true character. Drink this delicious Bordeaux wine now and over the next 20 years. 97 Pts