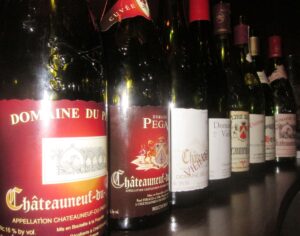 Chateauneuf du Pape Rhone wines at London's The Ledbury was perfect for the occasion.  When traveling to Bordeaux for the purpose of tasting up to 500 different barrel samples of the new 2010 Bordeaux wine vintage, spending a night in London, sharing an evening of Chateauneuf du Pape with friends adds the perfect amount of variety along the way.  Man cannot live on Bordeaux alone? Can he? 
One of the best gifts wine offers is the ability to make friends all over the world.  Wine renders equality to all. People you might not otherwise come across in your life become friends over a bottle or two. Some of the people I've met over the years are going to be friends for life.  Sadly, some people do not live long enough. 
In the formative years of the Internet wine community, Nigel Williams was a big voice. With an intelligent and often sharp, biting sense of humor, he was easy to get to know. Fortunately for many people, he was not easily forgettable.  Williams loved Rhones, especially the wines of Chateauneuf du Pape.  While others sought variety, he preferred focusing on a select group of wines from a limited number of producers.  He sold rare books for a trade and sang opera for a hobby.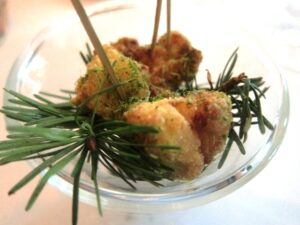 Nigel Williams passed away a couple of months ago. The last time we spoke, we effortlessly chatted for hours catching up, discussing wines we'd tasted and reminiscing about our previous adventures together. The hedonistic 7 hour dinners we enjoyed at the French Laundry in Yountville. Those nights became known as; "5 guys, 7 hours, 18 wines and 24 courses."  Along with Charles Morgan, we traveled to the Rhone together. We shared annual dinners together in London as well as in Los Angeles.
The Ledbury dinner was a nice way to relive those much simpler times and share some amazing Chateauneuf du Pape wines.  Nigel was missed. We toasted and roasted him in his absence. He would have approved.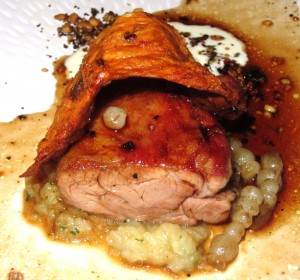 When I am in London for one night, there is no place I'd rather dine than The Ledbury. Ledbury offers the perfect combination of inventive cuisine designed to promote purity and flavor, artistic plating along with attentive but never overbearing service.  The creative Australian chef works hard to keep things fresh. The menu is constantly evolving.  The restaurant deserves it recently awarded second Michelin star.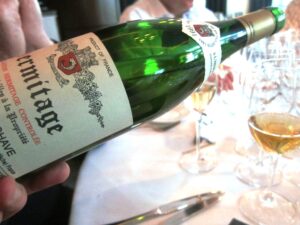 What good is a wine dinner without wine? With that in mind, the cork was effortlessly popped from the first bottle.  
 1991 Chave Hermitage Blanc looks like spun gold. A rush of honey, petrol, earth, flowers and grilled peaches makes up the delectable perfume. With soft textures, a depth of flavor from concentrated ripe citrus and peach flavors, oil and spice, the wine delivers the goods.  It's said white Rhone wines should either be drunk in their first few years of life, or laid down until they hit at least 20 years of age; this bottle showed it's better to wait the two decades. 93 Pts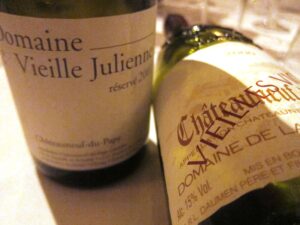 2001 Vieille Julienne Reserve pops from the bottle with gobs of fresh, jammy blackberries, pepper, fennel, blueberry, dark strawberry and garrigue aromas.  Intense and mouth filling, this thick, concentrated Chateauneuf du Pape wine coats your mouth with flavor.  Popped and poured, the wine felt young with ample tannin.  After two hours of air, the tannins softened and all that remained was a long, powerful, full bodied finish with layers of sweet, ripe black raspberries that remained vibrant for over 50 seconds! This serious wine deserves the effort it takes to find a few bottles. It's a compelling tasting experience meriting its lofty score.  100 Pts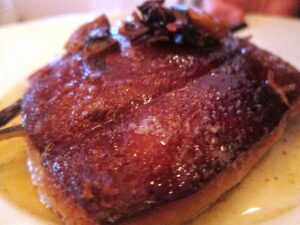 2000 Vieille Julienne Reserve – Explosive scents of pepper, jammy berries, earth, Provencal herbs, green olive tapenade and spice fill your nose.  Flashy, lush, dark and mysterious, this powerful Chateauneuf du Pape ends with layers of deep, lush, pure black cherry sensations.  This is ready to drink today.  98 Pts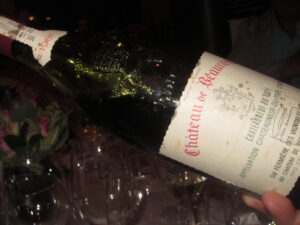 1981 Beaucastel – Slow roasted cherries, fresh garden herbs, menthol, stone, pepper, spice and earthy aromas, waft from the bottle while it pours into your glass.  This full bodied, rich, animalist textured wine is drinking at the perfect place today. Rich and intense, dark red fruits, iron and pepper flavors make up some of the long, sultry finish. 95 Pts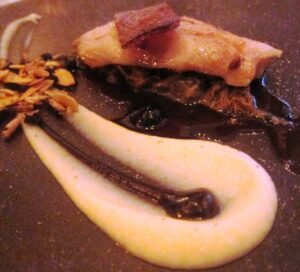 1990 Pegau Laurence – The twins showed up for this wine.  I'm talking about brett and VA. Both scents permeated the wine. With searching, dried cherry pipe tobacco, pepper and blackberry could be dug up as well. The finish seemed to be drying out as the previous sweet fruit was slowly becoming tart.  This should be drunk up sooner than later. 89 Pts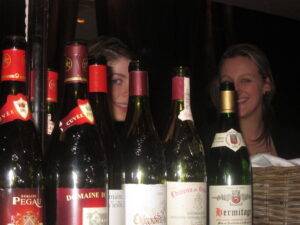 1990 Pegau Reserve – Layers of anise, wet forest floor, jammy black cherry, fresh ground pepper,  kirsch and tobacco leaf were easy to find in the complex aromatics.  The long, delicious finish was filled with ripe, sweet cherries and strawberry. This wonderful, traditional Chateauneuf du Pape is drinking perfectly today. 94 Pts
98 Pegau Capo was so marred with VA, it was undrinkable.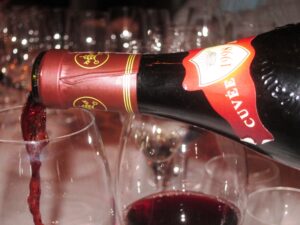 03 Pegau Capo did not exactly make up for the faulty bottle of 98 Pegau Capo, but it helped.  Robust aromas of black pepper, blackberry, spearmint, coffee, blackberry jam and coffee scents lead to a massive blast of kirsch, jam, cherry liqueur with only a min or touch of heat, Long, powerful, mouth filling, dense and tannic.   This intense Chateauneuf du Pape requires time. 98 Pts.
The night drew to a close with a cheese course.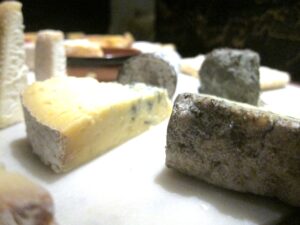 By the time the cheese course was over, I was beat. I had not slept for what seemed like, longer than forever. I caught the Gatwick express train and made it into the Sofitel at the airport and caught an all to short 4 hour nap before taking the 7:40 am flight to Bordeaux.
Thank you to everyone at the dinner.  It's always a pleasure dining and sharing wines together.   We enjoyed a lot of nice Chateauneuf du Pape and it was a blast remembering and toasting Nigel Williams.