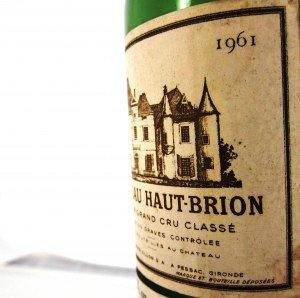 Chateau Haut Brion has the unique distinction of being one of the top Bordeaux wine producers in the appellation. In fact, it's not unreasonable for someone to claim Haut Brion is one of the world finest wines.  The chateau has been famous for its wines for hundreds of years.  By the time Thomas Jefferson extolled about the virtues of their wines, they were already famous. In fact,  Haut Brion has the unique distinction of being  the first wine to receive a professional review. Samuel Pepys, the Robert Parker of his day wrote about the wine, April 10, 1663 after tasting the wine at London's Royal Oak Tavern.   Pepys said,  "I drank a sort of French wine called Ho-Bryan that hath a good and most particular
taste
I never met with." Four centuries later, that same sentiment holds true today.
The following wines were tasted at a Bipin Desai dinner in December in Los Angeles with Jean Philippe Delmas and Prince Robert de Luxembourg.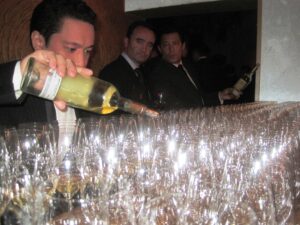 1999 Haut Brion Blanc, aged in 50% new oak offers scents of honeysuckle, vanilla, orange zest, creme brulee and lemon. Soft, rich, fruit ends with sweet citrus flavors. 92 Pts
1994 Haut Brion Blanc is a majest
white Bordeaux wine
. With a perfume filled with honey, smoke, wood, fresh cut grass, citrus oil and lemon wax, your senses are fully awakened.  This is rich, full bodied, intense and palate filling.  The long, fresh, citrus intensive finish feels great in your mouth.  Still young, this should age for decades.  96 Pts
1989 Haut Brion Blanc opens with aromas of fresh picked flowers, honey, caramel, grass, lemon, lime and orange. With textures of rich, polished fruit, the wine ends with a melange of citrus flavors. 95 Pts
1995 Bahans Haut Brion offers cherry pipe tobacco, earth and berry scents, coupled with soft, easy to like textures and fully mature, light, bright cherry and cranberry flavors.  Drink up. 88 Pts
1989 Bahans Haut Brion is fully mature. Aromas of BBQ smoke, earth and cassis are mixed with cherry, cranberry and spice flavors. This medium bodied wine needs to be dunk up sooner than later. 89 Pts
2000 Bahans Haut Brion starts with a smoke, spice, cherry and cassis perfume. This medium bodied, elegantly styled wine is ready to drink and is best enjoyed over the next few years. 89 Pts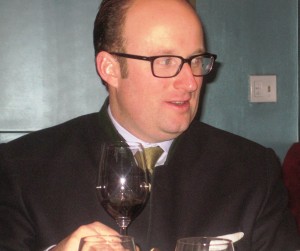 Haut Brion
1999 Haut Brion is produced in a lighter, early maturing style of Bordeaux wine from Pessac Leognan. Tobacco, herbs, olive tapenade and blackberry aromas introduce a medium bodied wine with cherry, cassis and cranberry flavors in the finish.  90 Pts
1998 Haut Brion is filled with pungent spicy blackberry, tobacco, smoke, cedar chest and cigar box aromas. Deep, rich, and concentrated, this is loaded with layers of rich, ripe fruit. This wine fills the palate with ripe, sweet, soft textured dark fruit couped with a purity of flavor and ample freshness to give it lift.  Everything is in balance. This great wine can be opened young, or aged for decades. It remains one of the best vintages of Haut Brion to buy in the market place today. 97 Pts
1996 Haut Brion is filled with smoke, tobacco, cigar box, ash, kirsch, blackberry and licorice aromatics.  This is a big, chewy, masculine Bordeaux wine from Haut Brion. Tannic and tight, this needs time. Another 10 years will allow this evolve and develop into something special. 95 Pts
1995 Haut Brion is showy wine. With coaxing,  a perfume loaded with black cherry, cassis, smoke, tobacco, truffle and earthy scents could be found.  Soft, elegant and charming, this deep Bordeaux wine demands a few more years before revealing all its charms. The juicy, mouth filling finish is filled with rich, ripe, dense, smoky fruit. 96 Pts
1994 Haut Brion is close to  fully mature. Tobacco, licorice, cassis, earth, cherry and green pepper notes are found in the aromatics. Produced in an austere style, this steely wine displays some rustic tannins in the finish.  91 Pts
1993 Haut Brion offers a tobacco, leaf, smoke, herb and cassis scented perfume. Medium bodied, with a light, red fruit accented finish, this wine needs to be drunk up.  90 Pts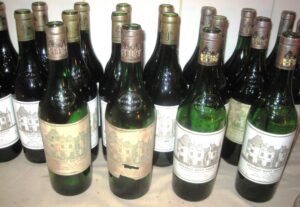 1990 Haut Brion is the real deal!  Cigar box, smoke, earth, truffle, roasted dark berries, plums and tobacco aromas make up the perfume.  In the mouth, this plush, round, opulent, sexy wine coats your palate. The intense, rich, pure finish is loaded with sweet cassis, chocolate covered blackberry and dark cherries.  98 Pts
1989 Haut Brion explodes with a concoction of spice, truffle, tobacco, leather, smoke, cassis, tar, forest floor and black cherry liqueur aromas.  With mouth coating intensity and port like textures, this compelling Bordeaux wine ends with a long, fresh, sensuous, seamless finish.  The scary thing is, this will only get better over the next several decades. 99 Pts
1988 Haut Brion greets you with tobacco, smoke, stone, cassis, earth and spice aromas. Elegant, smooth, soft and  open, this mature wine ends with smoky, cassis and cherry flavors. 93 Pts
1986 Haut Brion offered smoke, leaf, forest floor and earthy aromas. With rustic textures and a lack of fruit, the wine seemed to be slowly drying out. 89 Pts
1985 Haut Brion opens with a complex bouquet filled with floral, smoke, cassis, truffle, earth, tar and mineral aromas. With soft, elegant, supple textures and a long, ripe, round, sweet finish, that's filled with chocolate, blackberry and dark cherries, this wonderful Bordeaux wine is drinking perfectly today. It's probably the top vintage of any
First Growth
in the market today for the money.  95 Pts
1982 Haut Brion is loaded with smoky kirsch. tobacco, crushed stone, spice, coffee, cigar box, cedar and cassis aromas.  With sexy, velvet laced textures and layers of soft, polished, ripe fruit, this wine delivers a sublime tasting experience. 97 Pts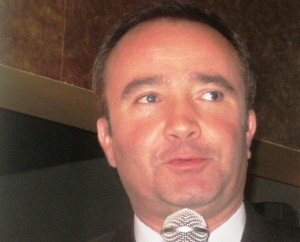 1979 Haut Brion is a medium bodied wine with tobacco, kirsch, camphor, cherry and earthy aromas. Light in style, this soft wine ends with a kirsch finish. 90 Pts
1975 Haut Brion is fully mature. Tobacco, cedar, smoke,  dark berries, earth, minerality, leaf and tar aromatics are easy to find. The wine has an austere, rustic side to its personality. Some green flavors are blended in with the cassis and cranberry finish.  This wine will last for decades, but it will not get better and will probably dry out in time.  It's a solid example of an old school Bordeaux. 91 Pts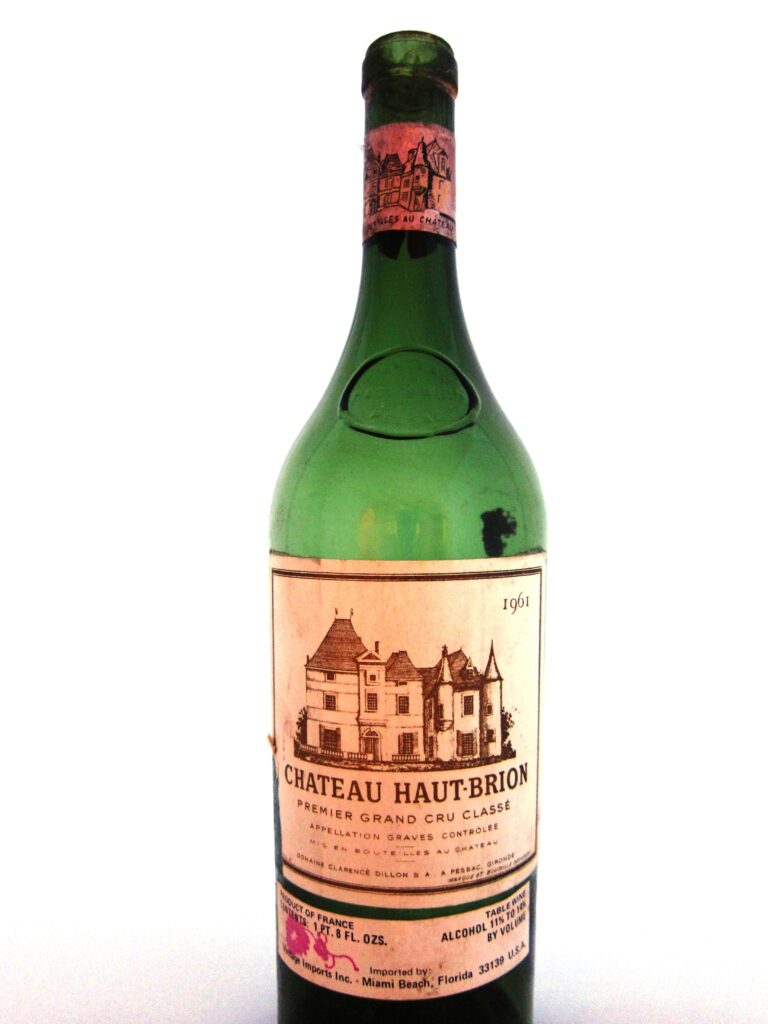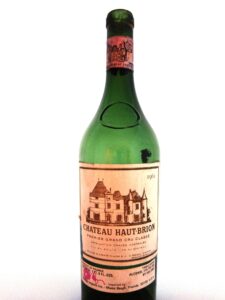 1961 Haut Brion  – This was a pristine bottle that has been stored at the chateau since the wine was first bottled.  1961 Haut Brion is riveting. This Bordeaux wine captures your attention. Grabbing you like a great piece of music, each sip compels you to focus on the experience. The smells, the feeling and the flavors last long after the bottle is empty. Wines like this make memories.
Smoke, tobacco, cigar box, earth, cassis, truffle, tar, crushed stone, spice, ash and wet forest floor aromas pour out of the glass. And that's just the opening act. In the mouth, the wine drenches your palate with waves of opulent, sweet, smoke filled cassis and dense, rich ripe cherries. The texture is pure silk and velvet with the weight and feel of motor oil. This elegant, concentrated, suave, regal wine is balanced, harmonious and ends with a seamless finish that lasts at least 60 seconds. 100 Pts
If you have any comments on Haut Brion or this article, please feel free to share your views.