Jean-Philippe Delmas from Haut Brion comes over for dinner and a few nice  Bordeaux wines.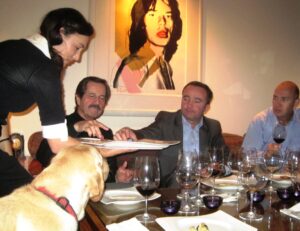 1934 Haut Brion, 1961 Trotanoy, 1961 Latour, Sine Qua Non, Harlan and more with Jean-Phlippe Delmas at my house for dinner and an early holiday celebration.
Wine without friends to share them with, is not much different from water.   It's might refresh your palate and offer nourishment. But  Bordeaux wine, as well as every other great wine only come alive when they are shared with friends or family.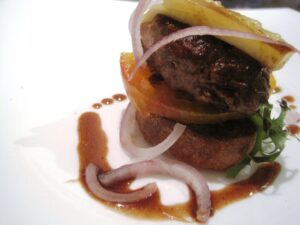 I have been fortunate to have had dinner with Jean-Philippe Delmas at Chateau La Mission Haut Brion on a myriad of occasions.  In 2009, when Delmas was busy planning a dinner for 500 people during Vin Expo, I was honored to participate in a test dinner. The evenings menu was a final run through before being served to owners and guests of all the Classified Pessac Leognan producers. Cooking is one of my passions. Asked for thoughts on the menu, I held my fork. But not my tongue.  Jean-Philippe and I entered into a discussion on cuisine that blossomed into an invitation to my house for dinner the next time he was in Los Angeles.
The evening began with the stellar 1996 Dom Perignon.  Champagne that is rich, fat, creamy and filled with the perfect of amount of acidity to give it the right amount of lift. Citrus, yeast, stone and almond notes start off the perfume. The exudes freshness coupled with soft textures and a long finish. At close to 15 years of age, it's staring to show well, and it's only going to get better from here! This is one of the better young Champagnes I've tasted in ages. It's a stronger wine than the just released 2002.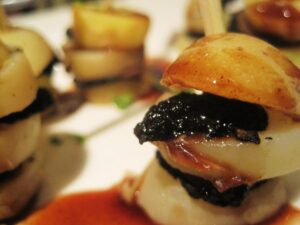 No time like the present.
Dad's birthday was only a few weeks ago. Jean-Philippe seldom travels to Los Angeles.  I like cooking. It was truffle season. That quartet of events made it the perfect night to open the 76-year-old bottle of Haut Brion.  Delmas is the third generation in his family to manage Haut Brion.  His grandfather started at the estate in 1921. His father took over in 1961 and Jean-Philippe took over managing Haut Brion and La Mission Haut Brion in 2004.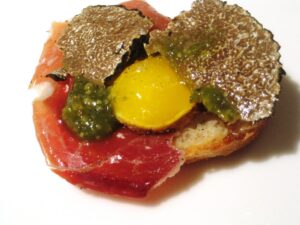 Wine is a time machine that works.  Special bottles mark the nights and occasions we need to remember
As the director of Haut Brion, Delmas has tasted more bottles of Haut Brion and La Mission Haut Brion than anyone can count. But for some reason, my lone bottle of 1934 Haut Brion, my father's birth year remained elusive. Until now!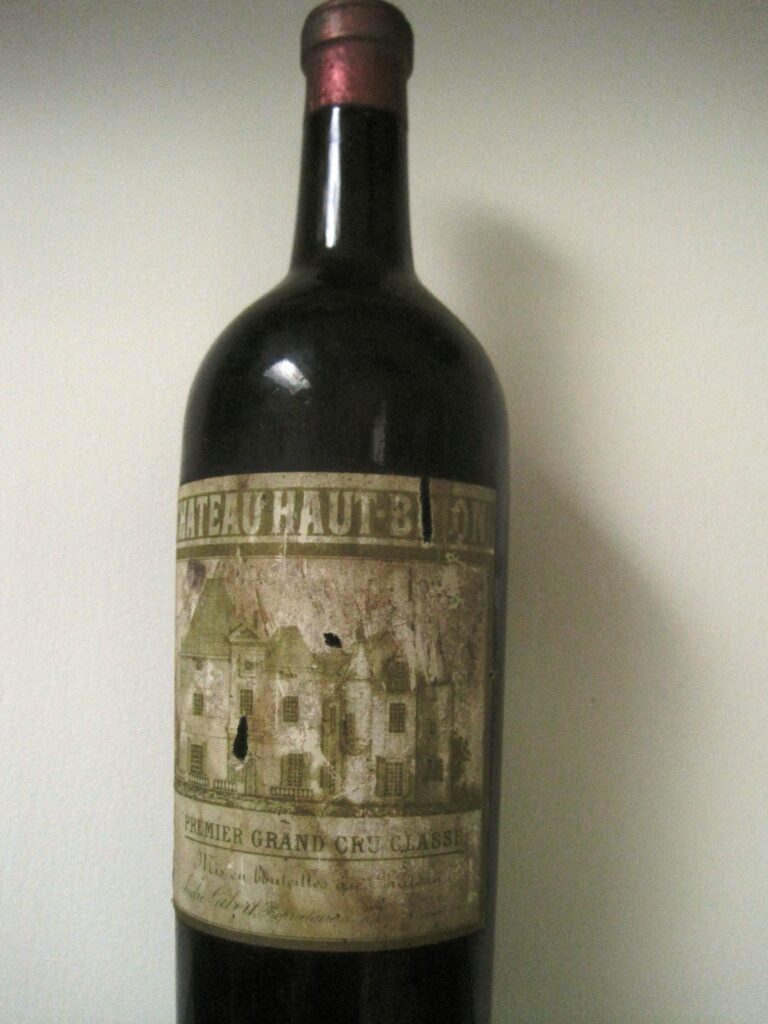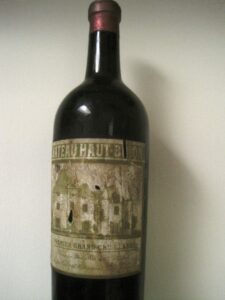 1934 Haut Brion from an original, never recorked bottle.  Popped and poured and shared with my father, because it's his birth year, Jean Philippe Delmas and a few good friends, Steve Matthesen and Jerry Hey, along with Eric a friend of Jean-Philippe's at my house.
The 34 Haut Brion sports a ruby, tea color. Complex aromas of Cuban cigars, pipe tobacco, hot bricks, sweet cherry blossoms, spice, decaying leaves, dried fruit and coca powder is easy to find.  The mouth feel is pure silk. This elegantly styled wine ends with light sensations of spicy, smoky cassis.  94 Pts for the wine.  100 Pts to be able to open this for my friends and my father.
.
.
A few wines
California
were tasted blind that night.  It's not often I get to try fifty year old California Cabernet.  This wine showed much younger than its years.  I knew what the wine was, and I was surprised that it tasted like a wine from the 70's!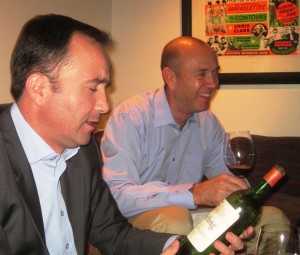 1958 Charles Krug Vintners Select-  So, this is what 50 California Cabernet tastes like!  Smoky, cassis, earth, mushroom, tobacco, and blackberry tea aromatics introduced the wine to your senses.  Full bodied with cassis and a hint of bitter cherry flavors made up the finish.  This outstanding wine was a treat to
taste
and share with friends. 91 Pts
Why blind taste one old California Cabernet, when you can open two?
1978
Diamond Creek
Gravelly Meadow was stuffed with blackberry,cassis, tobacco, olive tapenade, spice and earthy scents.  With intense concentration and round textures, this powerful wine is a dead ringer for a high quality
Pauillac
from a great vintage.  Still young, this deep wine should remain at this level for at least another 10-20 years.  96 Pts
.
From California wine to Bordeaux wine… Or at least from the living room to the dining room.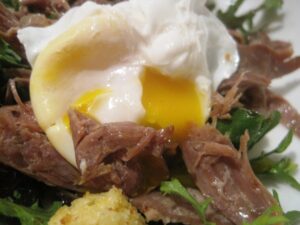 1961 Trotanoy is one of those wines I never thought I would taste. It's incredibly rare. The few people I know who've tasted it, speak about it in hushed tones with reverence and knowing smiles.  If a bottle comes up for sale, I'm sure it will end up at Bill Gates house.  When a friend of mine brought it to dinner, I was thrilled at meeting this legendary Bordeaux wine.  This bottle was only traded once, from the original owner to my friend, back in 1982.  This was as good as it was going to get. Would it deliver? We popped the cork to find out.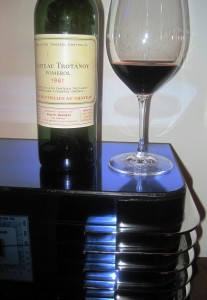 An exotic perfume filled with cloves, roses, chocolate, Asian spice, fudge, truffle, blackberry liqueur, earth and tobacco caught my attention and kept it.  We were off to a good start.  After spending ample time with the perfume, it was time for the big show.  How would this wine taste and feel as it slid past my lips, spilling over my palate?  Lacking the concentration found in the best wines, this elegant, sweet, round, plummy wine was filled with charm. But the wine did not deliver what we had hoped for.  What is not ravaged by the hands of time? Make no mistake, this was a good wine. But this bottle did not express the otherworldly qualities we had hope for. Once again, there is no such thing as a great older wine, only great older bottles.  93 Pts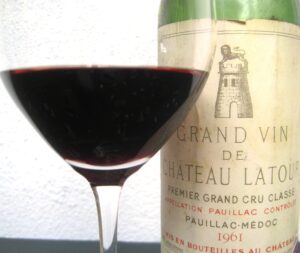 1961 Latour offers a regal perfume of tobacco leaf, cassis, iron, cedar, spice, truffle and forest floor notes. Powerful, full bodied, intense and deep, this concentrated wine takes over your palate with multiple layers of rich, ripe, spicy black fruits that fill your mouth and coat your palate. This wine personifies the term "iron fist in a velvet glove." This is elegance meshed with power. The long, spicy, dark berry and cassis filled finish remains in your mouth for close to 60 seconds. 99 Pts
There are times when a little bit of truffle is never enough…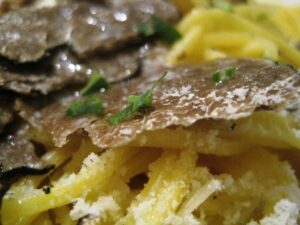 It's a good night when your company is having fun.  During certain dinners, it's hard to tell. But when it's close to midnight, the main course has not been served, there's more wine to pour and no one is leaving, it doesn't take a psychic to tell how the night is going.  But with the midnight hour fast approaching, the main course, white truffles and the final bottles were ready for their close up.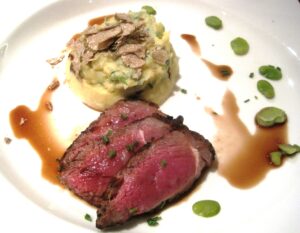 Similar to Romeo and Juliette, Lennon and McCartney and other great pairings, wine and food go together.
. 
Dry Aged, corn-fed beef is one of the many things America does better than any other country.  A contender for the perfect wine and food pairing belongs to the simple notion of red on red. In this case, California Cabernet, 1994 Harlan Estate and a perfectly grilled steak!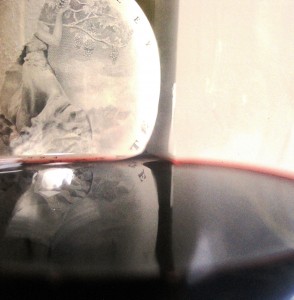 1994 Harlan Estate kicks off with a powerful perfume filled with oak, vanilla, black cherries, blackberry, earth and spice.  This full-bodied, concentrated, powerful wine is balanced and harmonious.  This is not overpowering.  Everything comes together in an opulent, round, thick, ripe, fresh, fruit filled, polished finish.  With today's prices hovering close to $1,000 per bottle, this was an honor to taste.  99 Pts.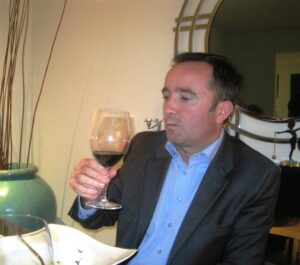 2002 Sine Qua Non Just For The Love of It offers an insane nose of fresh picked blueberries, jammy blackberries, cappuccino, spice and smoke.  Dense, thick and juicy, this palate drenching wine coats your mouth with layers of plush, ripe berries, chocolate and jam.  The wine has not evolved over the past few years.  I am not sure it will change much with more aging.  I expect it to remain at this level for the next several years.  This is such a hedonistic tasting experience, there is no reason not to pop a bottle and see for yourself. 100 Pts
It's hard to believe. But when the clock struck one, with a cheese course in the wings and a perfect bottle of 67 Chateau d'
Yquem
to go, the night drew to a close. The d'Yquem went back to the cellar. The cheese returned to the fridge and we knew we were all a little richer in memories as we said goodbye.