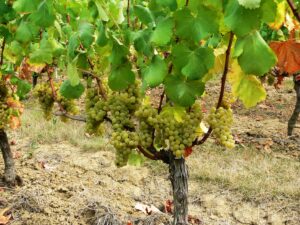 Tuesday, September 14, Valandraud, the St. Emilion winery owned by Jean-Luc Thunevin and Murielle Andraud started harvesting grapes for Blanc de Valandraud early in the morning under clear sunny conditions.
The fruit for Blanc de Valandraud comes from Saint Etienne de Lisse. In most years, the white Bordeaux wine is a blend of 50% sauvignon blanc and 50% semillon. If you're wondering why you never see this wine, you're not alone. Very little wine is produced. In most vintages, only 3,000 bottles are produced of Blanc de Valandraud N°1 and Blanc de Valandraud N°2 does not offer many more cases. The production for that wine averages only 4,000 bottles for the world.
Blanc de Valandraud is usually a blend of roughly 50 % semillon and 50 % sauvignon blanc.