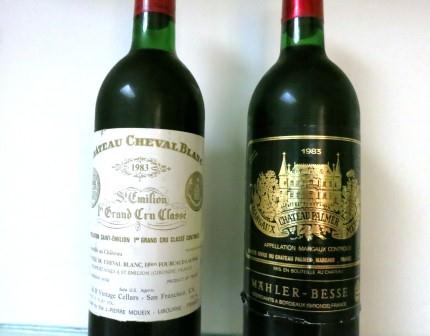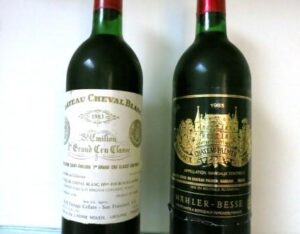 1983 Bordeaux Wine Vintage Summary with harvest information, vintage characteristics, buying tips and links. If you are seeking more in-depth information on anything and everything related to the Bordeaux wine region please see the: All About Bordeaux Wine Guide
1983 Bordeaux wine are fully mature. At their best, which at close to 30 years after the vintage is far and few between, the wines offer wonderful, expressive, sensuous drinking. 1983 Bordeaux wine is the  product of a growing season in Bordeaux that started with perfect flowering in June, following the wet, cool spring. This was followed by extreme heat and drought in July. In fact, it is one of the hottest Julys in recorded in the Bordeaux wine region. August was hot and rainy, which is a poor combination for good wine, as it allows for the chance of rot to develop.  In fact, the high heat and humid summer conditions produced rot in the vineyards. Growers were forced to spray once a week in August. September was warm and dry and so was October.  The harvest began the last few days of September and continued until early October. It was a large crop.   The Bordeaux wine makers that were selective with their fruit, kept yields low and sprayed for mildew, produced fine wine. Looking back, the yields were too high, which diluted many 1983 Bordeaux wine.  Today, that would not be the case.
1983 Bordeaux, with few exceptions is not consistent or long aging vintage. Most of the wines should have been consumed during their first two decades of life. Interestingly, the  Margaux appellation according to some wine writers has been called the most consistent appellation for 1983 Bordeaux wine. That is not the case. Only three wines were of high quality, Chateau Margaux, Chateau Palmer and Chateau Rauzan Segla. While there were no stellar wines from the Medoc, I'd probably vote for Pauillac being the most consistent, but that is damned praise, as only a few producers made strong wine.
The true star for 1983 Bordeaux wine is Sauternes. Sweet, white Bordeaux wine from 1983 are outstanding in quality. 1983 is the best vintage for Sauternes and Barsac since 1975. In 1983, the region enjoyed perfect conditions for development of botrytis which came into play with magic combination of rain, warm temperatures and mornings filled with mist. Chateau d'Yquem is always expensive. However, for some unknown reason, even though 1983 Yquem is of extraordinary quality, 1983 Chateau d'Yquem, when compared to other vintages of Chateau d'Yquem sells for a discounted price in today's market.  Especially when you consider the amount of bottle age the wine has already accumulated. 1983 is the vintage I recommend people buy, if they have the money and want to enjoy a great vintage of Chateau d'Yquem with bottle age.
1983 Chateau Margaux versus 1983 Chateau Palmer was an interesting contest.  For years, Chateau Margaux was the better wine. That is not the case today. As 1983 Bordeaux wine continues to age, Margaux has developed some rustic aspects to its textures. On the other hand, Palmer has morphed into the wine of the Left Bank and is potentially the wine of the vintage with its sensuous character and haunting perfume. Chateau Cheval Blanc and Lafleur from Pomerol are not far behind!
The following list of Bordeaux wines represent the wines offering a high ratio of price and quality for the vintage: 1983 Best Bordeaux wine for the money today
To read about other Bordeaux vintages from 1945 to today: Bordeaux Year to Year Detailed Vintage Reports & Guide 1945 to Today