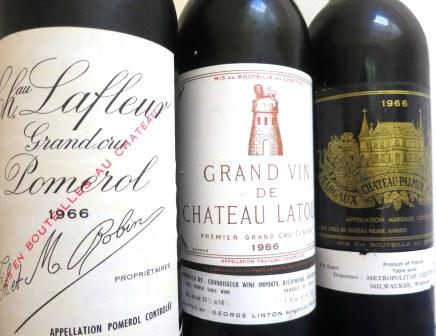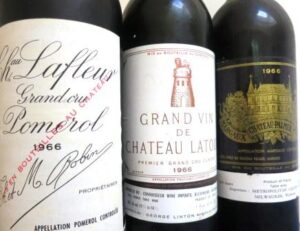 1966  Bordeaux Wine Vintage Summary with harvest information, vintage characteristics, buying tips and links. If you are seeking more in-depth information on anything and everything related to the Bordeaux wine region please see the: All About Bordeaux Wine Guide
1966 Bordeaux wine is the perfect example of an old school Bordeaux vintage. At this age, many 1966 Bordeaux wine are tired and as a matter of style, several are hard, tannic and austere. However, the high tannin levels and acidity have allowed these wines an extended life and a few wines have turned out much better than expected. Chateau Palmer is stunning! Chateau Latour can be strong and Chateau Lafleur is the wine of the Right Bank, and a contender with the other two previously mentioned wines for wine of the vintage. On the bright side, while there is a sense of austerity in 1966 Bordeaux wine, today, several of the Left Bank wines from Pauillac, St. Julien and Margaux are better than anticipated. 1966 Bordeaux is a much better vintage for red wine, than for the sweet, white Bordeaux from Sauternes.
1966 Bordeaux wine is the product of average to cool summer conditions and an almost perfect, hot September. Once again, it was September that shaped the harvest and the vintage. The official start of the harvest took place October 6, under good weather conditions. 1966 is clearly a vintage that favored the Medoc, due to the quality of the Cabernet Sauvignon. White Bordeaux wine from the Graves region was also quite strong. It was a poor year for the sweet, white, Bordeaux wines from Sauternes.
Along with 1961 Bordeaux, if you're going to take a flyer on an old Bordeaux vintage from the 1960's for the heck of it, if the wine looks like it's in good shape, and it's not too much money, it might be worth taking a chance on a bottle or two of 1966 Bordeaux wine. The strongest wines from the vintage were produced in the Left Bank.  Although in 1966 it needs to be mentioned, perhaps it was due to the large percentage of Cabernet Franc in the wine, Chateau Lafleur is the wine of the vintage in the Right Bank and as I mentioned earlier, one of the best wines of the vintage.
The following Bordeaux wines represent the best blend of price and quality from the vintage:  1966 Best Bordeaux wine for the money today
To read about other Bordeaux vintages from 1945 to today: Bordeaux Year to Year Detailed Vintage Reports & Guide 1945 to Today