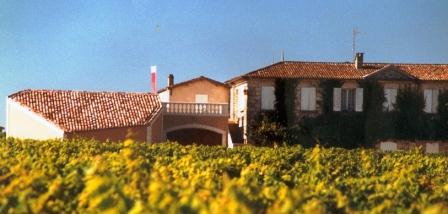 Learn everything about Chateau Le Chatelet St. Emilion with wine tasting notes, wine, and food pairing tips, best vintages, a history of the property, information on the vineyards, and winemaking. If you want to read about other important, Bordeaux Chateaux: Links to all Bordeaux Wine Producer Profiles
Chateau Le Chatelet History, Overview
The obscure, 3.3 hectare Bordeaux vineyard of Chateau Le Chatelet is a classified St. Emilion Grand Cru estate. The vineyard has been owned by the Becot family since 1942 when Pierre Becot purchased the chateau from the Quantin family.
Chateau Le Chatelet is owned by the Berjal family, who are related to the Becot family. The estate is currently managed by Alain and Julien Berjal.
The property is located close to the top of the Saint Emilion plateau, and not too far from Chateau Canon, Chateau Clos Fourtet, and Chateau Beau-Sejour Becot. The Berjal family also owns the value-priced, Chateau la Tour de Segur, which is located in the commune of Lussac St. Emilion.
Chateau Le Chatelet has experienced its share of ups and downs in the Saint Emilion classifications. The estate was included in the first classification, demoted, and promoted again. Visitors to Le Chatelet should ask to see the underground limestone caves.
Chateau Le Chatelet Vineyards, Terroir, Grapes, Winemaking
The tiny, 3.3 hectare Right Bank vineyard of Chateau Le Chatelet is planted to 79% Merlot and 21% Cabernet Franc. The vineyard has a terroir that consists of limestone, clay, gravel, and sandy soils. The vineyard is planted to a vine density of 5,500 vines per hectare.
To produce the wine of Le Chatelet, vinification takes place in temperature-controlled, cement-lined, vats. The wine is aged in 50% new, French oak barrels for between 12 and 22 months, depending on the quality and character of the vintage. On average, 1,000 cases are produced of Chateau Le Chatelet each year.
The best vintages of Chateau Le Chatelet are: 2022, 2021, 2020, 2019, 2018, 2017, 2016, 2015, 2010 and 2009.
When to Drink Chateau Le Chatelet, Anticipated Maturity, Decanting Time
Chateau Le Chatelet needs some time before it can be enjoyed. Young vintages can be decanted for up to 1 hour. This allows the wine to soften and open its perfume. Older vintages might need very little decanting, just enough to remove the sediment.
Chateau Le Chatelet is usually better with at least 1-3 years of bottle age. Of course, that can vary slightly, depending on the vintage character. Chateau Le Chatelet offers its best drinking and should reach peak maturity between 2-8 years of age after the vintage.
Serving Chateau Le Chatelet, with Wine and Food Pairings
Chateau Le Chatelet is best served at 15.5 degrees Celsius, 60 degrees Fahrenheit. The cool, almost cellar temperature gives the wine more freshness and lift.
Chateau Le Chatelet is best paired with all types of classic meat dishes, veal, pork, beef, lamb, duck, game, roast chicken, roasted, braised, and grilled dishes. Chateau Le Chatelet is also good when matched with Asian dishes, rich fish courses like tuna, mushrooms, and pasta.
Interestingly, Philippe Melka, a well-known winemaker and consultant in the Napa Valley, in California makes wine from a portion of the Chateau Le Chatelet harvest as well.
Château Le Chatelet Wine Tasting Notes
11 Vintages 27,374 Views Sort by Vintage-Rating
2022
Château Le Chatelet (St. Émilion Grand Cru)

Black cherries, espresso, chocolate, and a lot of oak creates the character in the nose and palate. Once past the wood, the wine is creamy, polished, and sweet, But it is on the oaky side of the style range. Drink from 2025-2038. 90-92 Pts.

1,378 Views

Tasted

May 8, 2023

2021
Château Le Chatelet (St. Émilion Grand Cru)

Medium-bodied, with a core of espresso, dark cherry and herbs on the nose and palate that will be easy to enjoy on release. Drink from 2023-2034. 86-88

1,304 Views

Tasted

May 20, 2022

2020
Château Le Chatelet (St. Émilion Grand Cru)

The best vintage of Le Chatelet I have ever tasted starts off with notes of smoke, licorice, espresso, red and black fruits in the perfume. Medium-bodied, silky and fresh, with a dose of oak on the palate which needs to better integrate before you find all the sweet, red fruits on the palate and in the finish. Drink from 2023-2037.

851 Views

Tasted

Mar 21, 2023

Earthy, tobacco, thyme, black raspberries, flowers, toasty oak and cherries lead the way to the medium-bodied, soft, fruity, easy to like mid-palate and polished finish. This is a nice step up for this normally underperforming wine. 88-90 Pts

1,691 Views

Tasted

May 20, 2021

2019
Château Le Chatelet (St. Émilion Grand Cru)

Medium-bodied, soft, elegant, sweet, red berry filled, early drinking wine that finishes with a refined, light note of fresh, sweet red fruits. You can enjoy this on release, Drink from 2022-2030.

1,255 Views

Tasted

Mar 29, 2022

Medium-bodied, round, forward, soft and fruity wine that will provide ample pleasure on release and over the next decade. 86-88 Pts

2,133 Views

Tasted

Jun 8, 2020

2018
Château Le Chatelet (St. Émilion Grand Cru)

With licorice and espresso to accompany the red fruits, the wine is soft, forward, medium-bodied and almost ready to go.

1,247 Views

Tasted

Mar 9, 2021

2017
Château Le Chatelet (St. Émilion Grand Cru)

A fruity, forward, early drinking, medium-bodied wine with a strong leafy olive component that rides along with the bright red fruits.

1,572 Views

Tasted

Apr 26, 2018

2016
Château Le Chatelet (St. Émilion Grand Cru)

Medium-bodied, forward, and all its red fruits, with their olive and herb accents. You can drink this on the young side.

1,762 Views

Tasted

Sep 21, 2019

This is a forward, simple, correct, early drinking wine, medium bodied without faults but lacking complexity.

2,213 Views

Tasted

Apr 29, 2017

2015
Château Le Chatelet (St. Émilion Grand Cru)

Medium-bodied, light in color and fruit, the wine is forward and focuses on its range of soft, red berry fruits. Drink this on the young side.

2,879 Views

Tasted

May 21, 2018

Medium-bodied, forward and showing much more ripeness and fruit than usual with its licorice and black cherry personality.

2,663 Views

Tasted

Apr 29, 2016

2013
Château Le Chatelet (St. Émilion Grand Cru)

Light in color with a light, bright—almost transparent—level of red fruit. 82-84 Pts

2,108 Views

Tasted

Apr 28, 2014

2012
Château Le Chatelet (St. Émilion Grand Cru)

Medium bodied, fresh, lighter style of Right Bank wine with a forward, cherry and coffee bean center and a ready to drink personality.

2,106 Views

Tasted

Nov 6, 2016

2010
Château Le Chatelet (St. Émilion Grand Cru)

Lighter styled St. Emilion with a focus on the freshness on its soft, fresh red fruits on the nose and palate. This is already drinking at peak.

2,212 Views

Tasted

Sep 13, 2020