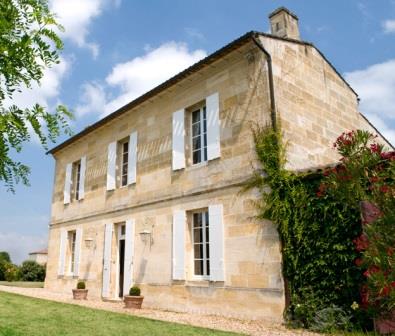 Learn everything about Chateau Ferrand Lartigue St. Emilion with wine tasting notes, wine, and food pairing tips, best vintages, a history of the property, and information on the vineyards and winemaking. If you want to read about other important, Bordeaux Chateaux: Links to all Bordeaux Wine Producer Profiles
Chateau Ferrand Lartigue History, Overview
Chateau Ferrand Lartigue does not have a long history in Saint Emilion. In fact, the property was only formed in 1993, when it was created by Pierre Ferrand. As you can easily surmise, the name of the estate came from the last name of the founder of the property, Pierre Ferrand.
Mr. Ferrand did not hold on to the estate that bore his name for too long. In fact, he sold Chateau Ferrand Lartigue in 2008 to Vitis Vintage who also owns Grand Lartigue in Saint Emilion and Chateau Tourteau Chollet, which is located in the Graves appellation. At their property in Graves, the estate produces both red and white Bordeaux wine.
One of the first choices made by the new owners was to bring in the team of Stephane Derenoncourt to assist in the wine-making and vineyard management for Chateau Ferrand Lartigue.
Shortly after Stephane Derenoncourt started working with the estate, it was easy to see the improvements in the wine. All of that started in the vineyard with a replanting program that increases the level of density in the plantings.
Chateau Ferrand Lartigue Vineyards, Terroir, Grapes, Winemaking
The 5-hectare, Right Bank vineyard of Chateau Ferrand Lartigue is planted to 80% Merlot and 20% Cabernet Franc. The Cabernet Sauvignon vines have been removed. On average, the vines are 30 years of age. The vineyard is planted to a vine density of 6,600 vines per hectare. The terroir is a mix of clay, limestone, and sandy soils.
To produce the wine of Chateau Ferrand Lartigue, after whole berry fermentation, the wine is vinified in temperature-controlled, stainless steel vats. Malolactic fermentation takes place in barrels.
The wine is then aged in 60% new, French oak barrels for about 18 months. On average, close to 2,500 cases per year are produced of Chateau Ferrand Lartigue.
The best vintages of Chateau Ferrand Lartigue are: 2022, 2021, 2020, 2019, 2018, 2017, 2016, 2015, 2010 and 2009.
There is a second wine, FL de Ferrand Lartigue.
When to Drink Chateau Ferrand Lartigue, Anticipated Maturity, Decanting Time
Chateau Ferrand Lartigue is better with at least 2-4 years of bottle age. Of course, that can vary slightly, depending on the vintage. Chateau Ferrand Lartigue is best enjoyed in the first 3-12 years of life.
Young vintages can be decanted for about 1 hour or so. This allows the wine to soften and open its perfume. Older vintages might need very little decanting, just enough to remove the sediment.
Serving Chateau Ferrand Lartigue with Wine and Food Pairings
Chateau Ferrand Lartigue is best served at 15.5 degrees Celsius, 60 degrees Fahrenheit. The cool, almost cellar temperature gives the wine more freshness and lift.
Chateau Ferrand Lartigue is best paired with all types of classic meat dishes, veal, pork, beef, lamb, duck, game, roast chicken, roasted, braised, and grilled dishes. Chateau Ferrand Lartigue is also good when matched with Asian dishes, rich fish courses like tuna, mushrooms, and pasta.
Château Ferrand Lartigue Wine Tasting Notes
8 Vintages 17,254 Views Sort by Vintage-Rating
2016
Château Ferrand Lartigue (St. Émilion Grand Cru)

Medium bodied, forward, polished, soft, fruity and ready for early drinking.

1,746 Views

Tasted

Apr 29, 2017

2015
Château Ferrand Lartigue (St. Émilion Grand Cru)

Medium/full bodied, lush and round, with a profile of ripe, fresh, plums, licorice, espresso and smoke that should approachable early. 89-91 Pts

2,301 Views

Tasted

Apr 29, 2016

2014
Château Ferrand Lartigue (St. Émilion Grand Cru)

A soft, medium-bodied, forward, easy drinking wine, dominated with red berries. 87-88 Pts

1,702 Views

Tasted

Apr 27, 2015

2013
Château Ferrand Lartigue (St. Émilion Grand Cru)

With spicy, bright red berries and licorice in its personality, this is an easy-drinking, light styled, fresh wine. 83-85 Pts

1,650 Views

Tasted

Apr 28, 2014

2012
Château Ferrand Lartigue (St. Émilion Grand Cru)

Simple, forward, direct, bright, red cherry and tart plum oriented wine. Medium bodied, and with a spicy component, this is best for early drinking.

1,603 Views

Tasted

Mar 4, 2017

2011
Château Ferrand Lartigue (St. Émilion Grand Cru)

81% Merlot, 10% Cabernet Franc and 9% Cabernet Sauvignon produced a deep-colored wine with minerality, smoke and plum, and finishes with plush black plum and chocolate. 89-91 Pts

2,773 Views

Tasted

Apr 24, 2012

2009
Château Ferrand Lartigue (St. Émilion Grand Cru)

With a nose filled with licorice, chocolate covered cherries, coffee and earth, this forward, soft St. Emilion wine is sweet round, fun to drink young and discounters have it for under $30!

3,742 Views

Tasted

Feb 19, 2013

2005
Château Ferrand Lartigue (St. Émilion Grand Cru)

Lots of plum, cocoa, earth and sweet cherries, round textures, medium body and a soft, easy to drink, black cherry finish in this wine. I think this marks the debut vintage for Stephane Derenoncourt as the consultant.

1,737 Views

Tasted

Feb 27, 2014