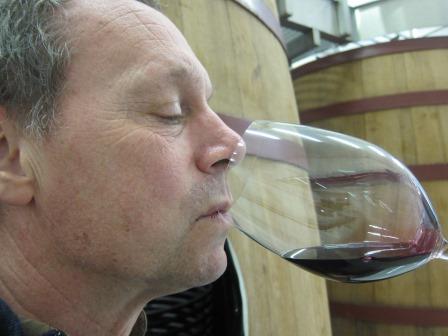 Learn everything about Domaine Virginie Thunevin Bordeaux with wine tasting notes and wine with food pairing tips. Learn the best vintages, a history of the property, information on the vineyards, and winemaking. If you want to read about other important, Bordeaux Chateaux: Links to all Bordeaux Wine Producer Profiles
Domaine Virginie Thunevin History, Overview
Domaine Virginie Thunevin takes its name from the daughter of Murielle Andraud and Jean-Luc Thunevin. In case you are one of the few people that do not know or are not familiar with the Thunevin name, Jean Luc Thunevin and Murielle Andraud are the owners of Valandraud in Saint Emilion, along with several other hot, Right Bank vineyards. Jean Luc Thunevin also owns a successful, negociant company, located in St. Emilion as well.
Domaine Virginie Thunevin Vineyards, Terroir, Grapes, Winemaking
The 13.5-hectare vineyard of Domaine Virginie Thunevin is planted to 100% Merlot. The Cabernet Sauvignon and Cabernet Franc have been removed.
The vines are old, at a respectable average of 40 years of age. Located on the Right Bank of Bordeaux, the vineyard has a good terroir, with clay and limestone soils on the plateau of Lalande-de-Fronsac.
To produce the wine of Domaine Virginie Thunevin, the vinification takes place in traditional, square-shaped, cement vats. Malolactic fermentation takes place in a combination of cement tanks, and French oak barrels that are mostly used, but a small percentage is new, French oak barrels for 11 months before bottling.
Half the wine is then aged in cement vats, along with the other half the wine that is then placed into new and used, French, oak barrels for aging, before bottling. The average annual production is close to 4,500 cases of wine per year for Domaine Virginie Thunevin.
The best vintages of Virginie Thunevin are: 2022, 2021, 2020, 2019, 2018, 2017, 2016, 2015, 2014, 2012, 2010, 2009 and 2005.
When to Drink Domaine Virginie Thunevin, Anticipated Maturity, Decanting Time
Domaine Virginie Thunevin is much better with 2-4 years of aging in good vintages. Young vintages can be decanted for 1 hour allowing the wine to soften and open its perfume.
Older vintages might need very little decanting, just enough to remove the sediment. Domaine Virginie Thunevin offers its best drinking and should reach peak maturity between 3-8 years of age after the vintage.
Serving Domaine Virginie Thunevin with Wine, Food, Pairing Tips
Domaine Virginie Thunevin is best served at 15.5 degrees Celsius, 60 degrees Fahrenheit. The cool, almost cellar temperature gives the wine more freshness and lift.
Domaine Virginie Thunevin is best paired with all types of classic meat dishes, veal, pork, beef, lamb, duck, game, roast chicken, roasted, braised, and grilled dishes. Domaine Virginie Thunevin is also good when matched with Asian dishes, rich fish courses like tuna, mushrooms, and pasta.
Domaine Virginie Thunevin is a fine example of a fruit-forward, easy to drink, uncomplicated, Merlot dominated, Bordeaux value wine.
Domaine Virginie Thunevin Wine Tasting Notes
11 Vintages 31,135 Views Sort by Vintage-Rating
2022
Domaine Virginie Thunevin (Bordeaux)

Vanilla, spice, licorice, herbs, plums and espresso form the core of this wines character. On the palate, the wine is soft, medium-bodied, supple, creamy and loaded with chocolate-coated plums and black cherries that stick with you. Drink from 2025-2032. 90-92 Pts.

1,768 Views

Tasted

May 8, 2023

2019
Domaine Virginie Thunevin (Bordeaux)

Medium-bodied with a smoky, licorice and cherry vanilla nose. Quite fruity, with loads of red fruit and herbs in the finish. Forward in nature, you can enjoy this on release, or age it for a bit. 88-90 Pts

3,121 Views

Tasted

Jun 8, 2020

2018
Domaine Virginie Thunevin (Bordeaux)

Flowers and cherries fill the medium-bodied, forward, easy to drink and like, early drinking, soft textured, fresh, fruity charmer. You can drink this on release.

1,688 Views

Tasted

Mar 9, 2021

Sweet cherry and vanilla with floral notes come to the surface in this medium-bodied, already delicious, forward wine. The sweet berries have a softness ensuring it will be quite fun to drink on release. 87-89 Pts

2,082 Views

Tasted

Apr 19, 2019

2016
Domaine Virginie Thunevin (Bordeaux)

Smoke, oak, licorice and red berries combine to produce a medium bodied, round, soft textured, smoky forward wine that is going to be delicious on release.

2,670 Views

Tasted

Sep 21, 2019

Forward, early drinking, medium bodied wine with a thyme and cherry infused character. Drink this on the young side.

2,678 Views

Tasted

Apr 29, 2017

2015
Domaine Virginie Thunevin (Bordeaux)

Licorice, dark, ripe plums and just enough wet earth under the hood to make things more interesting. The wine has a softness and polish in this vintage that will make it quite fun to drink on release.

2,217 Views

Tasted

Apr 29, 2016

2014
Domaine Virginie Thunevin (Bordeaux)

Medium bodied, forward, soft, round textured wine, with a cherry, espresso and cocoa note, with a hint of licorice on top. This wine is already tasty and easy to drink.

1,928 Views

Tasted

Dec 10, 2017

2013
Domaine Virginie Thunevin (Bordeaux)

Offering pleasure early, the wine delivers a nice dose of cherry and black raspberry on the mid palate. 84-86 Pts

2,037 Views

Tasted

May 1, 2014

2012
Domaine Virginie Thunevin (Bordeaux)

With oak and red fruits, this medium-bodied wine has a sweet and sharp red berry finish. 85-87 Pts

2,163 Views

Tasted

Apr 26, 2013

2011
Domaine Virginie Thunevin (Bordeaux)

With an earthy black cherry nose, round textures and a supple character, this dark berry-filled wine is made in a sweet, uncomplicated, crowd-pleasing style. 87-89 Pts

3,941 Views

Tasted

Apr 20, 2012

2010
Domaine Virginie Thunevin (Bordeaux)

This easy going, Merlot dominated, sweet, ripe, round, Bordeaux value wine is fully mature and requires consumption over the next year or two.

1,708 Views

Tasted

May 8, 2016

2009
Domaine Virginie Thunevin (Bordeaux)

Easy drinking, lushly textured, medium bodied charmer with soft, sweet, dark fruits, licorice and hints of chocolate. There is no reason for further aging or decanting.

3,134 Views

Tasted

Nov 6, 2017