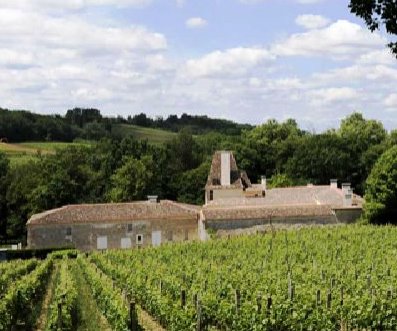 Learn everything about Chateau Jean Faux Bordeaux Superieur with wine tasting notes, wine, and food pairing tips, best vintages, a history of the property, information on the vineyards, and winemaking. If you want to read about other important, Bordeaux Chateaux: Links to all Bordeaux Wine Producer Profiles
Chateau Jean Faux History, Overview
Chateau Jean Faux is an estate with a lot of history in the region, Located not far from Cotes de Castillon, the property dates back to the 18th century. The modern age for Chateau Jean Faux begins in 2002 when the vineyard was purchased by Pascal Collotte.
With its park-like grounds, the property is quite large, in fact, it occupies close to 45 hectares in total. The estate was in poor condition at the time of the purchase.
In fact, only 1.5 hectares were considered to be in good enough condition to produce grapes that were suitable to make wine at the time. One of the first decisions made by Pascal Collotte was to bring in the well-known team of consultants, Stephane Derenoncourt.
Chateau Jean Faux Vineyards, Terroir, Grapes, Winemaking
The 12-hectare vineyard of Chateau Jean Faux is planted to both red and white wine grapes. Over the years, the vineyard has almost doubled in size. For the red wine grapes, the vineyard is planted to 80% Merlot and 20% Cabernet Franc. The vines are on average 30 years of age. The vines are planted to a density of 7,400 vines per hectare, which is quite dense for the Right Bank.
2 hectares of vines are reserved for white Bordeaux wine grapes, which are planted to 85% Sauvignon Blanc and 15% Semillon. The terroir of Chateau Jean Faux is clay and limestone soils.
Since 2011, the property now farms using only 100% biodynamic farming techniques in the vineyards.
To produce the wine of Chateau Jean Faux, the wine is vinified in temperature-controlled, stainless vats that range in size from 40 hectoliters to 80 hectoliters. The grapes are whole berry fermented.
Malolactic fermentation takes place in barrels. The wine is then aged in 40% new, French oak barrels for 12 to 14 months. Stephane Derenoncourt is the consultant.
There is a second wine, La Dame, Chateau Jean Faux. On average, Chateau Jean Faux produces 4,000 cases of wine per year.
The best vintages of Chateau Jean Faux are: 2022, 2021, 2020, 2019, 2018, 2017, 2016, 2015, 2014, 2012, 2010 and 2009.
When to Drink Chateau Jean Faux, Anticipated Maturity, Decanting Time
Chateau Jean Faux is much better with at least 1-3 years of aging in good vintages. Young vintages can be decanted for up to 1 hour allowing the wine to soften and open its perfume.
Older vintages might need very little decanting, just enough to remove the sediment. Chateau Jean Faux offers its best drinking and should reach peak maturity between 2-7 years of age after the vintage.
Serving Chateau Jean Faux with Wine, Food, Pairing Tips
Chateau Jean Faux is best served at 15.5 degrees Celsius, 60 degrees Fahrenheit. The cool, almost cellar temperature gives the wine more freshness and lift.
Chateau Jean Faux is best paired with all types of classic meat dishes, veal, pork, beef, lamb, duck, game, roast chicken, roasted, braised, and grilled dishes. Chateau Jean Faux is also good when matched with Asian dishes, rich fish courses like tuna, mushrooms, and pasta.
Château Jean Faux Wine Tasting Notes
20 Vintages 41,720 Views Sort by Vintage-Rating
2022
Château Jean Faux (Bordeaux Supérieur)

Savory herbs, crushed stone, flowers and red fruits combine in this medium-bodied, fresh lively, vibrant wine. This is already easy to enjoy with its juicy fruits on the palate and in the finish. Drink from 2025-2032. 90-92 Pts.

1,183 Views

Tasted

May 8, 2023

2022
Château Jean Faux Blanc (Bordeaux)

Bright, fresh, crisp, crunchy, yellow citrus with touch of orange and green apple, in a forward style that will be at its best over the next few years. Drink from 2024-2027. 90-90 Pts.

1,092 Views

Tasted

May 8, 2023

2021
Château Jean Faux Sainte Radegonde (Bordeaux Supérieur)

Cedar, peppery herbs, and bright red fruits already show in the nose and in the cranberry and bright red cherry dominated palate. Drink from 2023-2027. 85-87

1,132 Views

Tasted

May 20, 2022

2020
Château Jean Faux Sainte Radegonde (Bordeaux Supérieur)

Round, sweet, chewy, forward and fruity, this is already easy to enjoy with its blast of juicy fruits, olives, spice and tobacco in the finish. 89-91 Pts

1,198 Views

Tasted

May 20, 2021

2020
Château Jean Faux Sainte Radegonde (Bordeaux Supérieur)

Lighter-bodied, citrusy, zest wine with a lean to the fresh yellow and bright orange side of the style range. This will be best over the next few years. 89 Pts

1,232 Views

Tasted

May 20, 2021

2018
Château Jean Faux (Bordeaux Supérieur)

Tobacco, licorice, ripe red fruits, earth, herbs and crispness all come together in this juicy, easy to like, medium-bodied wine. 89-91 Pts

1,581 Views

Tasted

Apr 19, 2019

2018
Château Jean Faux Les Pins Francs Blanc (Bordeaux Supérieur)

Bright, yellow tropical fruits and citrus are paired with a touch of white peach and honeysuckle that will be perfect to drink on release.

1,366 Views

Tasted

Apr 19, 2019

2018
Château Jean Faux Sainte Radegonde (Bordeaux Supérieur)

Medium bodied, herbal tinged red berries, soft, approachable, and ready to go with its sweet red fruit character.

844 Views

Tasted

Mar 9, 2021

2017
Château Jean Faux Les Pins Francs Blanc (Bordeaux Supérieur)

A lively, fresh yellow citrus and floral wine with a juicy, crisp character that delivers a hint of honeysuckle and vanilla with a squeeze of pomelo in the finish.

2,064 Views

Tasted

Apr 26, 2018

2017
Château Jean Faux Cuvée Les Sources (Bordeaux Supérieur)

Peak cherries, licorice and a hint of spice define the wine. This is soft, polished, approachable and already quite satisfying to drink. The wine is made from a selection of the estate's best parcels located on the plateau.

1,250 Views

Tasted

Apr 26, 2018

2017
Château Jean Faux (Bordeaux Supérieur)

Ripe red fruits with a hint of licorice on the front end, round and already user-friendly, the finish is all about the sweet, mid-summer cherries. You can drink this on release.

2,431 Views

Tasted

Apr 26, 2018

2016
Château Jean Faux (Bordeaux Supérieur)

Medium bodied, soft, polished, fresh and lively, this is all about the hit of juicy red plums and spice-box n the nose and on the palate.

1,479 Views

Tasted

Sep 21, 2019

Floral, licorice, spice and red fruits define the wine. Soft, polished and approachable, this is a nice charmer that will not need cellaring to offer pleasure.

2,326 Views

Tasted

Apr 29, 2017

2015
Château Jean Faux (Bordeaux Supérieur)

Forward, easy drinking wine, with a spicy, soft textured, black raspberry personality with hints of licorice and cocoa in the finish.

2,219 Views

Tasted

Apr 29, 2016

2014
Château Jean Faux (Bordeaux Supérieur)

Forest scents with crisp red fruits and a soft, easy drinking, spicy finish. 86-88 Pts

3,149 Views

Tasted

May 19, 2015

2013
Château Jean Faux (Bordeaux Supérieur)

Using 80% Merlot and 20% Cabernet Franc, the wine is soft, with a polish to the texture, finishing with sweet and tart red berries in the end note. 84-86 Pts

2,288 Views

Tasted

May 1, 2014

2012
Château Jean Faux (Bordeaux Supérieur)

90% Merlot and 10% Cabernet Franc produced an earthy, black raspberry- and licorice-filled wine with an open, easy-to-like personality. 87-89 Pts

2,201 Views

Tasted

Apr 26, 2013

2011
Château Jean Faux (Bordeaux Supérieur)

From clay and limestone soils, this blend of 80% Merlot and 20% Cabernet Franc is aged in 50% new oak. Floral and cherry vanilla scents. Medium bodied, tannic and slightly dry in the finish. 86-88 Pts

3,162 Views

Tasted

Apr 20, 2012

2010
Château Jean Faux (Bordeaux Supérieur)

What a great little Bordeaux value wine this has turned out to be. Forward, round and open, with lots of chocolate, licorice, black cherry and coffee. The fruit is soft and polished. Drink this on the young side to get the most from this blend of 45% Merlot and 50% Cabernet Franc and 5% Cabernet Sauvignon.

4,218 Views

Tasted

Jul 21, 2013

2009
Château Jean Faux (Bordeaux Supérieur)

With aromas of jam, licorice, black and red fruits and smoke, this supple textured wine ends with a fresh black cherry finish.

2,642 Views

Tasted

Jul 18, 2011

2008
Château Jean Faux (Bordeaux Supérieur)

Ready to drink, this crowd pleasing wine offers licorice, coffee bean, black cherries and earthy notes in its character. The wine is round, fleshy and affordable.

1,876 Views

Tasted

Aug 1, 2013