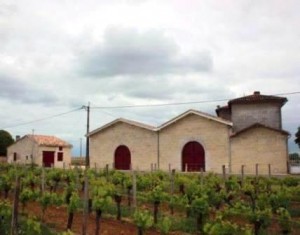 Learn everything about Chateau Clarisse Puisseguin St. Emilion with wine tasting notes, wine, and food pairing tips, best vintages, a history of the property, and information on the vineyards and winemaking. If you want to read about other important, Bordeaux Chateaux: Links to all Bordeaux Wine Producer Profiles
Chateau Clarisse History, Overview
Chateau Clarisse was founded in 2009 when the Right Bank vineyard was purchased by Didier and Olivia Le Calvez from the Estager family.
The Calvez family renamed the property after their daughter, Clarisse. After changing the name of the property from Croix de Justice to Chateau Clarisse, their next move was to bring in the team of Stephane Derenoncourt to consult on the vineyard management and winemaking for the estate.
The cellars and wine-making facilities of Chateau Clarisse were updated and renovated after the purchase. Since their original purchase, the Le Calvez family has continued to increase the size of their vineyards.
They have expanded from the original 5.11 hectares of vines to their current 20-hectare size with several purchases over the years. Most recently, Didier Calvez purchased 4 hectares of adjacent vineyards in 2017.
Chateau Clarisse Vineyards, Terroir, Grapes, Winemaking
The 20-hectare vineyard of Chateau Clarisse is planted to 80% Merlot and 20% Cabernet Franc on a terroir of clay and limestone soils. One of the keys to the vineyard is its elevation which rises up to 105 meters, one of the highest peaks in the appellation. The vineyard is planted to a vine density of 6,500 vines per hectare to 7,500 vines per hectare.
New plantings are taking place in the vineyards, which will increase the overall vine density as well as the amount of planted hectares. The vineyard is farmed using only organic farming techniques with an eye to biodynamic farming methods. Chateau Clarisse was certified organic in 2019 for both their vineyards in Puisseguin Saint Emilion and in Cotes de Castillon.
To produce the wine of Chateau Clarisse, the wine is vinified in traditional, temperature-controlled, cement vats. The grapes are whole berry fermented. Malolactic fermentation takes place in a combination of cement vat and French oak barrels. Pump-overs take place 3 times a day.
The wine of Chateau Clarisse is aged in 33% new, French oak barrels for 14 months. On average, the production is close to 7,000 cases per year.
Chateau Clarisse produces two red wines, including a high-end Cuvee produced from one hectare of old vines, Chateau Clarisse Vieille Vignes. The Vieille Vignes is made from 100% old vine, Merlot. Those vines are close to 65 years of age.
The grapes are whole berry fermented. Malolactic fermentation takes place in 50% new, French oak barrels. The wine is aged in 50% new, French oak barrels for 16 months. Only 250 cases are produced of Chateau Clarisse Vieille Vignes each vintage.
Chateau Clarisse also produces a white Bordeaux wine from Chardonnay, which is sold as a Vin de France.
The best vintages of Chateau Clarisse are: 2022, 2021, 2020, 2019, 2018, 2017, 2016, 2015, 2014 and 2012.
When to Drink Chateau Clarisse, Anticipated Maturity, Decanting Time
Chateau Clarisse is better with at least 2-3 years of aging in good vintages. Young vintages can be decanted for up to 1 hour, helping the wine soften to help develop the aromatic character.
Older vintages might need very little decanting, just enough to remove the sediment. Chateau Clarisse offers its best drinking and should reach peak maturity between 2-9 years of age after the vintage.
Serving Chateau Clarisse with Wine, Food, Pairing Tips
Chateau Clarisse is best served at 15.5 degrees Celsius, 60 degrees Fahrenheit. The cool, almost cellar temperature gives the wine more freshness and lift. Chateau Clarisse is best paired with all types of classic meat dishes, veal, pork, beef, lamb, duck, game, roast chicken, roasted, braised, and grilled dishes.
Chateau Clarisse is also good when matched with Asian dishes, hearty fish courses like tuna, mushrooms, and pasta.
Starting with the 2014 vintage, the de Calvez family began producing a new, 100% Merlot wine from 2.3 hectares of vines located in the Cotes de Castillon appellation which will also be called Chateau Clarisse.
Château Clarisse Wine Tasting Notes
23 Vintages 35,247 Views Sort by Vintage-Rating
2022
Château Clarisse Cuvée Vieilles Vignes (Puisseguin-St. Émilion)

Sweet black plums, black cherries, chocolate, espresso, and licorice on the nose, are also found on the fresh, forward, chalky palate. Drink from 2025-2034. 91-93 Pts.

417 Views

Tasted

May 8, 2023

2022
Château Clarisse Cuvée Allegria (Castillon Côtes de Bordeaux)

Medium-bodied, sweet, red, fleshy fruits with a floral edge and a vibrant, fruit and chocolate-filled, creamy, finish. Drink from 2023-2036. 90-92 Pts.

411 Views

Tasted

May 8, 2023

2022
Château Clarisse (Puisseguin-St. Émilion)

Espresso, flowers, and cherries with a bit of oak on the medium-bodied, soft, round, fruit-filled, sweet, ripe, fresh palate that needs to integrate. Drink from 2025-2032. 89-91 Pts.

400 Views

Tasted

May 8, 2023

2021
Château Clarisse Cuvée Vieilles Vignes (Puisseguin-St. Émilion)

Espresso, chocolate and plums on the nose and a round, soft-textured, forward palate ends with a sweet, dark plum and cocoa, chalky finish. Drink from 2023-2029. 88-90

875 Views

Tasted

May 20, 2022

2021
Château Clarisse (Castillon Côtes de Bordeaux)

Espresso, flowers, and cherries with a bit of oak on the medium-bodied palate that needs to integrate. Drink from 2022-2028. 86-88

825 Views

Tasted

May 20, 2022

2020
Château Clarisse Cuvée Vieilles Vignes (Puisseguin-St. Émilion)

With alluring plum and floral aromatics, the wine is soft, polished, fresh, sweet and vibrant with a solid core of ripe, lifted, cherries and red plums, finishing with silky tannins and freshness. Drink from 2023-2036.

339 Views

Tasted

Mar 21, 2023

2020
Château Clarisse (Puisseguin-St. Émilion)

Medium-bodied, soft, silky, and fresh, there is a nice vibrancy to the core of sweet, polished, lifted red fruits on the nose, and palate, leaving you with an olive-tinted, savory finish. This charmer will be easy to enjoy on release. Drink from 2023-2033.

323 Views

Tasted

Mar 21, 2023

Floral, smoky, fruity and savory, the wine is medium-bodied, fresh and focuses on its ripe, red berry core of fruits. Soft-textured and forward, this charmer will be easy to enjoy on release. This is the second vintage where the wine is 100% biodynamic. 90-92 Pts

934 Views

Tasted

May 20, 2021

2020
Château Clarisse Cuvée Allegria (Castillon Côtes de Bordeaux)

Dark plums cherries, spice and toasty oak crowd into the nose. On the palate, the wine is lush, supple and packed with more of those, sweet, ripe, dark red fruits, even darker chocolate and espresso. This should drink well on release. This is the debut vintage for Clarisse in the Cotes de Castillon appellation. Drink from 2023-2036.

346 Views

Tasted

Mar 21, 2023

2019
Château Clarisse (Puisseguin-St. Émilion)

Soft, fresh, supple and fruity, the wine is medium-bodied, vibrant and easy to drink with all its sweet, cherry charms on the nose, palate and in the finish. Drink from 2022-2029.

463 Views

Tasted

Mar 29, 2022

Silky soft, medium-bodied and fresh, with layers of forward, ripe red fruits. There is a good purity and sweetness in the berries and a polished finish. 90-92 Pts

1,579 Views

Tasted

Jun 8, 2020

2019
Château Clarisse Cuvée Vieilles Vignes (Puisseguin-St. Émilion)

Flowers, licorice, smoke and juicy plums create the attractive perfume. On the palate, the wine shows its soft, vibrant, refined, sweet fruits with ease, finishing with supple cherries, plums and a touch of cocoa in the end note. Drink from 2023-2034.

546 Views

Tasted

Mar 29, 2022

2018
Château Clarisse Cuvée Vieilles Vignes (Puisseguin-St. Émilion)

Luscious, rich, sweet, round, earthy, juicy red fruits, smoke, licorice and chocolate nuances are found in every delicious sniff, swirl and sip. This will be just fine to enjoy on release and for at least another decade after that.

530 Views

Tasted

Mar 9, 2021

Earthy chocolate covered cherries with flowers, licorice and spice on the nose and palate. The wine is lush, sweet, round and fruity. You find a nice blast of black cherries in the finish. 90-92 Pts

1,200 Views

Tasted

Apr 19, 2019

2017
Château Clarisse Cuvée Vieilles Vignes (Puisseguin-St. Émilion)

Soft, luscious, chocolately red fruits, licorice and coffee bean notes are delivered in a soft, round, textured format. The wine, produced from 100% old vine Merlot, leaves you with a side dish of chocolate on top of the ripe, juicy plums.

1,203 Views

Tasted

Apr 26, 2018

2016
Château Clarisse Cuvée Vieilles Vignes (Puisseguin-St. Émilion)

Deeply colored, the wine is full, richly flavored, supply textured and loaded with fresh, ripe, sweet, juicy fruits.

1,713 Views

Tasted

Sep 21, 2019

Inky purple in color, this wine is dense, rich, flavorful and packed with fruit, silky tannins and shows good length in the finish. From a blend of 75% Merlot and 25% Cabernet Franc from old vines that are on average 65 years of age, this is the first year where the farming was 100% biodynamic.

1,222 Views

Tasted

Apr 29, 2017

2016
Château Clarisse (Puisseguin-St. Émilion)

With a crushed rock character, this wine is fresh with ripe, deep fruits, polished textures and nuance. Made from a blend of 80% Merlot and 20% Cabernet Franc, this is the first vintage that is 100% biodynamic.

1,793 Views

Tasted

Apr 29, 2017

2015
Château Clarisse Cuvée Vieilles Vignes (Puisseguin-St. Émilion)

From 100% old vine Merlot, with vines that average 65 years of age, comes a daydream of blackberry liqueur, minerality, molten chocolate and pure, black cherries. Fat, lush, juicy and rich, round and supple, this wine is a Jeffrey Davies Selection Exclusive.

1,533 Views

Tasted

Apr 29, 2016

2015
Château Clarisse (Puisseguin-St. Émilion)

Forward, soft, lush and ripe with a blast of sweet fruits and freshness. This wine was made from a blend of 85% Merlot and 15% Cabernet Sauvignon.

1,718 Views

Tasted

Apr 29, 2016

2014
Château Clarisse Cuvée Vieilles Vignes (Puisseguin-St. Émilion)

This blend of 85% Merlot and 15% Cabernet Franc made from vines that average 65 years of age produced a wine packed with rich, lush, ripe, sweet fruits, supple, soft, elegant textures and a long, sweet, fruit filled finish. This will drink well on release and can age a bit too. This wine is a Jeffrey Davies Selection Exclusive. 89-90 Pts

1,669 Views

Tasted

May 1, 2015

2014
Château Clarisse (Puisseguin-St. Émilion)

Forward, approachable, soft, generous and sweet, with ripeness to the fruit, dark color and an easy to like finish. The wine was made from a blend of 80% Merlot and 20% Merlot. 87-89 Pts

2,172 Views

Tasted

May 1, 2015

2013
Château Clarisse (Puisseguin-St. Émilion)

Good volume, sweet berries, plush textures and a fresh, dark berry finish make this one of the top value Bordeaux wines in this vintage. From a blend of 90% Merlot and 10% Cabernet Franc, the wine, produced from yields of 15 hectoliters per hectare and is aging in 50% new, French oak. 86-88 Pts

1,813 Views

Tasted

May 1, 2014

2012
Château Clarisse Cuvée Vieilles Vignes (Puisseguin-St. Émilion)

Smoky and floral with black raspberry, fresh herbs, round tannins and a sweet, chocolate-covered, black cherry finish. Produced from 100% old vine Merlot, this is a Jeffrey Davies Signature Selection exclusive for the American market. 88-90 Pts

1,660 Views

Tasted

Apr 26, 2013

2012
Château Clarisse (Puisseguin-St. Émilion)

Easy to like, forward and approachable, from a blend of 90% Merlot and 10% Cabernet Franc, the wine ends with round textures, fennel and fresh black raspberries.

1,909 Views

Tasted

Oct 25, 2014

Ripe, sweet, round, forward, filled with licorice, this wine is open and forward in style. This is a Jeffrey Davies Signature Selection exclusive for the American market. 87-89 Pts

1,891 Views

Tasted

Apr 26, 2013

2011
Château Clarisse Cuvée Vieilles Vignes (Puisseguin-St. Émilion)

Deep in color, the nose served up scents of licorice, thyme, fresh herbs, dried flowers, cocoa and black cherries. Soft textured and forward, this early drinking charmer, made from 100% Merlot ends with sweet and tart, fresh cherries in the finish.

1,368 Views

Tasted

Oct 23, 2014

2011
Château Clarisse (Puisseguin-St. Émilion)

Coffee bean, cocoa, plum and cherries with soft, round textures and a forward personality. This is a Jeffrey Davies Signature Selection exclusive for the American market. 86-88 Pts

2,987 Views

Tasted

Apr 20, 2012