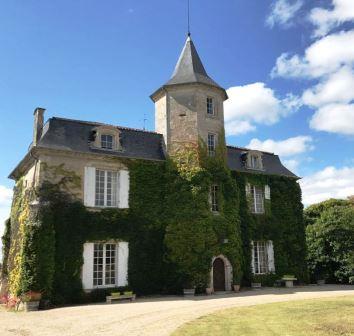 Learn everything about Chateau Plain Point Fronsac with wine tasting notes and wine with food pairing tips. Learn the best vintages, a history of the property, information on the vineyards, and winemaking. If you want to read about other important, Bordeaux Chateaux:Links to all Bordeaux Wine Producer Profiles
Chateau Plain Point History, Overview
The modern era for Chateau Plain Point begins in 2013 when the vineyard was purchased by Shi Yuzhu from the previous owner, Michel Aroldi, who managed the property since 1993. One of the first decisions made by the new owners was to bring in Hubert de Bouard as their consultant.
Next, they began purchasing parcels from all over the appellation, increasing the size of their vineyards dramatically. From there, they began a top to bottom complete renovation and restoration plan with a new winery designed by Chadebost Creations, part of the team that developed the cellars of Cheval Blanc. As you can see, money is no object here. The goal is to be the produce the best wine in the appellation.
Chateau Plain Point Vineyards, Terroir, Grapes, Winemaking
The 79 hectares, Right Bank vineyard of Chateau Plain Point is planted to 85% Merlot, 7% Cabernet Franc, 7% Cabernet Sauvignon and 1% Malbec. The terroir is clay and limestone soils. One of the key aspects of the vineyard is their elevation, which rises up to 85 meters at its peak. The vine density ranges with older plantings coming in at 5,500 vines per hectare. But all newer plantings take place at 7,000 vines per hectare.
Chateau Plain-Plain Point produces 3 wines with the same name, making it a bit confusing. They produce 3 red wines:
Chateau Plain Point Fronsac
Chateau Plain Point Canon Fronsac
Chateau Plain Point Bordeaux AOC
The red wines are roughly 80% Merlot, 10% Cabernet Franc, 5% Cabernet Sauvignon and 5% Malbec, although that can vary, depending on the vintage. a combination of new, French oak barrels, of which 35% are new oak and stainless steel tanks for about 12 months before bottling.
Plain Point Blanc, which is a blend of 80% Sauvignon Blanc and 20% Sauvignon Gris. The white Bordeaux wine grapes are planted in cooler chalk, clay, and rock-strewn terroir.
The best vintages of Chateau Plain Point are: 2022, 2021, 2020, 2019, 2018, 2016 and 2015.
When to Drink Chateau Plain Point Anticipated Maturity, Decanting Time
Chateau Plain Point is much better with at least 2-4 years of aging in good vintages. Young vintages can be decanted for 1 hour to 90 minutes. This allows the wine to soften and open its perfume.
Older vintages might need very little decanting, just enough to remove the sediment. Chateau Plain Point offers its best drinking and should reach peak maturity between 3-12 years of age after the vintage.
Serving Chateau Plain Point with Wine, Food, Pairing Tips
Chateau Plain Point is best served at 15.5 degrees Celsius, 60 degrees Fahrenheit. The cool, almost cellar temperature gives the wine more freshness and lift.
Chateau Plain Point is best paired with all types of classic meat dishes, veal, pork, beef, lamb, duck, game, roast chicken, roasted, braised, and grilled dishes. Chateau Plain Point is also good when matched with Asian dishes, hearty fish courses like tuna, mushrooms, and pasta.
Château Plain-Point Wine Tasting Notes
9 Vintages 18,821 Views Sort by Vintage-Rating
2021
Château Plain-Point (Canon-Fronsac)

Cherries, licorice, forest leaf and a touch of espresso on the nose and palate. This is a medium-bodied, soft, forward, already enjoyable wine that will be best in its youth. Drink from 2023-2032. 88-90

1,583 Views

Tasted

May 20, 2022

2021
Château Plain-Point Plain Point Blanc (Bordeaux)

White peach, grapefruit and sweet lemon nuances show up in the nose and on the crisp, bright, juicy, citrus dominated palate. Drink from 2023-2027. 88

1,450 Views

Tasted

May 20, 2022

2020
Château Plain-Point (Fronsac)

With notes of chocolate, licorice, flowers, plums and salt in the perfume, the wine is lush, silky, fresh and polished on the palate with ample, sweet and mildly, salty cherries in the finish. Drink from 2023-2037.

868 Views

Tasted

Mar 21, 2023

Flowers, plums, licorice and cocoa on the nose are also all over the opulently-textured, lush, dark red berry, fruit filled rich palate. This is going to be delicious on release and should age for 12-15 years as well. 90-92 Pts

1,664 Views

Tasted

May 20, 2021

2020
Château Plain-Point Plain Point Blanc (Bordeaux)

Grapefruit, lemon peel, orange rind and flower stems for the perfume here. Sweet, fresh and creamy with a nice layer of lemon chiffon with green apples on the palate and in the finish. Drink from 2023-2029.

855 Views

Tasted

Mar 21, 2023

Light, bright, fresh, juicy, creamy yellow citrus with a sweet lemon, spicy and green apple finish. 88 Pts

1,263 Views

Tasted

May 20, 2021

2019
Château Plain-Point (Fronsac)

Lush, plush, opulently-textured and plummy, with layers of licorice, cocoa, espresso and black cherry taste and feel great. The opulent, rich finish tops everything off. 90-92 Pts

2,069 Views

Tasted

Jun 8, 2020

2019
Château Plain-Point (Canon-Fronsac)

The licorice, black cherry and espresso nose, with all that rich chocolate grabs you before you make your way over the round, lush, juicy, plum and cocoa finish. 89-91 Pts

2,853 Views

Tasted

Jun 8, 2020

2019
Château Plain-Point Plain Point Blanc (Vin de France)

Lemon way and orange rind on the nose with a juicy, blast of ripe, sweet, zesty yellow citrus in the finish. This is quite nice and already fun to pair with grilled seafood in the backyard. The wine is an interesting blend of 80% Sauvignon Blanc and 20% Gros Manseng. 89 Pts

1,885 Views

Tasted

Jul 13, 2020

2016
Château Plain-Point (Fronsac)

Silky, lush, round and already delicious, there is a ripeness, purity in the fruit and sexy quality on the palate I like a lot here.

2,128 Views

Tasted

Apr 29, 2017

2016
Château Plain-Point (Canon-Fronsac)

Medium/full bodied, with lush, dark fruits, chocolate and licorice. The wine is opulently textured with a richly textured finish.

2,203 Views

Tasted

Apr 29, 2017