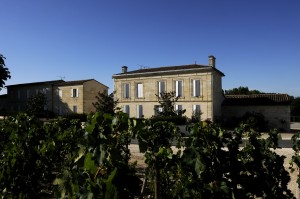 Learn everything about Chateau Lagrange Pomerol with wine tasting notes, wine, and food pairing tips. Learn the best vintages, a history of the property, information on the vineyards and winemaking and terroir, along with wine tasting reviews. If you want to read about other important, Bordeaux Chateaux: Links to all Bordeaux Wine Producer Profiles
Chateau Lagrange Pomerol History, Overview
Chateau Lagrange Pomerol dates back to at least the later part of the 19th century. At the time it was owned by the de Jaurias family. The wines were sold under the name of La Grange Tropchaud in the early 1920s.
Chateau Lagrange Pomerol was bought by Jean-Pierre Moueix in 1953 by the Pecresse family. The property is situated on the far north end of the Pomerol appellation. Chateau Lagrange Pomerol is a slightly rustic, old school, medium-bodied, early-drinking style of Bordeaux wine from Pomerol.
Chateau Lagrange Pomerol Vineyards, Terroir, Grapes, Winemaking
The 9.2 hectare Pomerol vineyard of Chateau Lagrange Pomerol is planted to 95% Merlot and 5% Cabernet Franc. The vineyard was almost doubled in size in 2012. This proved to be a good move as the wines have continued improving.
The terroir is gravel with some clay in the soils. In fact, you find some of the famous blue clay in their terroir. The vineyard's best parcels are located not far from Chateau Le Gay and Chateau Vray Croix de Gay.
Things changed again for the estate when the remaining vineyard of Certan Marzelle was added to Lagrange Pomerol, after Certan Marzelle was no longer being made.
For the vinification of Chateau Lagrange Pomerol, since there is no chateau or winemaking facilities at the property, the wines are produced at Chateau Trotanoy.
Two laser sorting tables have been in use since 2009. The winery uses temperature-controlled, traditional concrete vats for the fermentation and since 2004 some stainless tanks have been added as well. Malolactic fermentation takes place in tanks. The press wine obtained from the vertical basket press is added or not during the elevage.
Chateau Lagrange Pomerol is aged in between 20% to 25% new, French oak barrels for an average of 18 to 24 months. Production is close to 2,000 cases per year of Chateau Lagrange Pomerol.
The best vintages of Chateau Lagrange Pomerol are: 2022, 2021, 2020, 2019, 2018, 2017, 2016, 2015, 2012, 2010, 2009, 2005 and 2000.
Chateau Lagrange Pomerol is an early drinking, user-friendly, style of Bordeaux.
When to Drink Chateau Lagrange Pomerol, Anticipated Maturity, Decanting Time
Chateau Lagrange Pomerol can be decanted for an average of 1 hour. This allows the wine to soften and open its perfume. Older vintages might need very little decanting, just enough to remove the sediment. Chateau Lagrange is usually better with at least 2-4 years of bottle age.
Of course, that can vary slightly, depending on the vintage character. Chateau Lagrange offers its best drinking and should reach peak maturity between 3-12 years of age after the vintage.
Serving Chateau Lagrange Pomerol with Wine, Food, Pairing Tips
Chateau Lagrange Pomerol is best served at 15.5 degrees Celsius, 60 degrees Fahrenheit. The cool, almost cellar temperature gives the wine more freshness and lift.
Chateau Lagrange Pomerol is best served with all types of classic meat dishes, veal, pork, beef, lamb, duck, game, roast chicken, roasted, braised, and grilled dishes. Chateau Lagrange Pomerol is also good with Asian dishes, hearty fish courses like tuna, mushrooms, and pasta.
Château Lagrange (Pomerol) Wine Tasting Notes
9 Vintages 28,355 Views Sort by Vintage-Rating
2022
Château Lagrange (Pomerol) (Pomerol)

Soft, silky, medium-bodied, plums, spice, and cocoa with a smoky edge to the red pit fruits on the palate with its already easy-to-taste character. The wine is produced from 100% Merlot. Drink from 2025-2035. 89-91 Pts.

1,493 Views

Tasted

May 8, 2023

2021
Château Lagrange (Pomerol) (Pomerol)

Medium-bodied, fresh, and crisp, the red fruits are high-pitched with a soft, round, already easy-to-taste palate, with a touch of dusty cocoa blended with bright plums on the backend. The wine is produced from 100% Merlot. Drink from 2023-2032. 89-91

1,622 Views

Tasted

May 20, 2022

2019
Château Lagrange (Pomerol) (Pomerol)

Earthy, leafy, ripe, plums with soft tannins and a juicy, forward, plummy, cherry-filled finish are what you will find here in this medium-bodied, early-drinking, correct Pomerol. 88-90 Pts

2,926 Views

Tasted

Jun 16, 2020

2018
Château Lagrange (Pomerol) (Pomerol)

A forward, medium-bodied, early-drinking Pomerol with a core of flowers, cocoa, plum and cherry. Soft, bright and spicy, this will be best in its first decade of life. 87-89 Pts

2,344 Views

Tasted

Apr 19, 2019

2017
Château Lagrange (Pomerol) (Pomerol)

Truffle, thyme, herbs and red fruits stand out on the nose. Medium bodied and soft with gentle tannins, this ready-to-drink wine has a sweet, fruity finish with a touch of herbs and olives on the back end.

2,186 Views

Tasted

Apr 26, 2018

2016
Château Lagrange (Pomerol) (Pomerol)

A forward, correct Pomerol with musky plums and cherries fashioning its character, this wine is medium bodied and already open. In the mouth, a dab of cocoa and cherry greet you amid the soft red fruits and spice. This is a wine to enjoy on the young side.

4,156 Views

Tasted

Apr 29, 2017

2015
Château Lagrange (Pomerol) (Pomerol)

This value-priced Pomerol is not a wine I see often. With a light, ruby hue, this wine combines earthiness with light, soft, red cherries and a hint of crisp raspberry in the finish. 86 - 88 Pts

4,036 Views

Tasted

Apr 27, 2016

2010
Château Lagrange (Pomerol) (Pomerol)

Simple, easy drinking, light style of Pomerol, with a red plum and earthy personality.

3,948 Views

Tasted

Mar 8, 2015

2009
Château Lagrange (Pomerol) (Pomerol)

Medium bodied, dominated by bright red fruits, earth and spice, this is best drunk on the young side.

5,644 Views

Tasted

Jan 25, 2014