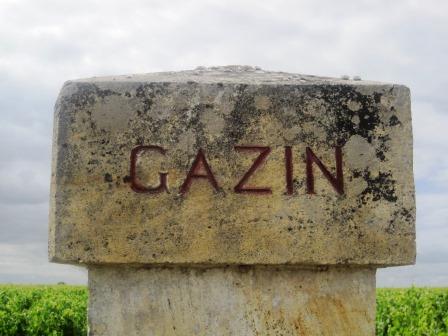 Learn everything about Chateau Gazin Pomerol with wine tasting notes and wine with food pairing tips. Learn the best vintages, a history of the property, and information on the vineyards and winemaking. If you want to read about other important, Bordeaux Chateaux: Links to all Bordeaux Wine Producer Profiles
Chateau Gazin History, Overview
The famous logo for Chateau Gazin was inspired by an ancient connection to Knights of the Templars that took place in the formative years of the Pomerol appellation. Not only is the logo for Chateau Gazin old, so is the property. The estate was not always a vineyard. In fact, prior to its being a vineyard, the property was used for a variety of different activities, including a hospital.
Chateau Gazin dates its creation back to 1772 when the vineyards were purchased by Antoine Feuilhade. Over the years, Chateau Gazin was sold and resold to numerous owners before it was bought by descendants of the current owners in 1917. The Bailliencourt family assumed control of the estate in 1946. Also included in that sale was Chateau La Dominique located in the neighboring St. Emilion appellation.
The Bailliencourt family sold Chateau La Dominique in 1969 to the Fayat family. That same year, Chateau Gazin also sold 5.5 hectares of vines to Petrus. While the sale helped the cash-starved property cover their tax liens, the loss of those vines reduced the quantity and perhaps the quality of Chateau Gazin.
Further exacerbating the loss of quality was that the estate switched to machine harvesting in 1979, which was coupled with an increase in yields. Both practices have been discontinued thanks to the direction of Nicolas Bailliencourt.
Nicolas de Bailliencourt started working at the property in 1984 and began managing Chateau Gazin in 1990. Under the direction of Nicolas de Bailliencourt, the wines have been steadily improving. His first step was to discontinue machine harvesting and start manual picking again. He also lowered the yields.
Chateau Gazin Vineyards, Terroir, Grapes, Winemaking
The 26.5-hectare vineyard of Chateau Gazin is planted to 90% Merlot, 6% Cabernet Sauvignon and 4% Cabernet Franc. However, it is the goal of the estate to increase the amount of the Cabernet Franc in their vineyards over time, while reducing the amount of Merlot planted. The terroir of Gazin is gravel with clay, iron, and sand in the soil. There are also patches of blue clay found in their soils as well.
Located in the northeast section of the Pomerol plateau as 23.5 hectares are cultivated with vines. They have great neighbors. Petrus is to the west and LEvangile is south. The vineyard of Chateau Gazin is quite large for Pomerol.
The Right Bank vineyard of Chateau Gazin is also fairly unique in the region as their vines are planted in one, large, single parcel, all on the plateau. This is unusual for Pomerol, where many of the vineyards consist of noncontiguous parcels.
Their vineyard can be divided into 28 separate parcels. Those parcels have various gentle slopes which at their peak rise to 40.5 meters, giving them the highest elevations in Pomerol. Inside their single block of vines, their best terroir is perfectly placed close to the dead center of their vineyard. Here is where you that special blue clay, which is part of their soil.
The vineyard has vines averaging 30 years of age and is planted to a vine density ranging from 5,500 to 6,000 vines per hectare. However, they have old vines. Their oldest vines were planted back in 1942.
In 1996 a complete renovation of the wine-making facilities at Chateau Gazin was completed. To produce the wine of Chateau Gazin, the grapes are fermented and vinified in 27, small, cement vats that range in size from 60 hectoliters, up to 150 hectoliters. They also have a few stainless steel tanks which are used exclusively for the Cabernet Franc.
Malolactic fermentation takes place in French oak barrels. The wine is aged for 18 months in 40% to 50% new, French oak barrels, depending on the vintage and its characteristics. Interestingly, Chateau Gazin does not purchase their barrels outright. Instead, they lease them on a yearly basis.
The best vintages of Chateau Gazin are: 2022, 2021, 2020, 2019, 2018, 2017, 2016, 2015, 2012, 2010, 2009, 2008, 2005, 2001, 2000, 1990, 1964 and 1961. My guess is that older vintages from the 1950s and '40s are quite good, as they were made from those vines that are now part of Petrus. Good luck finding any!
Chateau Gazin, which is a large estate for Pomerol, on average, produces up to 8,000 cases of wine per vintage. They have a second Pomerol wine, l'Hospitalet de Gazin, which made its debut with the 1986 vintage.
Chateau Gazin is currently managed by Nicolas Bailliencourt. Thomas Duclos has been their consultant since 2013.
When to Drink Chateau Gazin, Anticipated Maturity, Decanting Time
Chateau Gazin is much better with at least 8-12 years of aging in good vintages. Young vintages can be decanted for 2-3 hours or more. This allows the wine to soften and open its perfume. Older vintages might need very little decanting, just enough to remove the sediment. Chateau Gazin offers its best drinking and should reach peak maturity between 10-30 years of age after the vintage.
Serving Chateau Gazin with Wine, Food, Pairing Tips
Chateau Gazin is best served at 15.5 degrees Celsius, 60 degrees Fahrenheit. The cool, almost cellar temperature gives the wine more freshness and lift.
Chateau Gazin is best served with all types of classic meat dishes, veal, pork, beef, lamb, duck, game, roast chicken, roasted, braised, and grilled dishes. Chateau Gazin is also good with Asian dishes, hearty fish courses like tuna, mushrooms, pasta and cheeses.
Château Gazin Wine Tasting Notes
29 Vintages 246,007 Views Sort by Vintage-Rating
2022
Château Gazin (Pomerol)

Finesse in style, at its core, the wine is all about its spice, milk-chocolate, plum, cherry, espresso and wet earth character. Long, silky, fresh, refined, and plummy, the mid-palate, and finish remain focused on its layers of silky fruits from start to finish. The wine blends 93% Merlot, 3.5% Cabernet Franc and 3.5% Cabernet Sauvignon. Drink from 2025-2045. 94-96 Pts.

1,966 Views

Tasted

May 8, 2023

2021
Château Gazin (Pomerol)

Produced from 100% Merlot, the wine opens with notes of flowers, mocha, black cherry, and wet earth. Round, fleshy and fresh, there is lift and brightness to all the sweet, dark cherries and plums in the earthy, sweet, lifted finish. Yields were quite low this year at only 18 hectoliters per hectare, which is less than half the normal production. Drink from 2025-2042. 91-93

1,333 Views

Tasted

May 20, 2022

2020
Château Gazin (Pomerol)

Violets and roses are in full bloom here before getting to all of its beautiful, ripe, lush, silky, vibrant cherries, red plums, cocoa and truffle. Medium-bodied, elegant, silky and vibrant, there is good energy, length and refinement in the mid-palate that carries all the way through to the finish. Drink from 2025-2047.

1,360 Views

Tasted

Mar 21, 2023

Medium/full-bodied, elegant, fresh and luscious, the earthy, spicy plums, cherries and cocoa notes are all over the place in the nose and on the plush, albeit reserved palate presence. Give this 4-6 years and it should be an even better wine. 92-94 Pts

2,277 Views

Tasted

May 20, 2021

2019
Château Gazin (Pomerol)

The showy nose kicks off with a beautiful display of flowers, red cherries, red plums, cocoa and wet earth. On the palate, the wine is medium-bodied, elegant and fresh with loads of ripe, sweet, plums, energy and a liberal dose of chocolate in the finish. Drink from 2024-2045.

3,047 Views

Tasted

Mar 29, 2022

2018
Château Gazin (Pomerol)

Plums, truffle, chocolate covered cherries and licorice hit all the right notes. Rich, silky, plush and concentrated with layers of suave cherries and plums. This is so good now, it is hard to resist. But wait another 7-8 years and it will be a markedly better wine. This could be one of the best vintages ever produced at Chateau Gazin. The wine is made from blending 93% Merlot with 7% Cabernet Franc.

1,638 Views

Tasted

Mar 9, 2021

Already offering its earthy truffle side, the fruits are soft, floral, polished, sweet, and plummy. Elegant and rich, this is a fine example of Gazin delivering a serious dose of cocoa dusted kirsch in a graceful finish. The wine is made from blending 93% Merlot with 7% Cabernet Franc. 94-96 Pts

4,716 Views

Tasted

Apr 19, 2019

2017
Château Gazin (Pomerol)

Expressive without out much effort, you can easily find the flowers, cherries and wet earth notes. Soft, glossy and fresh, there is sweetness to the fruit, silk on the tannins and a generous blast of cocoa dusted red fruits in the finish.

3,652 Views

Tasted

Apr 26, 2018

2016
Château Gazin (Pomerol)

Just a beauty with its layers of concentrated, ripe, sweet, silky, fruits, freshness, earth, truffle and mocha. The wine has a depth of flavor, richness and the structure to age.

3,761 Views

Tasted

May 19, 2018

Flowers, plum liqueur and cherry blossoms reach your nose with little effort. There are sweet, ripe, sensuous fruits with hints of black licorice, silky yet dusty and powerful tannins and a long, sleek finish. The wine is made from a blend of 87% Merlot, 8% Cabernet Sauvignon and 5% Cabernet Franc. The wine 14.25% ABV with a pH of 3.69 and is aging in 45% new, French oak barrels. The Merlot was harvested September 22 to October 10 and the Cabernets were picked October 17. This was the longest harvest period and the latest vintage in the history of Gazin.

3,565 Views

Tasted

Apr 29, 2017

2016
Château Gazin (Pomerol)

Luscious, silky and fresh, the wine has the structure to age, which is a good thing, because all the layers of ripe, juicy, pure, opulent, fresh, red and black fruits, licorice, earth and cocoa are only going to get better and better with cellaring. Give this a decade in the bottle and the wine will deliver the goods.

5,301 Views

Tasted

Sep 21, 2019

Gazin is on fire these days, and the 2016 is only adding to the flame. The beautiful sense of purity in the silky, luscious, sensuous red fruits stands out fro start to finish here. Full bodied and concentrated, the tannins are soft, ripe and refined, which is perfect to match with the lift and length.. A decade will really make this pop.

3,561 Views

Tasted

Feb 9, 2019

2015
Château Gazin (Pomerol)

Continuing to develop nicely, the wine offers silky textures, floral, cocoa and plums from start to finish.

5,770 Views

Tasted

Jul 12, 2017

Fresh, ripe, black and red plums, small hints of oak, and a concentrated, boatload of sweet, juicy, fresh cherries that really linger.

4,939 Views

Tasted

Mar 16, 2017

Concentrated and near bottomless in length and depth, this wine is ripe with dense color and a stratum of sweet, juicy plums, truffle, floral and cocoa notes. This should develop quite well, adding additional nuances and softer texture as it ages. The wine was made from a blend of 95.2% Merlot and 4.8% Cabernet Franc. 94 - 96 Pts

5,330 Views

Tasted

Apr 27, 2016

2014
Château Gazin (Pomerol)

Luscious, round, supple textured, ripe, sweet, dark red fruits, with ripe flavors and a polished, silky finish are found here. This is really quite nice from start to finish.

3,128 Views

Tasted

Feb 4, 2017

Expressive, fresh and forward with a core of black raspberries, flowers and cocoa, this round textured wine showcases dusty tannins in its earthy, fruity finish. 91-93 Pts

3,221 Views

Tasted

Apr 24, 2015

2013
Château Gazin (Pomerol)

Fully mature, or at least quite close to it, the plummy fruit combines sweetness with earth and herbs, the tannins are soft and the wine leaves you with just a hint of rusticity in the finish. This is not a wine to keep for cellaring. If you have a bottle, drink up.

4,192 Views

Tasted

Dec 10, 2017

Already displaying earthy truffle, cedar and plum notes. Medium/full bodied with some dryness in the finish. This should be best in its youth,

2,275 Views

Tasted

Mar 16, 2017

Medium bodied, with loads of fresh, plum, cocoa, black cherry and a dollop of truffle, this soft, forward, round edged wine was produced from 100% Merlot.

1,456 Views

Tasted

Feb 9, 2016

From 100% Merlot, the wine features notes of licorice, herbs, coffee and black cherry with some rusticity to the tannins and a fresh, dark and earthy finish bursting with red berries and black cherry in the closing notes. The yields were 25 hectoliters per hectare. The wine was aged in 50% new oak.

1,533 Views

Tasted

May 13, 2015

2012
Château Gazin (Pomerol)

Earthy, truffle notes really stand out, even at this early stage adding complexity to the black cherry and stone notes that are out in front. On the palate, the wine combines energy with soft, supple tannins and sweet, spicy, plums and black raspberries. Another 3-6 years will bring this together nicely..

6,294 Views

Tasted

Mar 16, 2017

Produced from 100% Merlot, as no Cabernet Franc was included in the blend, there is a lot to like about the fresh, sweet, lush, black cherries, plum, truffle and dark chocolate sensations, coupled with the round, smooth finish. This should develop well.

5,396 Views

Tasted

Mar 11, 2015

Deep ruby in color, black cherry liqueur and cocoa notes open to a rich, supple, round and fresh black cherry-filled wine with hints of chocolate in the finish. 90-93 Pts

5,276 Views

Tasted

Apr 26, 2013

2011
Château Gazin (Pomerol)

Holding back some of its personality, this is still a reserved style for Gazin. With effort, you can find freshness, refined tannins and dark, red fruits, with a hint of olive in the finish. Another year or two in the cellar should be just about right.

5,733 Views

Tasted

Mar 16, 2017

Medium bodied, and offering dark cherry, plum, coffee and black raspberry notes, this soft, refined and successful for the vintage wine finishes with dark plum, cocoa and earthy notes. The wine was made from a blend of 90% Merlot, 90% Cabernet Sauvignon and 5% Cabernet Franc.

3,721 Views

Tasted

Feb 16, 2014

2010
Château Gazin (Pomerol)

With a good depth of color, the wine needs an hour or so of decanting before it releases all its sensuous, juicy, plums, truffle, earth and spice box characteristics. Full bodied, rich and concentrated, there is energy and complexity here. Even though this can be enjoyed now, another 4-5 years will add so much more to its complexity and character.

6,462 Views

Tasted

Mar 16, 2017

Licorice, smoke, earth, plums and cherries are easy to find. Structured to age, deep and refined, from a blend of 86% Merlot, 10% Cabernet Sauvignon and 4% Cabernet Franc, this is one of my favorite vintages from this producer yet.

10,657 Views

Tasted

Feb 7, 2013

Black raspberry, floral and bitter chocolate aromas pair well with the soft, rich, long plum, licorice and chocolate finish. 91-93 Pts

5,843 Views

Tasted

Apr 21, 2011

2009
Château Gazin (Pomerol)

Still young, but clearly on the path. With some effort, this concentrated, full-bodied wine offers up its truffle, plum, thyme, floral and wet earth essence. Concentrated, rich, lush and loaded with all the right stuff, another 5 years or so should add more softness and nuance.

4,627 Views

Tasted

Sep 26, 2019

Truffle, licorice and dark red fruits lead you to this sensual, sexy little beast of a wine. Opulent in character, silky and fresh, the wine feels great on your palate. As good as it is now, it will only get better from here.

6,342 Views

Tasted

Mar 16, 2017

Fresh black raspberries, plums and chocolate covered, dark cherries make up the perfume. This powerful, tannic, firm style of Pomerol is built to age.

7,403 Views

Tasted

Jan 31, 2012

2008
Château Gazin (Pomerol)

Full bodied, structured, powerful, tannic, concentrated, deep, .classic Pomerol that is just starting to come out of its shell. There is a wealth of fruit that is needed, because you also find loads of tannins. Give this at least a few more years in the cellar allowing you to really enjoy the layers of plum and truffle found here.

4,374 Views

Tasted

Sep 17, 2018

.Earth, fresh herbs, truffle and cherry scents create the nose. On the palate, the wine has concentration, along with a firm structure and tannic backbone, finishing with a more straight ahead, classic approach.

4,033 Views

Tasted

Mar 16, 2017

Plum, back cherry, coffee bean and cassis aromas open to a full bodied, beefy, masculine Bordeaux wine from Pomerol. The wine ends with a concentrated, tannic, red and black fruit filled finish.

8,528 Views

Tasted

Jan 24, 2011

08 Château Gazin, deeply colored, has ample black fruit aromas. Full bodied, the wine showed a lot of size and structure, but it lacked the level of elegance found in the better Pomerols. 91-93 Pts

8,320 Views

Tasted

Jul 30, 2009

2007
Château Gazin (Pomerol)

Cedar, incense, and red fruits start off the experience. Soft, and already drinking at close to the peak, the early drinking charm here exchanges depth and concentration for ease and pleasure. This is the right time to be popping corks on this wine, it is not made from further aging.

4,008 Views

Tasted

Mar 16, 2017

2006
Château Gazin (Pomerol)

With an open nose of cocoa covered black cherries, plum, earth and hint of coffee bean, the soft textured wine is already serving up a nice mouthful of sweet, ripe, juicy plums in the finish.

3,792 Views

Tasted

Aug 16, 2014

2005
Château Gazin (Pomerol)

This is a Pomerol for traditionalists. I can see some people liking this beefy styled wine. But it lacks elegance and charm, my two favorite characteristics from wines in Pomerol

7,223 Views

Tasted

Jan 20, 2008

2004
Château Gazin (Pomerol)

Medium bodied, with a rustic, bright cherry and earthy personality, there is a sensation of dryness in the finish.

3,358 Views

Tasted

Nov 30, 2014

2001
Château Gazin (Pomerol)

Lush, plush, ripe, sweet, fleshy black plums, truffle, cocoa, licorice, flowers, and wet earth kick this into high gear. The wine is rich, silky, and soft, with a gorgeous array of dark pit fruits dusted with chocolate in the finish. At 20, this is really showing well.

3,320 Views

Tasted

Sep 7, 2021

Spice filled dark berries on the nose. Medium/full bodied, soft tannins, round, but lightly textured. The correctly made, but unexciting wine wine ends with a short, black berry and dark cherry filled finish.

7,423 Views

Tasted

Jun 5, 2010

2000
Château Gazin (Pomerol)

Firm, structured, semi masculine, old school style of Pomerol that is slightly more interesting on the nose, with its earthy, plum, cocoa, tobacco and black cherry perfume, than on the palate. Perhaps more time will help soften the wine, but at close to 16 years of age, this is probably what it is.

4,473 Views

Tasted

Aug 24, 2015

1999
Château Gazin (Pomerol)

Firm, bright, earthy, leafy and all about the bright red fruits, the medium-bodied wine is better on the nose than on the lean, almost Medocian palate.

3,180 Views

Tasted

Sep 9, 2020

1998
Château Gazin (Pomerol)

Starting to come around, there is a bit of rusticity to the tannins that takes away from the earthy plum and cherry charm that makes up the wine.

3,905 Views

Tasted

Apr 16, 2016

1995
Château Gazin (Pomerol)

Medium/full bodied, firm, tannic, and austere in style, with a stern plummy character. The nose was much more interesting than the palate, with its truffle, dark chocolate and cherry characteristics.

2,811 Views

Tasted

Oct 25, 2016

1990
Château Gazin (Pomerol)

The color is ruby with bricking. On the nose, smoke, spice, cassis, earth, pepper, olives and fresh herbs. The masculine cherry finish has a hint of bitter in the end note. This is an old school, traditional, beefy, structured style of Pomerol. It will probably age and develop additional levels of complexity for at least another 10-20 years. But it's not going to completely soften.

4,984 Views

Tasted

Jun 26, 2014

Chocolate, truffle, boysenberry, blackberry, caramel and roasted plum scents open to a melange of chocolate covered blackberries and elegant textures. The only minor drawback in the wine is at the end of the finish with some green/stemmy flavors. This is a nice fully mature Pomerol that will offer pleasure for at least another 12-20 years.

4,535 Views

Tasted

Jan 24, 2011

The wine is pleasant, but there was nothing in it offering any distinguishing characteristics. The wine is correct and without faults, but, it lacks the plump, sexy styling's found in so many Pomerols.

4,555 Views

Tasted

Jun 20, 2006

1989
Château Gazin (Pomerol)

Fully mature, or just on the other side of maturity, looking into the downward slope of life, there is a lot of meaty, earthy dark cherries and plums on the nose and palate. In fact, the nose was the better part of the wine. But the old school, rustic textures mar the otherwise, quite nice wine. Fans of sterner tannins, herbs and greenery are going to like this more than I did.

4,637 Views

Tasted

Oct 2, 2017

1964
Château Gazin (Pomerol)

Off aromas of lawn grass, herbs, wet earth and tobacco, gruff textures and an earthy, black cherry finish were found in this bottle. I've tasted better examples. This was probably an off bottle, but as with all mature wines, there are no great old wines, just great bottles.

5,347 Views

Tasted

Nov 27, 2013

Brickish in color, with an earth, truffle, plum, steel, mineral and blackberry scented perfume, this concentrated, old school wine was austere in nature. Produced before the property sold several acres to Petrus, the wine had old vine intensity and the ability to age, finishing with minerality, spicy plums and truffles.

5,176 Views

Tasted

May 16, 2011

1961
Château Gazin (Pomerol)

Smoke, tobacco, herbs, earth and red berry aromas made up the aromas. Medium/full bodied, beefy in texture, this full mature Pomerol ended with a spicy plum and cranberry finish. I have had better bottles of this wine. If you run across a well stored bottle with good provenance, it's work checking it out.

4,391 Views

Tasted

Dec 6, 2011

Truffle, soy, black cherry, pepper, leather, tar, black raspberry and tobacco notes make up the perfume. The soft textured wine is filled with dense, ripe, dark cherry flavors. In 61, Gazin switched to a unique wax capsule that is interesting and attractive.

4,360 Views

Tasted

Jul 10, 2009

The wine, slightly stern in style was more interesting on the nose than the palate. Gazin remains an austere style of Pomerol. This bottle of 61 has moved past its prime. It improved in the glass for a short period of time before slowing dropping its fruit. I've had much better bottles.

3,499 Views

Tasted

Jul 20, 2007