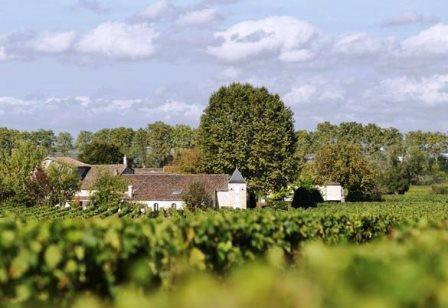 Learn everything about Chateau Bourgneuf Pomerol with wine tasting notes and wine with food pairing tips. Learn the best vintages, the history of the property, and information on the vineyards and winemaking. If you want to read about other important, Bordeaux Chateaux: Links to all Bordeaux Wine Producer Profiles
Chateau Bourgneuf History, Overview
Chateau Bourgneuf Vayron is one of the oldest family-owned properties in the Pomerol appellation. The Vayron family has owned and managed the estate starting in 1821. The vineyard has remained the same size since the Vayron family bought the property.
Interestingly, until 2012, the wines of Chateau Bourgneuf were sold and labeled differently, depending on the country. In some countries, the wine was sold as Chateau Bourgneuf. In other countries, the wine was marketed as Chateau Bourgneuf Vayron. That odd practice started in about 1970. That ended with the 2014 vintage when the chateau officially changed its name to Chateau Bourgneuf.
Chateau Bourgneuf Vineyards, Terroir, Grapes, Winemaking
The 8.86-hectare vineyard of Chateau Bourgneuf is planted to 90% Merlot and 10% Cabernet Franc. The vineyard is well situated on good terroir, right next to the vineyards of Chateau Trotanoy on the Pomerol plateau. Trotanoy is not their only famous neighbor! Chateau LEglise Clinet is located directly northeast of Chateau Bourgneuf as well. They also have vines next to La Cabanne. 
The terroir of Chateau Bourgneuf is made up of different soils. The vineyard has a section that is almost exclusively clay, which is their best terroir. They also have soils with sand, gravel, and clay with some iron deposits as well.
The goal of the Right Bank estate is to slowly add more Cabernet Franc vines, bringing the percentage of that grape variety up to 15% of the planted acreage. On average, the vines are an impressive 40 years of age. They also have old vines, with one parcel that is more than 70 years of age! The vineyard is planted to a vine density of 6,000 vines per hectare.
To produce the wine of Chateau Bourgneuf, vinification takes place in traditional, temperature-controlled, cement vats that range in size from 25 hectoliters up to 70 hectoliters. Malolactic fermentation takes place in vat. The wine is aged in an average of 35% new, French oak barrels for between 12 to 14 months, depending on the character and style of the vintage.
There is a second wine, Les Saisons de Bourgneuf. The annual production ranges from 3,500 to 4,000 cases of Chateau Bourgneuf per vintage.
The best vintages of Chateau Bourgneuf are: 2022, 2021, 2020, 2019, 2018, 2017, 2016, 2015, 2014, 2012, 2010, 2009, 2006, 2005, 2001 and 2000. 2018, 2019 and 2020 are the finet vintages of Chateau Bourgneuf I have ever tasted.
When to Drink Chateau Bourgneuf, Anticipated Maturity, Decanting Time
Chateau Bourgneuf can be enjoyed on the young side with an hour or so decanting. This allows the wine to soften and open its perfume. Older vintages might need very little decanting, just enough to remove the sediment.
The wine is usually better with 4-7 years of bottle age. Of course, that can vary slightly, depending on the vintage character. In the best years, the wine will be best between 5 and 15 years of age after the vintage.
Serving Chateau Bourgneuf with Wine, Food, Pairing Tips
Chateau Bourgneuf is best served at 15.5 degrees Celsius, 60 degrees Fahrenheit. The cool, almost cellar temperature gives the wine more freshness and lift.
Chateau Bourgneuf is best served with all types of classic meat dishes, veal, pork, beef, lamb, duck, game, roast chicken, roasted, braised, and grilled dishes. Chateau Bourgneuf is also good with Asian dishes, hearty fish courses like tuna, mushrooms, pasta, and a wide variety of hard and soft cheeses.
Chateau Bourgneuf produces a rustic, lighter, traditional style of Pomerol wine that could be better, based on its terroir.
Château Bourgneuf Wine Tasting Notes
16 Vintages 58,244 Views Sort by Vintage-Rating
2022
Château Bourgneuf (Pomerol)

Silky, long, fresh, vibrant, and packed with ripe, black cherries, dark plums, truffle, chocolate, and spice. The wine needs a bit of time to better integrate. If it does, my score could move up. The wine blends 85% Merlot with 15% Cabernet Franc. Drink from 2025-2040. 92-94 Pts.

1,098 Views

Tasted

May 8, 2023

2021
Château Bourgneuf (Pomerol)

Black raspberries, espresso, dark cocoa, flowers and cherries come through on the nose and palate. The wine finishes with soft, silky, sweet, creamy, fresh red fruits. Drink from 2023-2040. 90-92

1,127 Views

Tasted

May 20, 2022

2020
Château Bourgneuf (Pomerol)

With a dark hue the wine is silky, rich, lush and supple. Medium-bodied with an earthy, cocoa-infused, ripe, deep plum character, the long finish is already displaying its chocolate tinged, black cherries, plum, spice, espresso and licorice character. Give it some time to develop additional complexities in the cellar before pulling the cork. 91-93 Pts

1,402 Views

Tasted

May 20, 2021

2019
Château Bourgneuf (Pomerol)

Fresh, silky, lively, fresh and floral, the wine is elegant and refined in its delivery of earthy, truffle-laden, dark cherry, plum, licorice, espresso and chocolate character. Medium-bodied, the wine finishes with layers of silky-textured, red fruits and cocoa. This is my favorite vintage of Bourgneuf yet. Drink from 2024-2042.

1,136 Views

Tasted

Mar 29, 2022

Medium-bodied, silky, elegant, discreet expression of its ripe plums, cherries, flowers and espresso filled nose and palate. Fresh, earthy and spicy in its lifted red berry finish, give it some time to develop additional complexities in the cellar before pulling the cork. 91-93 Pts

3,587 Views

Tasted

Jun 29, 2020

2018
Château Bourgneuf (Pomerol)

Much better from bottle than it showed in barrel, (Which is always a good thing) the wine is deeply colored with truffle, chocolate, black plums and dark cherries, The wine is round, juicy and silky with plush deep red fruits in the finish. This could be the finest vintage ever produced here.

1,149 Views

Tasted

Mar 9, 2021

Earthy red fruits and fennel come through quickly in this medium-bodied, bright, red berry-filled, soft, forward wine. I like the hit of cocoa in the finish. 90-92 Pts

2,270 Views

Tasted

Apr 19, 2019

2017
Château Bourgneuf (Pomerol)

Medium bodied, bright, forward and eager to show its spicy, earthy, red berry-filled slice of Pomerol, this wine should drink well close to its release.

1,935 Views

Tasted

Apr 26, 2018

2016
Château Bourgneuf (Pomerol)

Medium bodied, sweet and tart, dark plums with bitter chocolate in the nose and on the palate, the wine finishes with plummy fruits and smooth textures. It was produced with 75% Merlot and 25% Cabernet Franc.

4,881 Views

Tasted

Apr 29, 2017

2015
Château Bourgneuf (Pomerol)

Earthy, spicy cherries, medium-bodied with a soft, polished, red berry center. Not very deep, but the wine still manages to show much more elegance than usual. 88 - 90 Pts

2,710 Views

Tasted

Apr 27, 2016

2014
Château Bourgneuf (Pomerol)

Earth and espresso with red and black plum notes in the nose, a medium-bodied wine with a soft, forward, red berry finish. 88-90 Pts

3,309 Views

Tasted

Apr 24, 2015

2013
Château Bourgneuf (Pomerol)

Light ruby in color with a bright, light strawberry character, this medium bodied, classic Pomerol will drink well on release. 85-87 Pts

2,962 Views

Tasted

Apr 25, 2014

2012
Château Bourgneuf (Pomerol)

Easy drinking, soft, medium bodied, plummy Pomerol that is focused on the red berry side of the style range.

2,850 Views

Tasted

May 15, 2015

Light in color with coffee, red berries and earth, the wine is light and dominated by the red fruit side of the style range. 85-87 Pts

3,130 Views

Tasted

Apr 26, 2013

2011
Château Bourgneuf (Pomerol)

Earth, red cherry, spice and strawberry with a soft, forward red berry finish. From a blend of 90% Merlot and 10% Cabernet Franc. 87-88 Pts

4,252 Views

Tasted

Apr 22, 2012

2010
Château Bourgneuf (Pomerol)

Light in color, with beefy tannins, the wine is medium bodied, dominated by raspberry and fresh cherry notes with hints of earth and spice.

5,202 Views

Tasted

Aug 8, 2013

Floral, earth and plum aromas couple with a medium bodied wine that ends in a soft textured, black cherry finish that will drink well early. 88-90 Pts

3,785 Views

Tasted

Apr 21, 2011

2009
Château Bourgneuf (Pomerol)

Medium bodied, with red fruits, leaf and earth aromas in the perfume, the wine is tart in the rustic, bright, plum finish.

5,244 Views

Tasted

Aug 12, 2013

2008
Château Bourgneuf (Pomerol)

08 Château Bourgneuf shows a lot of black fruit with hints of cocoa on the nose. A light, soft wine that ends with a silky plum accent. 84-87 Pts

2,405 Views

Tasted

Jul 30, 2009

2005
Château Bourgneuf (Pomerol)

Austere, old school style of Pomerol is rough in texture and lacking in ripenes, fruit and charm. There is some red fruit, and hints of spice and earth, but the style of the wine did not thrill me.

3,810 Views

Tasted

Aug 1, 2011