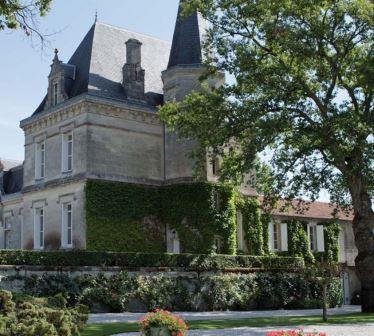 Learn everything about Chateau Bellegrave, Pauillac, with wine tasting notes, wine and food pairing tips. Learn all the best vintages, a history of the property, information on the vineyards and winemaking. If you want to read about other important, Bordeaux Chateaux: Links to all Bordeaux Wine Producer Profiles
Chateau Bellegrave History, Overview
The modern era begins when the vineyard was purchased by the Meffre family from the previous owners, the Van der Voot family in 1997. Prior to that sale, the Van der Voot family owned the vineyard since they purchased it back in 1901 when they bought the property from Armand Roux.
Over the years, Chateau Bellegrave has had its ups and downs. And at one point in time, due to sales, lack of financing, and other various issues, the property consisted of only 1.5 hectares of vines.
By the time the Meffre family bought the estate, they were experienced as vineyard owners as they already possessed Chateau du Glana in the neighboring St. Julien appellation. Today, Chateau Bellegrave is managed by Julien Meffre and his brother, Ludovic Meffre. Aside from their vineyards, the property includes attractive, verdant parkland and gardens.
Chateau Bellegrave Vineyards, Terroir, Grapes, Winemaking
The 8.3-hectare vineyard of Chateau Bellegrave is planted to 62% Cabernet Sauvignon, 31% Merlot and 7% Cabernet Franc. The vines are maintained at a density of 8,300 plants per hectare. On average, the vines are 25 years of age.
The Left Bank vineyard is situated in 3 different blocks in various, non-contiguous, different gravel terroirs. Their best parcels are located inland, close to Chateau Grand Puy Lacoste. Although the actual chateau is placed situated on the D2, Route de Medoc, not too far from Chateau Lynch Bages.
To produce the wine of Chateau Bellegrave, vinification takes place in stainless steel tanks. The wine is aged in an average of 40% new, French oak barrels for about 12 months, before bottling. There is a second wine. Les Sieurs de Bellegrave. In most years, the production is slightly more than 4,000 cases of wine per vintage.
The best vintages of Chateau Bellegrave are: 2022, 2021, 2020, 2019, 2018, 2017, 2016, 2015, 2010, 2009, 2005 and 2000.
When to Drink Chateau Bellegrave, Anticipated Maturity, Decanting Time
Chateau Bellegrave needs just a little time in the cellar before it is truly ready to drink. Young vintages can be decanted for at least 1-2 hours, give or take. This allows the wine to soften and open its perfume.
Older vintages might need very little decanting, just enough to remove the sediment. Chateau Bellegrave is usually better with at least 3-5 years of bottle age. Of course, that can vary slightly, depending on the vintage character. Chateau Bellegrave should offer its best drinking and reach peak maturity between 7-15 years after the vintage.
Serving Chateau Bellegrave with Wine and Food Pairings
Chateau Bellegrave is best served at 15.5 degrees Celsius, 60 degrees Fahrenheit. The cool, almost cellar temperature gives the wine more freshness and lift.
Chateau Bellegrave is best paired with all types of classic meat dishes, veal, pork, beef, lamb, duck, game, roast chicken, roasted, braised and grilled dishes. Chateau Bellegrave is also good when matched with Asian dishes, rich fish courses like tuna, mushrooms, and pasta.
http://www.chateau-bellegrave.com
Château Bellegrave Wine Tasting Notes
7 Vintages 17,309 Views Sort by Vintage-Rating
2019
Château Bellegrave (Pauillac)
With a tobacco, cedar and cassis nose, the wine is medium-bodied, fruity, forward and offers a juicy, round, black currant, olive and herb-filled finish. It is funny. I drive by this chateau countless times a day when I am in the Medoc, but this is the first time I have ever tasted the wine. 87-89 Pts
2,620 Views
Tasted

Jun 25, 2020
A straight forward plum, chocolate and licorice-filled wine with round textures in an open, fresh style. 87-89 Pts
1,757 Views
Tasted

Apr 19, 2019
2016
Château Bellegrave (Pauillac)
Medium-bodied, fresh, bright, juicy red currant, cedar, tobacco and plum filled wine. The tannins have just enough snap and bite giving you a rustic nature, but not overly so. This well-priced Pauillac is already easy to drink.
2,517 Views
Tasted

Sep 21, 2020
2016
Château Bellegrave (Pomerol)
Ripe, medium bodied, forward, easy to like, open styled plummy Pomerol that will be best in its youth.
3,140 Views
Tasted

Sep 21, 2019
2015
Château Bellegrave (Pauillac)
Ready to drink, medium-bodied, light-fruited, peppery, red berry filled wine with a crisp, bright, cranberry and currant, green olive and herb finish.
2,696 Views
Tasted

Jul 9, 2020
2010
Château Bellegrave (Pauillac)
Early drinking, correct, cassis filled Pauillac that is ready to go with its lighter, easy to drink style. This is not a wine to hold for more development.
2,359 Views
Tasted

Aug 17, 2020
2009
Château Bellegrave (Pauillac)
Easy to like, medium-bodied, correct Pauillac offering an up-front nose of cassis, blackberry, espresso, tobacco and leafy herb aromas. Soft tannins and more of that ripe cassis in the finish are found here. Popped and poured, this is already easy to drink.
2,220 Views
Tasted

Aug 25, 2020