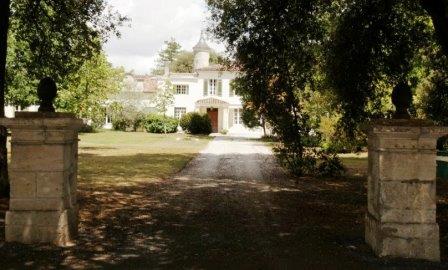 Learn everything about Chateau Monbrison, Margaux with wine tasting notes, and wine with food pairing tips. Learn the best vintages, a history of the property, information on the vineyards, and winemaking. If you want to read about other important, Bordeaux Chateaux: Links to all Bordeaux Wine Producer Profiles
Chateau Monbrison History, Overview
Chateau Monbrison was founded in 1749. Prior to its birth, Chateau Monbrison was part of the much larger estate of Chateau dArsac. At the time, it belonged to the wealthy Segur family who was some of the most important founders of the entire Bordeaux region.
In 1821 the property was purchased by Paul Georges de Conquere de Monbrison, which is where the estate took its name from. The charming, French, country-styled farmhouse predates the estate as a vineyard as it was built in the 17th century.
Chateau Monbrison was purchased by an American, Robert Davies in 1921. Robert Davies married into the Johnston family, of the well-known, Nathaniel Johnston negociants in Bordeaux who were also owners of various vineyards, including Chateau Ducru Beaucaillou over the years.
Robert Davies replanted the entire vineyard in 1939. The vineyard was replanted a second time in 1963. Chateau Monbrison has endured up and down periods over the centuries.
If you are wondering why you never find older vintages of Monbrison, there is a reason. As you have already read, the entire vineyard was removed and replanted in 1939. From 1939-1963, the vines were leased to various negociants and chateaux, most notably Chateau Prieure-Lichine. Starting in 1964, the property began bottling and selling some of its production, waiting for the remaining leasing contracts to expire.
From 1974 on, Chateau Monbrison has bottled and sold their entire harvest. Chateau Monbrison remains the property of direct descendants of the Davies family, Laurent Vonderheyden, a descendant of the Davies family is the owner and director of Chateau Monbrison today.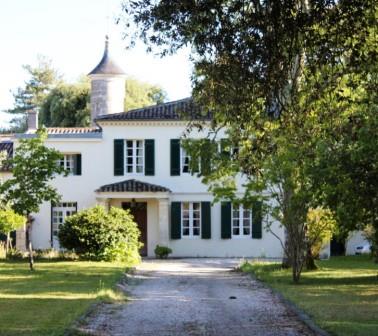 Chateau Monbrison Vineyards, Terroir, Grapes, Winemaking
The 15.5 hectare Margaux vineyard of Chateau Monbrison is planted to 60% Cabernet Sauvignon, 20% Merlot, 15% Cabernet Franc and 5% Petit Verdot. This shows an increase in Cabernet Sauvignon and decreases in Merlot over the years. The terroir is sand and gravel-based soils.
The vines are on average 40 years of age. But Monbrison has old vines, many of which were planted in 1963 when the majority of the vineyard was replanted. Their best parcels are located close to the chateau in Arsac.
While the vineyard holdings of Chateau Monbrison are large at 21 hectares, it's important to note that only 15.5 hectares are situated in the Margaux appellation.
The remainder of their vines is located in the Haut Medoc appellation. The vineyard is planted to various vine densities ranging from 6,500 vines per hectare up to 10,000 vines per hectare. The higher levels of vine density are found in the newer plantings.
In 2012 Chateau Monbrison completed a full renovation of their vat room and barrel aging cellars. Part of the modernization allowed for Chateau Monbrison to add more smaller-sized, stainless steel, fermentation vats for better vinification abilities. This allowed them to do more parcel by parcel vinification.
Chateau Monbrison Winemaking
To produce the wine of Chateau Monbrison, vinification takes place in traditional, temperature-controlled, stainless steel vats. Malolactic fermentation takes place in vat. The wine is aged in an average of 40% to 50% new, French oak barrels for about of 18 months.
There is a second wine, Bouquet de Monbrison. The estate makes a third Margaux wine, Chateau Cordet. In addition, they also produce wine from vines they own in the neighboring Haut Medoc appellation, Haut Medoc de Monbrison. On average, the annual production of Chateau Monbrison is close to 6,000 cases of wine per year.
The best vintages of Chateau Monbrison are: 2022, 2021, 2020, 2019, 2018, 2016, 2015, 2014, 2012, 2010, 2009, 2005 and 2000.
When to Drink Chateau Monbrison, Anticipated Maturity, Decanting Time
Chateau Monbrison can be enjoyed on the young side with decanting. Young vintages can be decanted for an average of 1-2 hours, give or take. This allows the wine to soften and open its perfume. Older vintages might need very little decanting, just enough to remove the sediment.
Chateau Monbrison is usually better with at least 6-8 years of bottle age. Of course, that can vary slightly, depending on the vintage character. Chateau Monbrison offers its best drinking and should reach peak maturity between 10-18 years of age after the vintage.
Serving Chateau Monbrison, with Wine, Food, Pairing Tips
Chateau Monbrison is best served at 15.5 degrees Celsius, 60 degrees Fahrenheit. The cool, almost cellar temperature gives the wine more freshness and lift.
Chateau Monbrison is best served with all types of classic meat dishes, veal, pork, beef, lamb, duck, game, roast chicken, roasted, braised, and grilled dishes. Monbrison is a perfect match with Asian dishes, hearty fish courses like tuna, mushrooms, and pasta as well as assorted soft and hard cheeses.
Château Monbrison Wine Tasting Notes
18 Vintages 56,325 Views Sort by Vintage-Rating
2022
Château Monbrison (Margaux)

Flowers, tobacco leaf and currants work together in the nose, and on the fresh, soft, silky, medium-bodied palate. The sweet fruit theme carries on through to the finish. Drink from 2025-2038. 89-90 Pts.

1,475 Views

Tasted

May 8, 2023

2020
Château Monbrison (Margaux)

Fresh plums, spice, smoke and a touch of espresso come together to form the core of this wine. Medium-bodied, soft, silky and fresh, with a supple, creamy, refined, red berry finish. This is the finest example of Monbrison I've tasted in ages. 89-91 Pts

1,563 Views

Tasted

May 20, 2021

2018
Château Monbrison (Margaux)

Medium-bodied with a fresh, bright, earthy, savory edge to the herbal slanted, red berries. This will be best to consume in its youth.

1,263 Views

Tasted

Mar 14, 2022

Medium-bodied, leafy, peppery and with plenty of cedar, tobacco leaf and earth, the finish focuses on bright red fruits with a crisp red berry finish. 87-89 Pts

1,845 Views

Tasted

Apr 19, 2019

2017
Château Monbrison (Margaux)

Medium bodied, lighter styled, down-to-earth and filled with red berries, this wine is laced with a leafy tobacco edge. You can drink this young.

1,985 Views

Tasted

Apr 26, 2018

2016
Château Monbrison (Margaux)

A medium-bodied, lean, straight ahead wine in a classic, reserved style.

4,418 Views

Tasted

Apr 29, 2017

2015
Château Monbrison (Margaux)

A fresh, crisp, medium-bodied example of Margaux with a relaxed, dark plum, earth and cassis core of fruit. 87 - 89 Pts

2,223 Views

Tasted

Apr 21, 2016

2014
Château Monbrison (Margaux)

This wine is light in color and dominated by fresh, bright cherries but the finish is a bit too short. 84-86 Pts

3,096 Views

Tasted

Apr 22, 2015

2013
Château Monbrison (Margaux)

Light in fruit and body, the wine is bright, lean and on the classic red fruit side of the style range. 82-84 Pts

2,693 Views

Tasted

Apr 20, 2014

2012
Château Monbrison (Margaux)

Medium bodied, crisp red berry filled wine, with an austere, bright finish for early drinking.

2,682 Views

Tasted

Feb 14, 2018

2011
Château Monbrison (Margaux)

Cedar wood and cassis with medium body and a sharp, bright cranberry and oak finish. 86-88 Pts

3,875 Views

Tasted

Nov 5, 2014

Cedar wood and cassis with medium body and a sharp, bright cranberry and oak finish. 86-88 Pts

3,761 Views

Tasted

Apr 19, 2012

2010
Château Monbrison (Margaux)

Medium-bodied, lighter, fresher, pleasant, earthy wine which is already displaying its red fruit, earth, spice and tobacco leaf character with ease. This is not a wine for long-term aging. I'd drink this before it reaches its 18th birthday.

3,541 Views

Tasted

Nov 28, 2018

2009
Château Monbrison (Margaux)

Light in color, light in fruit, medium bodied with fresh, spicy red berries and earth, ending with an open, soft, red cherry finish.

4,142 Views

Tasted

Dec 5, 2013

2008
Château Monbrison (Margaux)

Medium bodied, bright, crisp red berry filled wine with touches of oak, tobacco leaf, cigar box and dried fruit. Light, bright and not too tight, you can drink this now and over the next 5 years or so.

2,505 Views

Tasted

Feb 10, 2019

2006
Château Monbrison (Margaux)

Better on the nose, with its earthy, sweet cherry blossom, plum and tobacco perfume, than on the medium bodied, rustic palate. You can drink this now, or age it for more secondary characteristics.

3,795 Views

Tasted

May 25, 2016

2005
Château Monbrison (Margaux)

Better on the nose, due to the floral and tobacco accents that ride on top of the plum and dark cherry fruits, than on the medium bodied, earthy, red berry palate. Close to fully mature, if you own this wine, it is a good time to start drinking it.

3,010 Views

Tasted

Nov 27, 2016

2004
Château Monbrison (Margaux)

Ready to go, medium-bodied, with a nose that's loaded with earth, oak, smoke, bright redd pit fruits and cedar, the wine is rustic on the palate with a tint of herbs and bright red berries in the finish.

2,132 Views

Tasted

Sep 1, 2020

2001
Château Monbrison (Margaux)

Light in color and body, the wine is soft, earthy and leafy. with more tobacco and cedar than red fruits on the nose and palate. Easy to drink, the wine is slowly fading away. Drink up if you have any.

2,139 Views

Tasted

Oct 3, 2020

2000
Château Monbrison (Margaux)

Better on the nose, with its tobacco, earth, cherry and cassis scents, than on the medium bodied, light, soft, bright, crisp, red berry dominated palate. I'm not sure there is anything to be gained by aging this wine any longer.

4,182 Views

Tasted

Jan 14, 2014