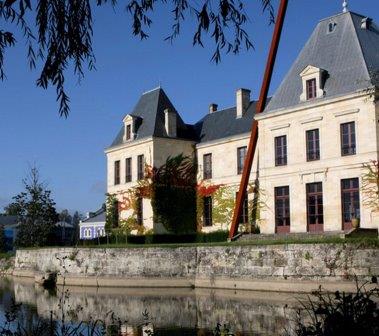 Learn everything about Chateau d'Arsac Margaux with wine tasting notes and wine with food pairing tips. Learn the best vintages, a history of the property, information on the vineyards and winemaking. If you want to read about other important, Bordeaux Chateaux: Links to all Bordeaux Wine Producer Profiles
Chateau d'Arsac History, Overview
Chateau d'Arsac is one of the older properties in the Medoc as it has a history dating back almost 1,000 years to the 12th century. The previous chateau was destroyed during the French Revolution. The current chateau was built in the 1830s. The estate takes its name from the commune of Arsac, where the vineyards are located.
After its heyday in the mid-1800s, the property fell into a state of disrepair. At one point in time, the total vineyard was close to 180 hectares. However, sales over the years reduced the vineyard's size. Following the depression, the property was essentially abandoned and for a period of time, operated as a farm that raised chickens.
The modern era for Chateau d'Arsac could be said to begin in 1986 when the large estate was purchased by Philippe Raoux. Once the purchase was finalized, Philippe Raoux began an extensive renovation and modernization of Chateau d'Arsac from top to bottom.
He brought in Patrick Hernandez as the architect who in his redesign brought in modern elements and a lot of bright, cobalt blue paint into the design while retaining the chateau's true, old French charms. The modern sculpture garden is famous in the region.
Chateau d'Arsac Vineyards, Terroir, Grapes, Winemaking
The 54 hectare vineyard of Chateau d'Arsac is planted to 60% Cabernet Sauvignon and 40% Merlot for their red wine grapes. 4 hectares of vines are used for Sauvignon Blanc.
In total, Chateau d'Arsac has 112 hectares under vine. But as of 1995, 54 hectares of their vines became classified as being part of the Margaux appellation.
It appears that the decision of the INAO to allow all of those 54 hectares of vines to be classified as being part of the Margaux appellation was not without controversy, as a portion of those vines possess a different terroir than you can find at any other Margaux estate.
The remainder of their vineyard is located in the Haut Medoc appellation. The vines are young as they are maintained at an average of 20 years of age. The terroir is small gravel stones, sand, and clay soil. The vineyards are harvested by machine.
The wine of Chateau d'Arsac is vinified in large stainless steel tanks. Malolactic fermentation takes place in vat. The wine is aged in a combination of new and used, French oak barrels for 12 months before bottling.
There are 2 second wines, Ruban Bleu d'Arsac and Baronne d'Arsac. They also make a dry white Bordeaux from a blend of Sauvignon Blanc and Semillon from a specific 4-hectare parcel of vines. Additionally, they produce wine from their 54 hectares of vines in the Haut Medoc appellation, Le Monteil d'Arsac.
The large estate has an annual production that averages close to 20,000 cases of wine per year at Chateau d'Arsac.
The best vintages of Chateau d'Arsac are: 2022, 2021, 2020, 2019, 2018, 2016, 2015, 2014, 2012, 2010, 2009 and 2005.
When to Drink Chateau d'Arsac, Anticipated Maturity, Decanting Time
Chateau d'Arsac can be enjoyed on the young side with decanting. Young vintages can be decanted for an average of 1 hour, give or take. This allows the wine to soften and open its perfume. Older vintages might need very little decanting, just enough to remove the sediment.
Chateau d'Arsac is usually better with at least 5-8 years of bottle age. Of course, that can vary slightly, depending on the vintage character. Chateau d'Arsac offers its best drinking and should reach peak maturity between 8-15 years of age after the vintage.
Serving Chateau d'Arsac, with Wine, Food, Pairing Tips
Chateau d'Arsac is best served at 15.5 degrees Celsius, 60 degrees Fahrenheit. The cool, almost cellar temperature gives the wine more freshness and lift.
The red wine of Chateau d'Arsac is best served with all types of classic meat dishes, veal, pork, beef, lamb, duck, game, roast chicken, roasted, braised, and grilled dishes. Chateau d'Arsac is a perfect match with Asian dishes, hearty fish courses like tuna, mushrooms, and pasta as well as cheese.
The white wine of Chateau d'Arsac is a perfect wine to serve with shellfish, sashimi, sushi, all types of seafood, chicken, veal, and cheese.
It was the idea of Philippe Raoux to begin making a small amount of wine on a yearly basis using a different winemaker for each vintage to produce "The Winemakers Collection," starting with the 2005 vintage.
Michel Rolland was the first winemaker chosen to produce the debut vintage. From there you have: Denis Dubourdieu, Vini Franchetti, Stephane Derenoncourt, Eric Boissenot, Zelma Long, Susana Balbo, Ntsiki Biyela, Dany Rolland and Hubert de Bouard, with more to follow.
In 2007, the owners added La Winery to their massive estate. La Winery is focused on wine tourism and includes parkland, space for picnics in the vineyards, an amphitheater for concerts, restaurants, and wine tasting rooms.
Château d'Arsac Wine Tasting Notes
11 Vintages 45,207 Views Sort by Vintage-Rating
2020
Château d'Arsac (Margaux)
Dried flowers, herbs, tobacco leaf, lead pencil and cherry aromas are your initial attraction. On the palate, the wine is medium-bodied, fruity, forward and fresh with a nice blast of sweet, ripe, polished cherries on the mid-palate and in the creamy finish where you find a refreshing note of spearmint on the backend. Drink from 2023-2037.
767 Views
Tasted

Mar 21, 2023
2019
Château d'Arsac (Margaux)
Showing much better in the bottle than it did in barrel, the wine offers pungent aromas of dried flowers, tobacco leaf, and red fruits. Soft, round, and forward, this is already easy to taste. Drink from 2022-2033.
2,499 Views
Tasted

Nov 25, 2022
The wine is medium-bodied, forward and fruity with a green olive, herb and bright, crunchy red berry tinged finish. 84-86 Pts
2,411 Views
Tasted

Jun 8, 2020
2018
Château d'Arsac (Margaux)
Flowers, tobacco, espresso and cherries open the nose. The wine is medium-bodied, soft, fresh and fruity with a deft touch of oak and red pit fruits in the round finish.
2,082 Views
Tasted

Mar 9, 2021
2017
Château d'Arsac (Margaux)
Light, fresh, soft and already fun and tasty, this will be one of those wines --delicious, easy to like and fantastic upon release.
1,996 Views
Tasted

Apr 26, 2018
2016
Château d'Arsac (Margaux)
Medium-bodied, fresh, bright, and forward, this is a ready-to-go, early-drinking, earthy, red currant filled charmer. Drink from 2022-2032.
3,910 Views
Tasted

Aug 23, 2022
Medium-bodied, open with polish to the texture, this wine is fruity and fresh -- though a bit short.
4,437 Views
Tasted

Apr 29, 2017
2015
Château d'Arsac (Margaux)
Medium-bodied, forward and already open, it takes no effort to find the soft, tannins, ripe, red fruits and soft, polished, finish. You can drink this now for pleasure as this is not a wine for long term aging.
3,869 Views
Tasted

May 21, 2018
Round, fresh, medium-bodied with sweet, cassis, spice and a touch of licorice, this wine is well-priced for Margaux. 88 - 90 Pts
3,098 Views
Tasted

Apr 21, 2016
2014
Château d'Arsac (Margaux)
Medium bodied, easy drinking, fresh, but oaky styled wine with a slightly rustic textured, lean, earthy, red berry character.
3,691 Views
Tasted

Jul 10, 2017
2012
Château d'Arsac (Margaux)
Medium bodied, fresh and while young, it's already drinkable. The smoky, red berries, round textures and fresh, black cherry finish coupled with a fair price works for a user friendly wine from Margaux.
4,287 Views
Tasted

Jun 11, 2016
2010
Château d'Arsac (Margaux)
Medium bodied, with a bit too much oak coupled with fresh, black raspberries, licorice and earth. You can drink this young or age it a bit.
2,833 Views
Tasted

Sep 21, 2015
2009
Château d'Arsac (Margaux)
Medium bodied and round in texture, this is already open and ready to go with its floral, dark red fruit, espresso and dark chocolate covered, cherry profile. A nice deal for a wine from Margaux. The wine was made from a blend of 67% Cabernet Sauvignon and 33% Merlot.
3,673 Views
Tasted

Nov 26, 2015
2005
Château d'Arsac (Margaux)
Ripe, dark red berries, licorice and earthy nuances are made even better by the medium bodied, fresh, dark cherry finish. This is drinking in its sweet spot, delivering a nice, ready to drink Margaux for a fair price.
5,654 Views
Tasted

Oct 22, 2016