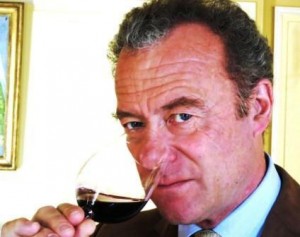 To read details on the 2011 Bordeaux harvest at Chateau Margaux: 2011 Bordeaux Harvest Chateau Margaux, Pontallier Optimistic
2011 Margaux – Blending 86% Cabernet Sauvignon and 10% Merlot, along with equal parts Petit Verdot and Cabernet Franc, the wine is ruby in color. With delicate, complicated scents of violets, mocha, smoke, truffle, blackberry, cassis and an array of spices, the wine is soft, refined and elegant. It's lacking the volume and darker berries found in the 2010 or 2009. Yet this is a very suave, fresh, pure, cassis-filled Margaux. 94-95 Pts
2011 Pavillon Rouge Blending 65% Cabernet Sauvignon, 25% Merlot, 8% Franc and 2% Cabernet Franc, the wine reached 13% alcohol. The wine represents 28% of the harvest. More of the wine was relegated to the third and fourth wines of Margaux. The wine opens with floral, black raspberry, mocha and earthy scents. Medium-bodied, with soft, fresh red berries, the wine ends with sweet cassis and cherry. 89-91 Pts
2011 Pavillon Blanc – From 100% Sauvignon Blanc, this is packed with fresh lemon, hazelnuts, flowers, grapefruit and citrus. Fresh, rich, balanced, sweet and clean, the wine finishes with a long, citrus-filled finish.  Very balanced and clean. This will be bottled in June. 93-94 Pts
Jeff Leve: Does 2011 Chateau Margaux remind you of any previous vintage?
Paul Pontallier: "As a matter of style, 2011 Chateau Margaux resembles 2008 aromatically. But 2011 Chateau Margaux offers more concentration.  As of today, it's like a fresher version of 2008 with more purity".
Jeff Leve What is your production for 2011 Chateau Margaux?
Paul Pontallier "2011 Chateau Margaux is the lowest level of production at Chateau Margaux since 1991! The yields were only 29 hectoliters per hectare. However, the percentage used in the Grand Vin remains the same at 38% of the harvest".
Jeff Leve What are your tannin levels like in 2011, compared to other recent vintages?
Paul Pontallier "Interestingly, according to our analysis, there are more tannins in 2011 Chateau Margaux than was found in recent previous vintages. This is due to their early harvest coupled with low yields. But the important thing to remember is, because the tannins are ripe, they are soft, like you expect from Margaux".
Jeff Leve Some journalists and consumers claim Bordeaux has lost its soul. The wines have moved too far in the modern direction, especially with the opulent, ripe 2009 Bordeaux vintage.. Do you think older tasters from previous generations would recognize Chateau Margaux today?
Paul Pontallier "Without a doubt, yes. The continuing thread of wines made at Chateau Margaux is found in the nose. Even though the wines are bigger and riper, the perfume remains constant.  Body, length and density have changed over the years, but not character of the wines at Chateau Margaux".
Jeff Leve What do you think about the continuing, higher levels of alcohol found in Bordeaux and at Chateau Margaux today?
Paul Pontallier "Today's best wines remind me of the best vintages from the past. For example; 1928, 1929, 1953, 1959, etc.  I am not fond of traditional vintages that were unripe.  That is not the best Bordeaux had or has to offer".
Jeff Leve In your opinion, what are the biggest advances today in Bordeaux winemaking?
Paul Pontallier "One of the big differences in modern winemaking in Bordeaux is the ability to produce much better wine in average vintages".
Jeff Leve While Bordeaux is the world's leading winemaking community in innovation and farming techniques, some estates are using practices dating back over 100 years.  Are you using horses in your vineyards?
Paul Pontallier "We are using horses as an experiment in vineyard management. We started this program two years ago".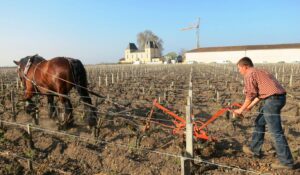 Jeff Leve Are you planning on continuing the equestrian program?
Paul Pontallier "We'll see how it goes in a few years. It's just a few hectares for the moment".
Jeff Leve Currently, what are your favorite modern vintages of Chateau Margaux?
Paul Pontallier "2000, 2005, 2009 and 2010 are the best vintages from the last 50 years. This is followed by 2003".  
Jeff Leve Along with using horses, are you continuing to experiment with biodynamic farming?
Paul Pontallier "This is something else we've been experimenting with.  We're going to continue as experiments only make sense when you on a long-term basis".
Jeff Leve Will you continue your trend of producing a third and now fourth wine at Margaux?
Paul Pontallier "Yes. In 2011 Chateau Margaux will produce a third and fourth wine. 34% of the harvest will go into those wines".